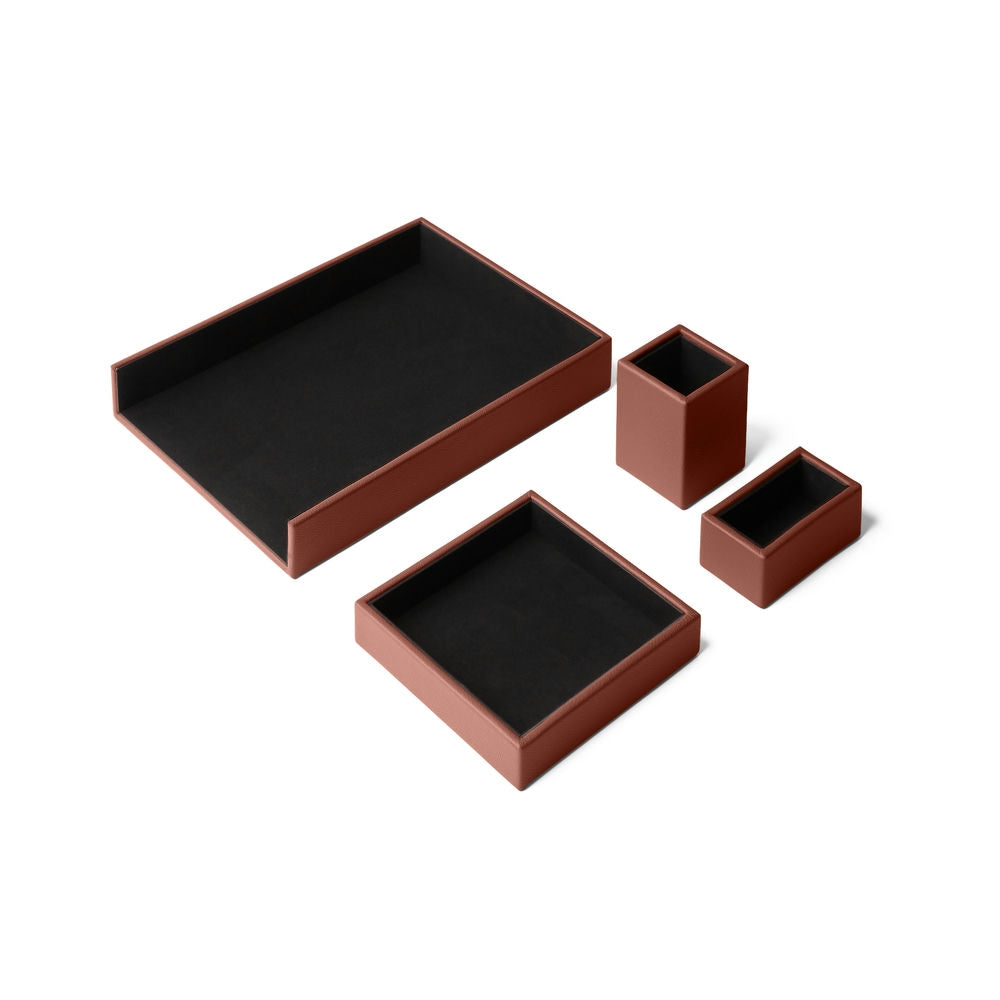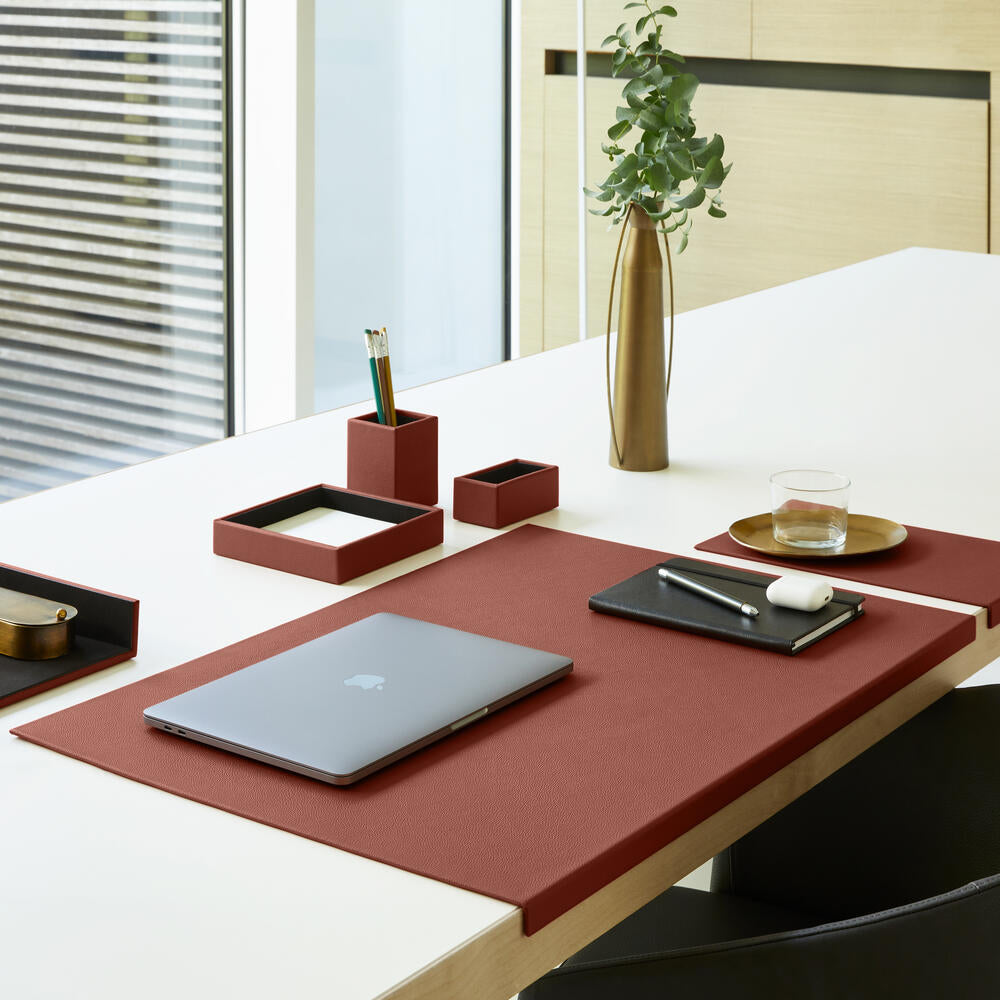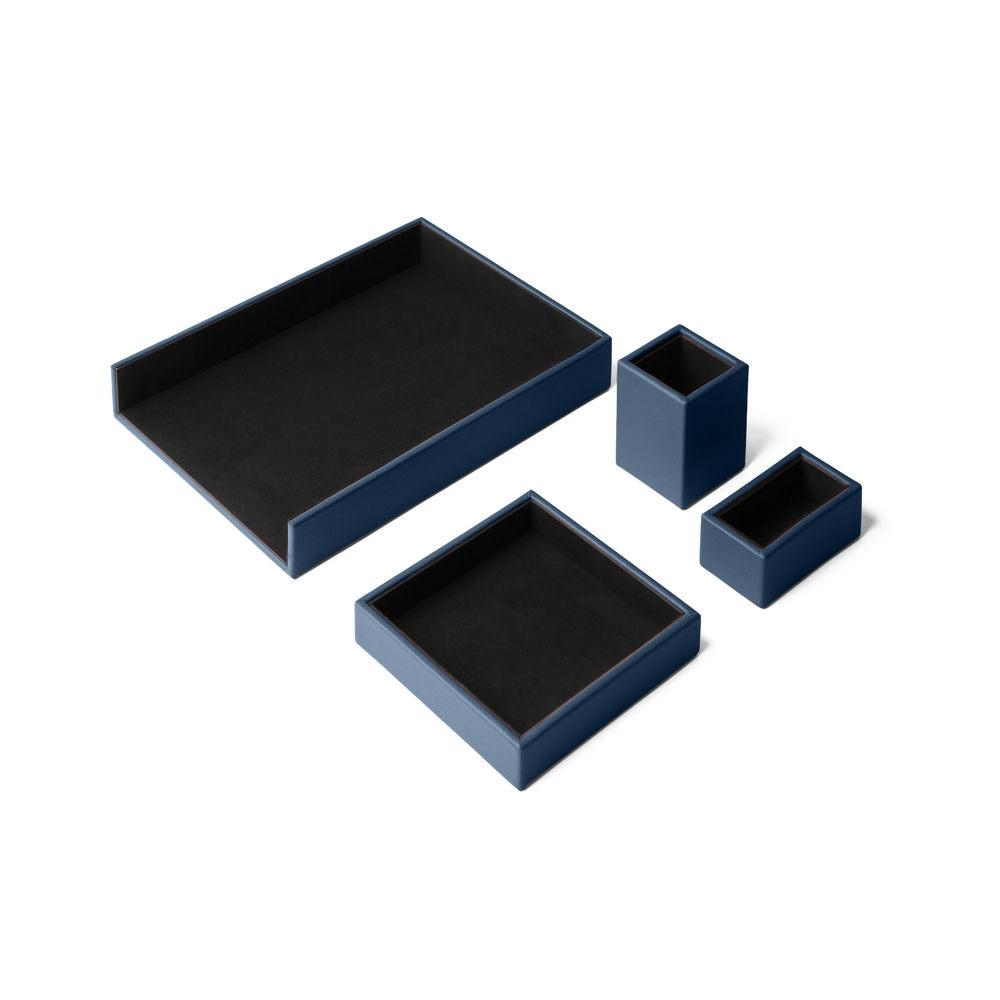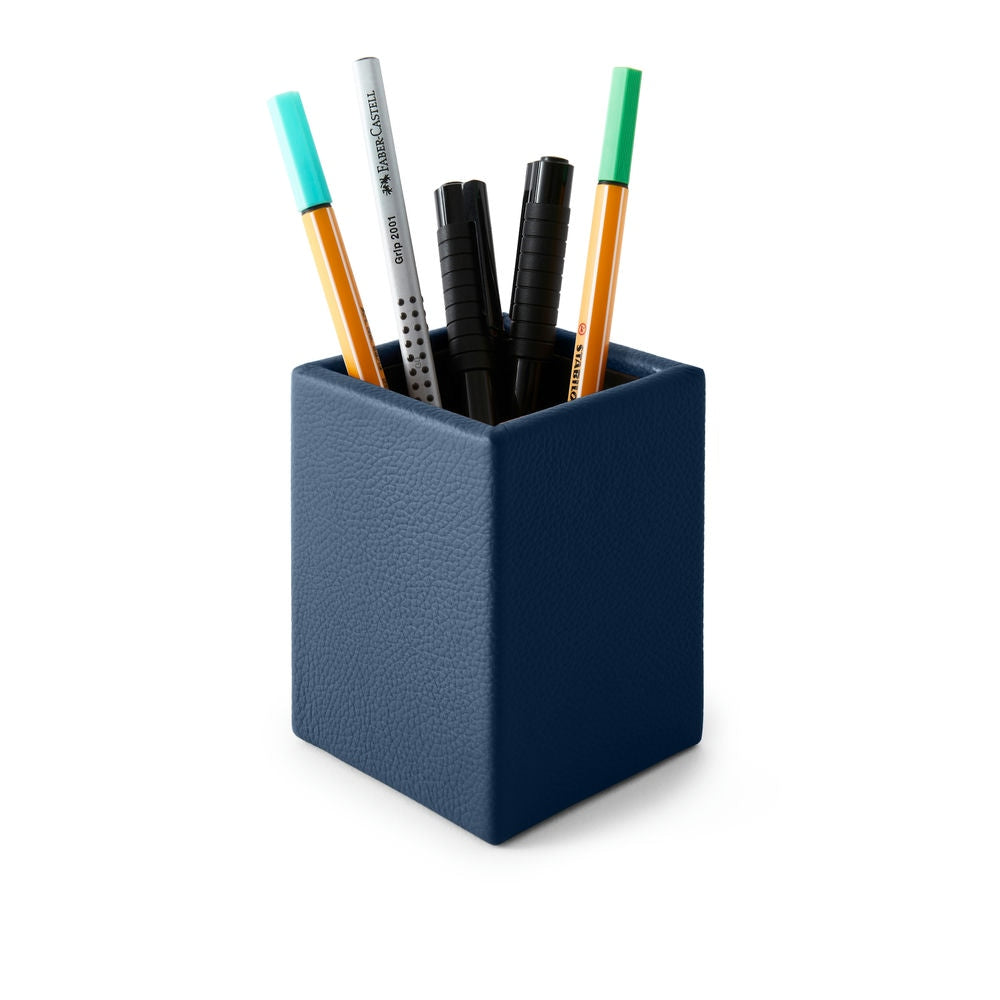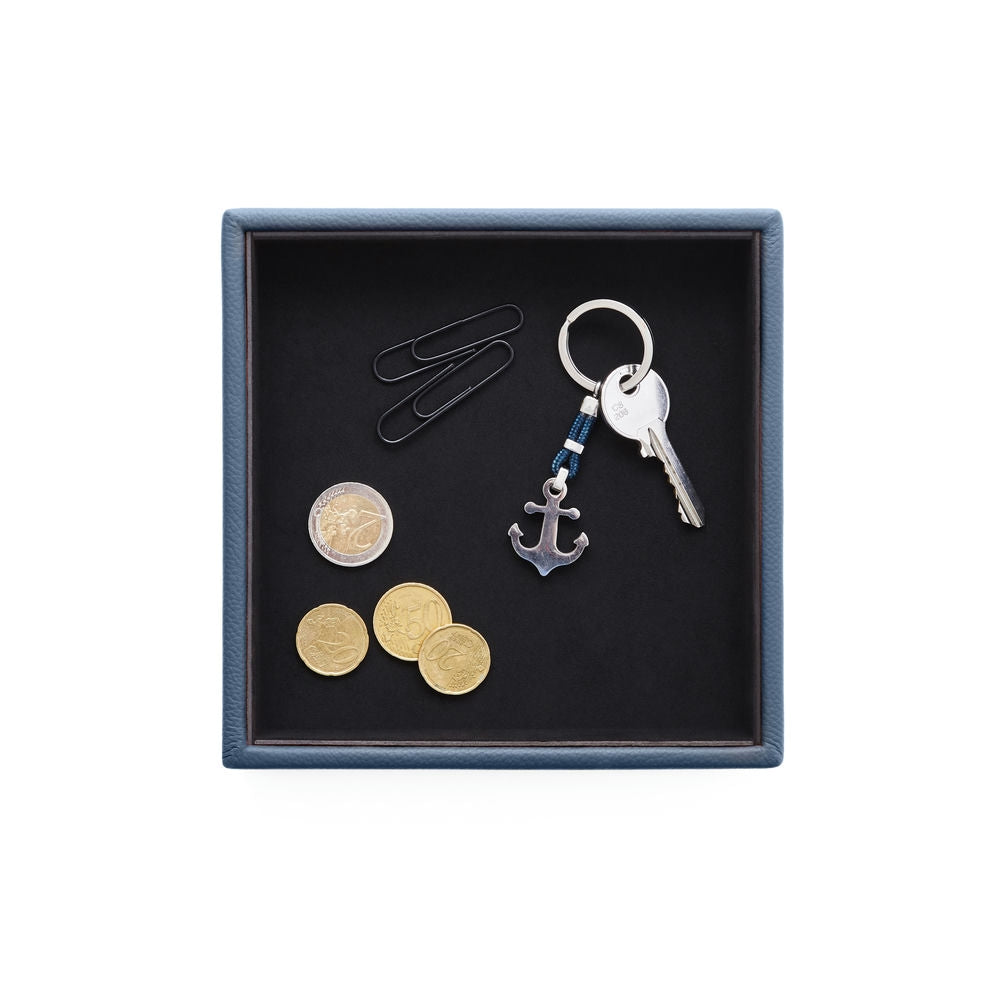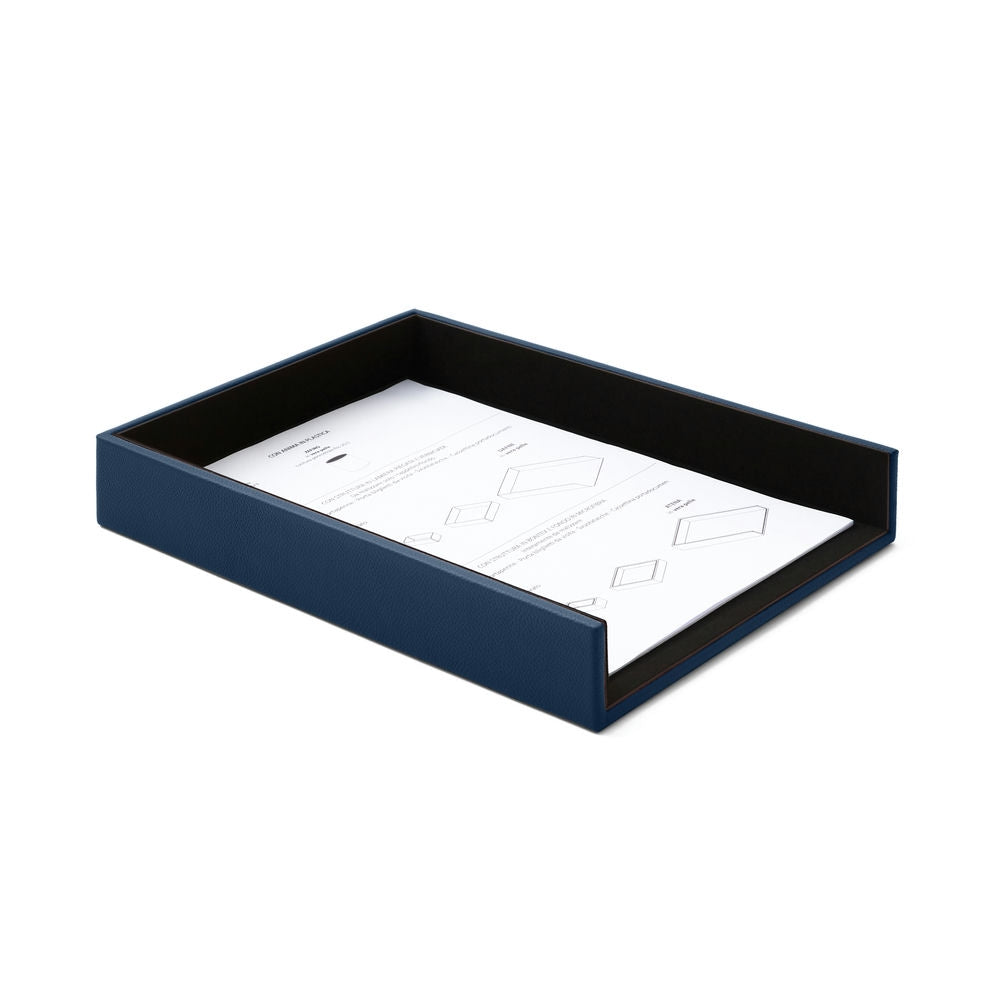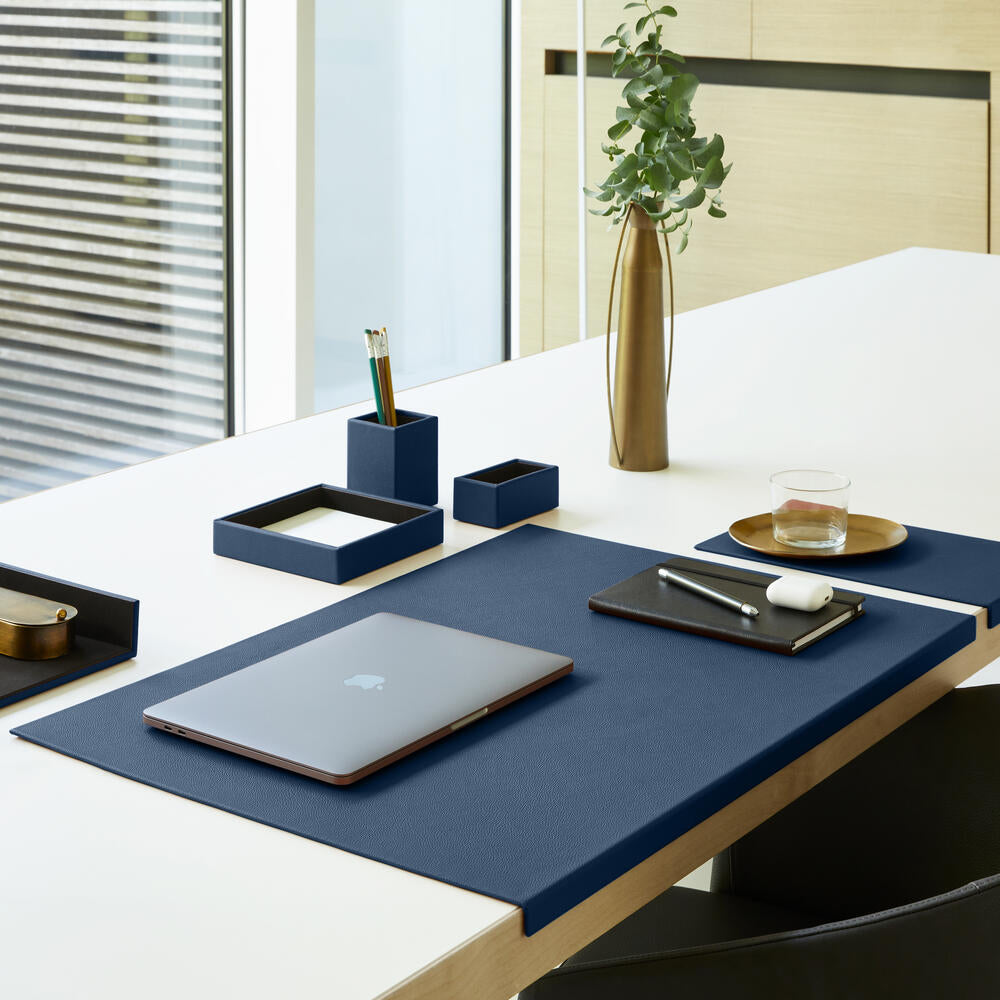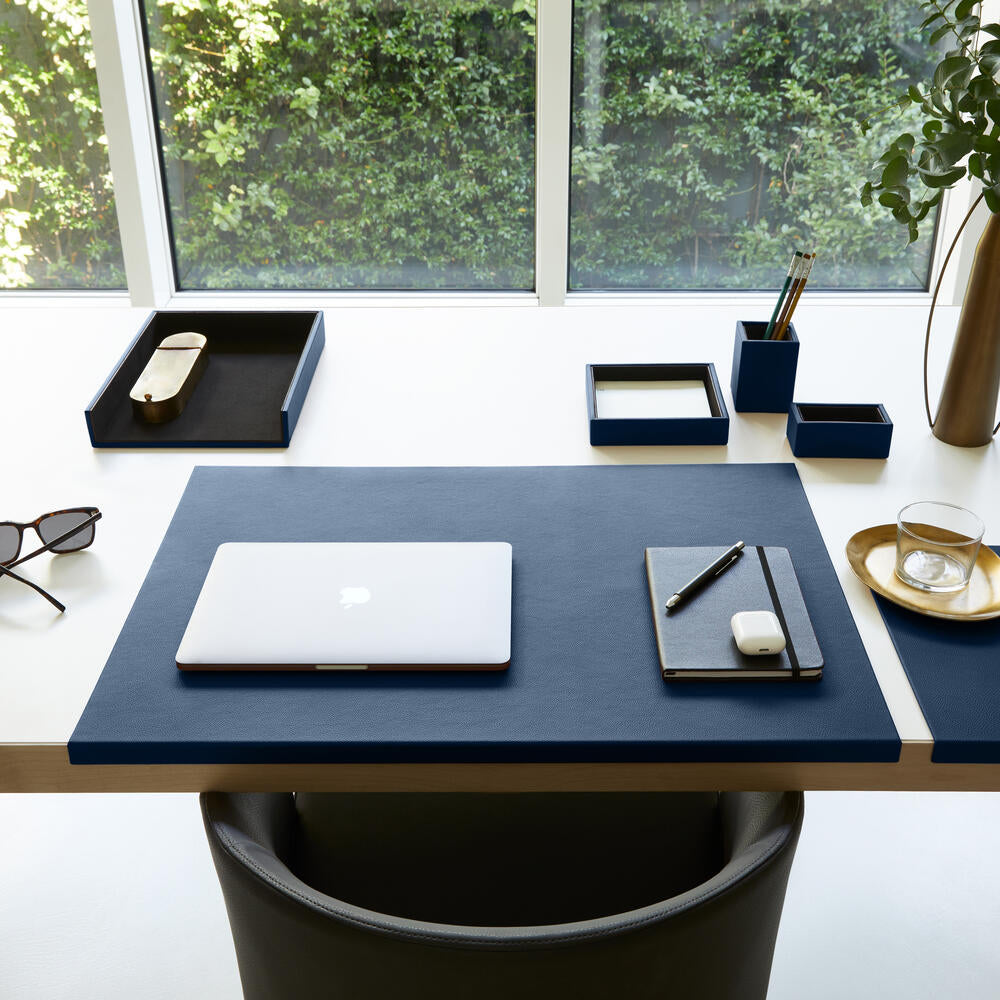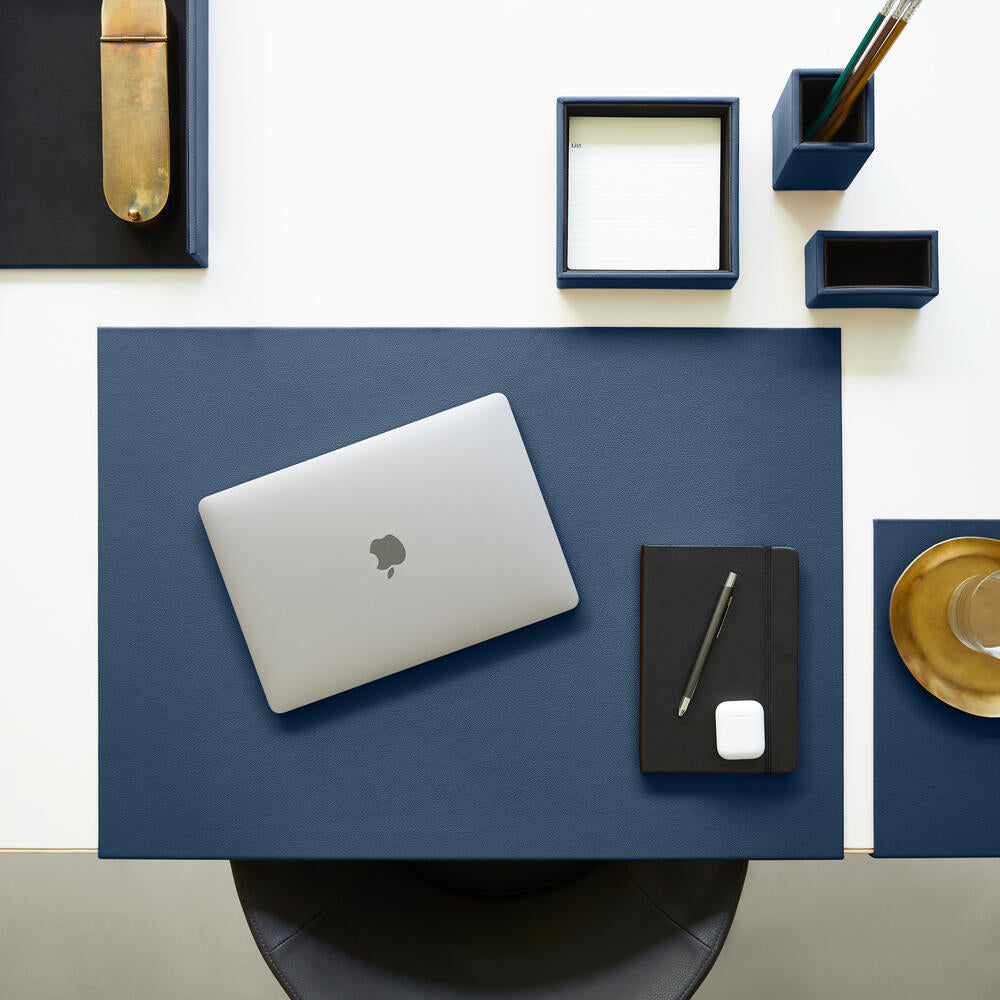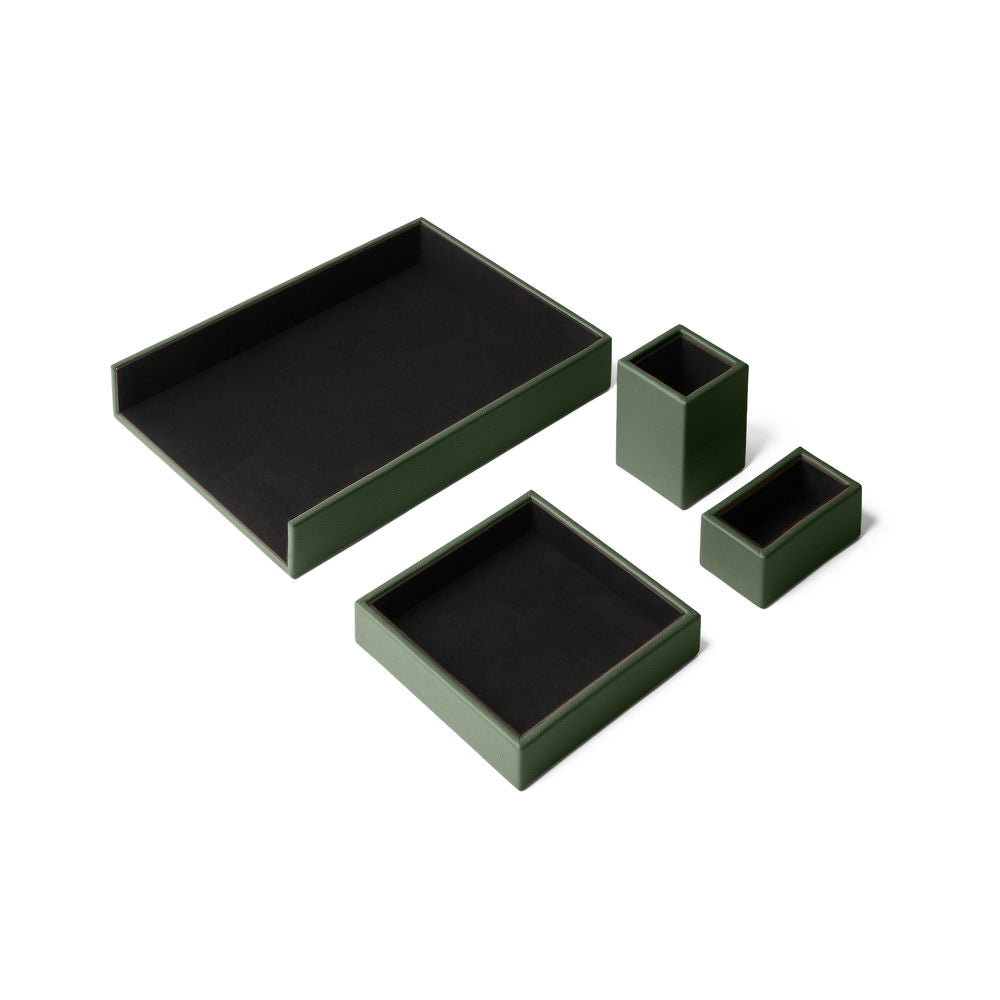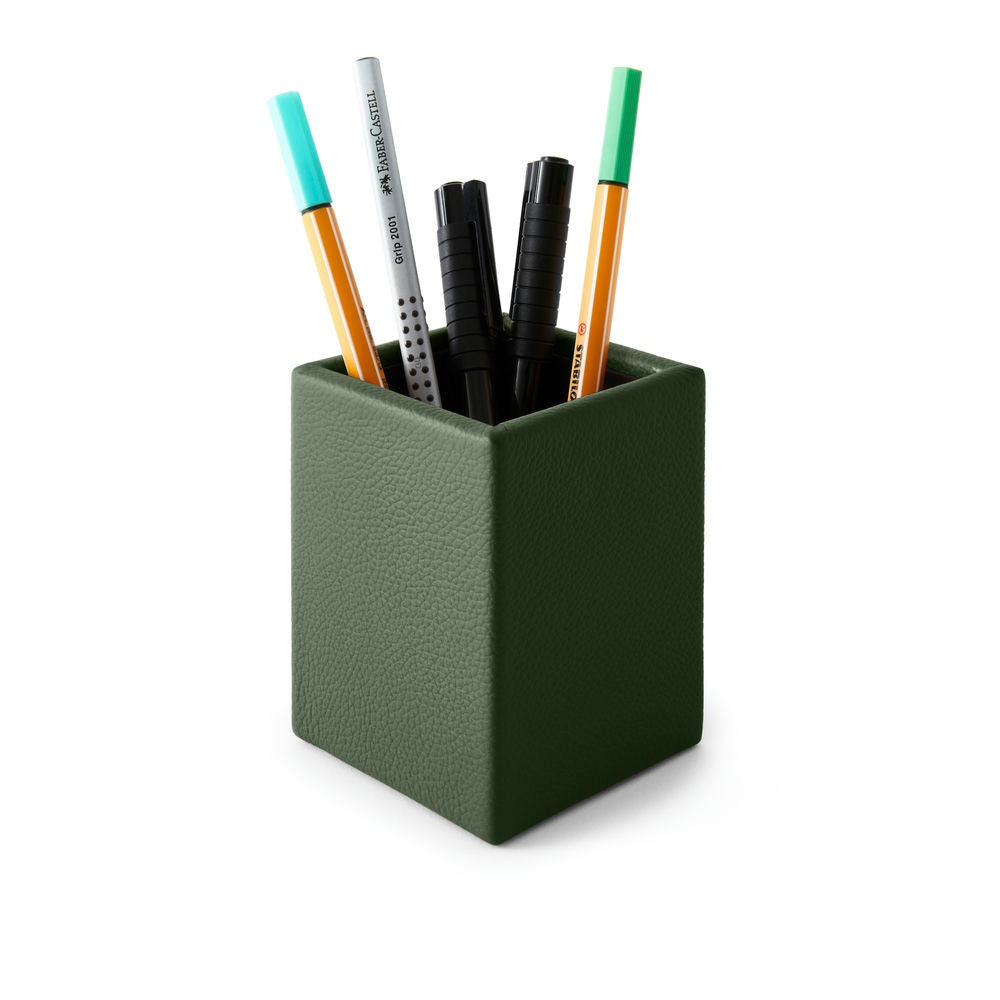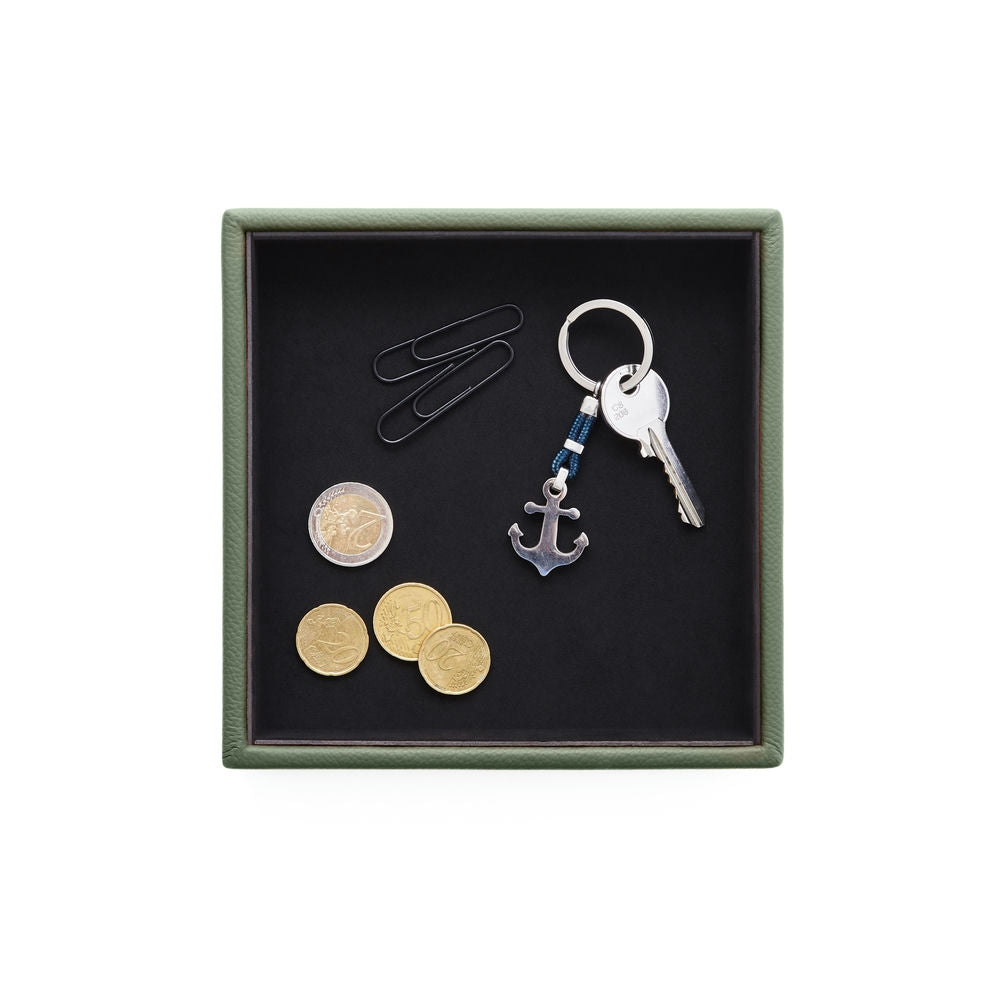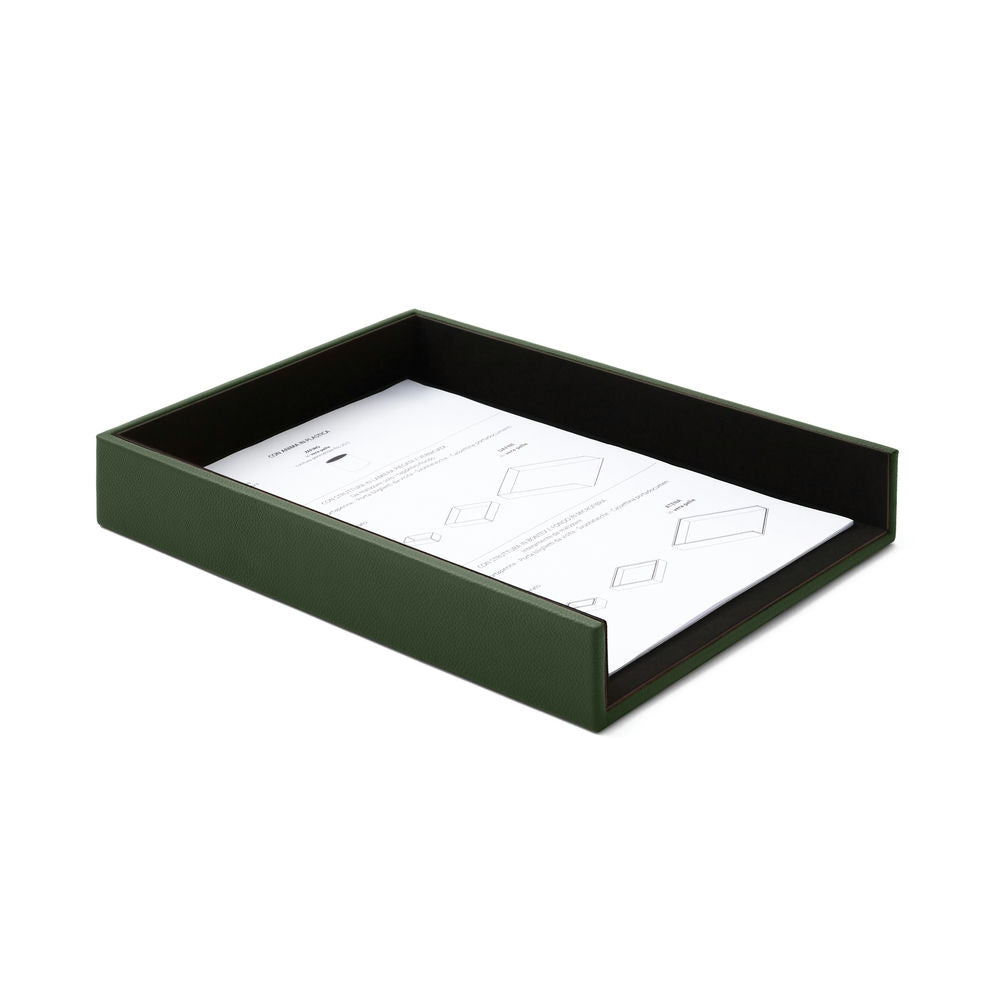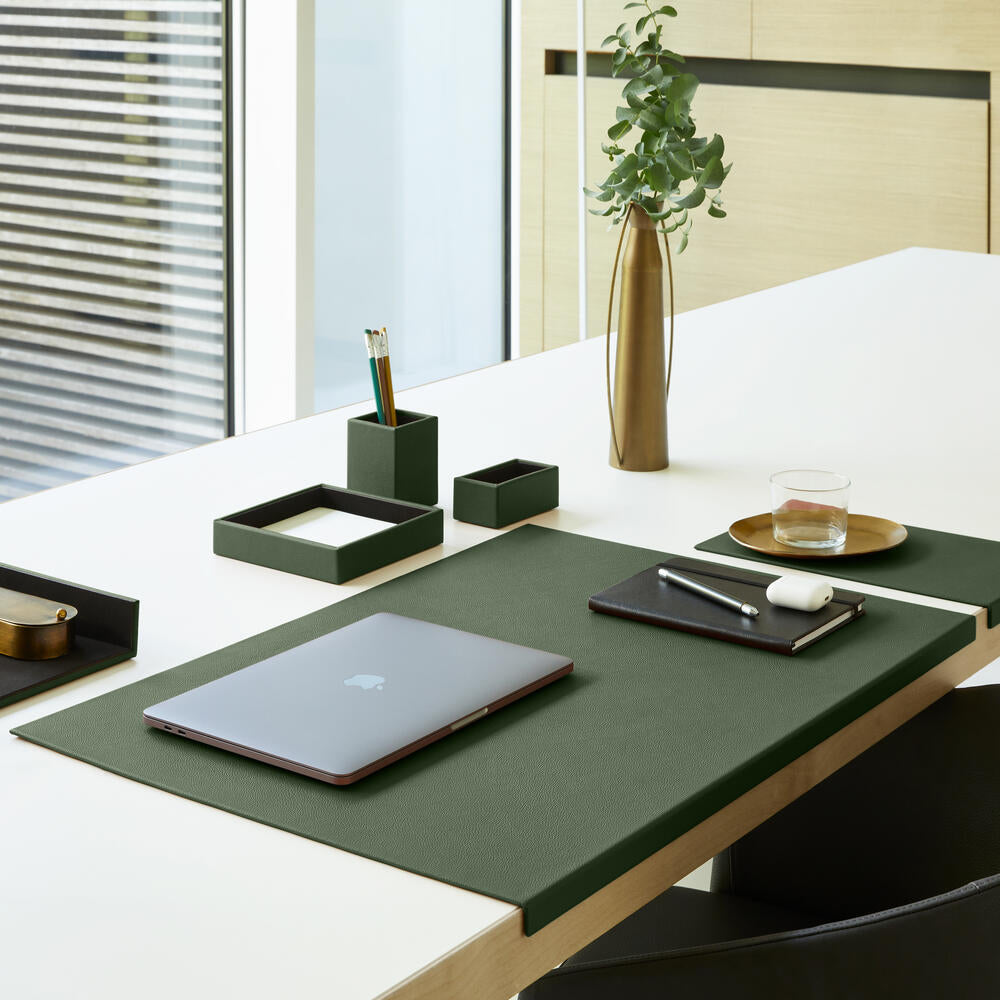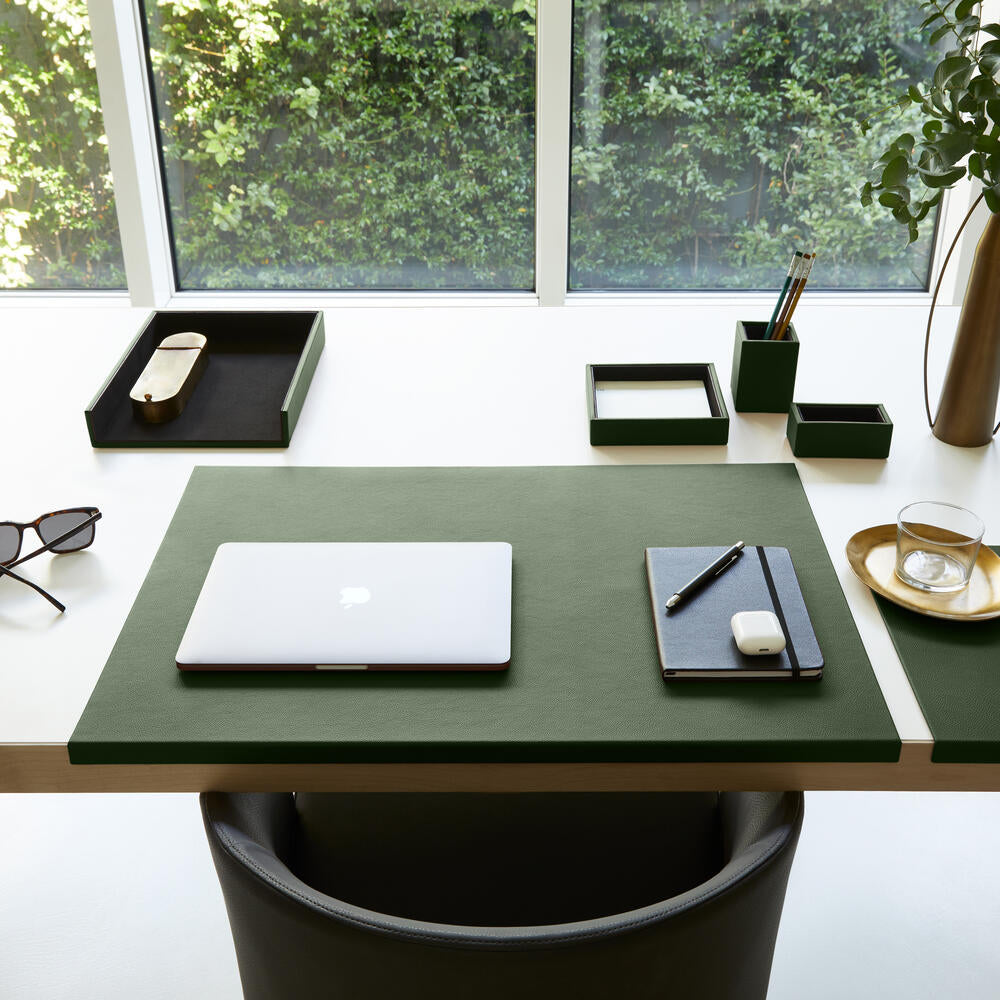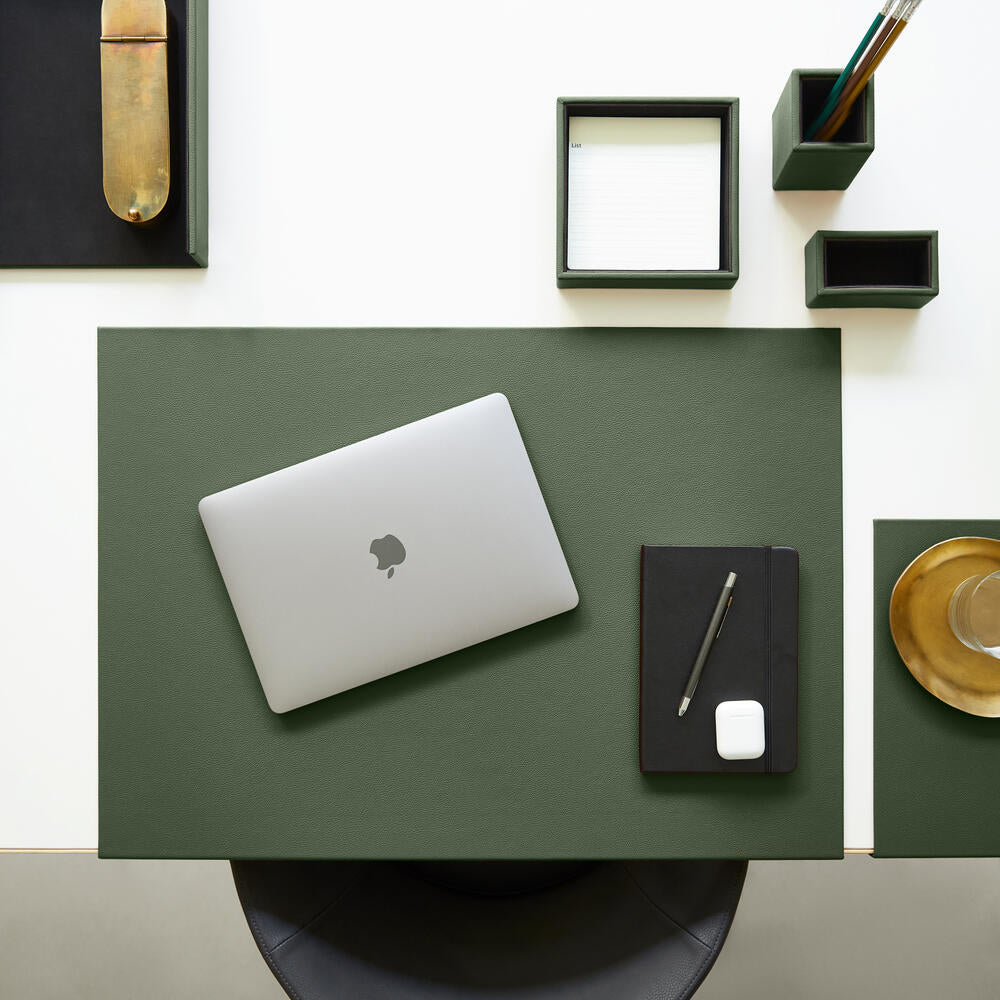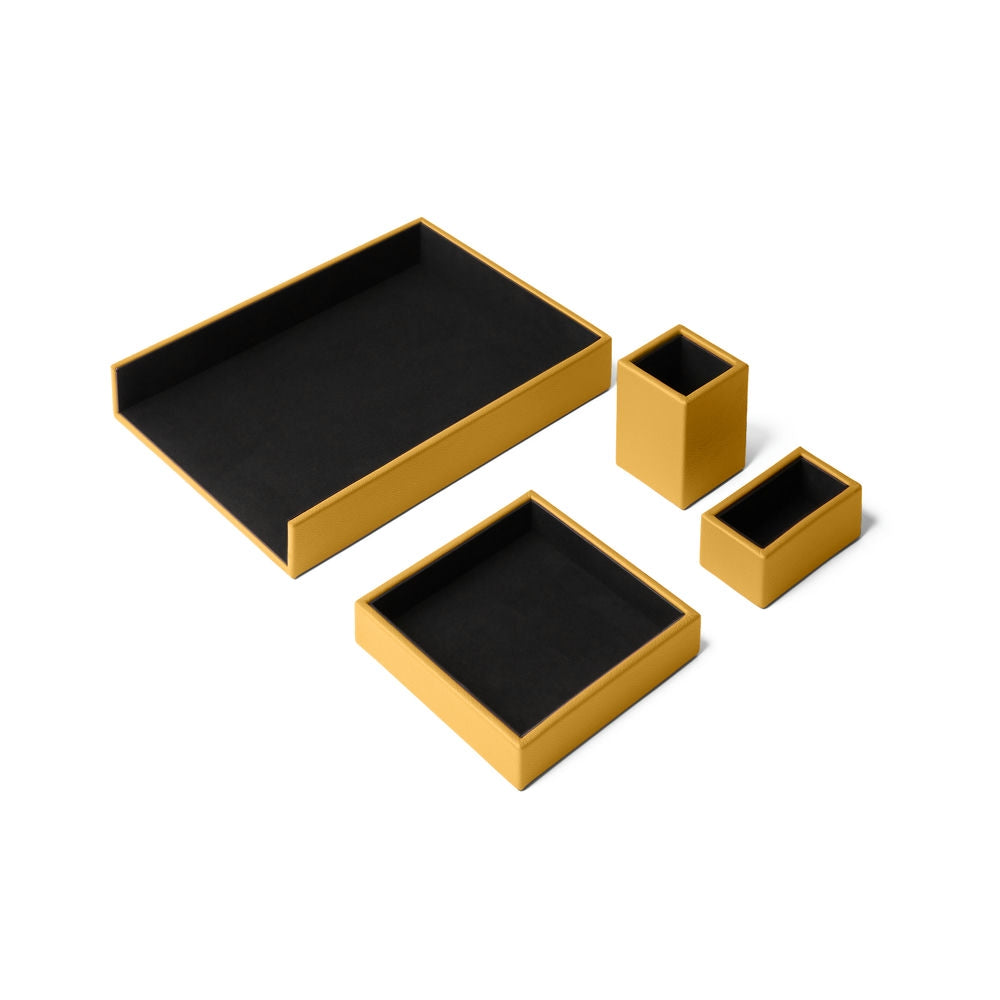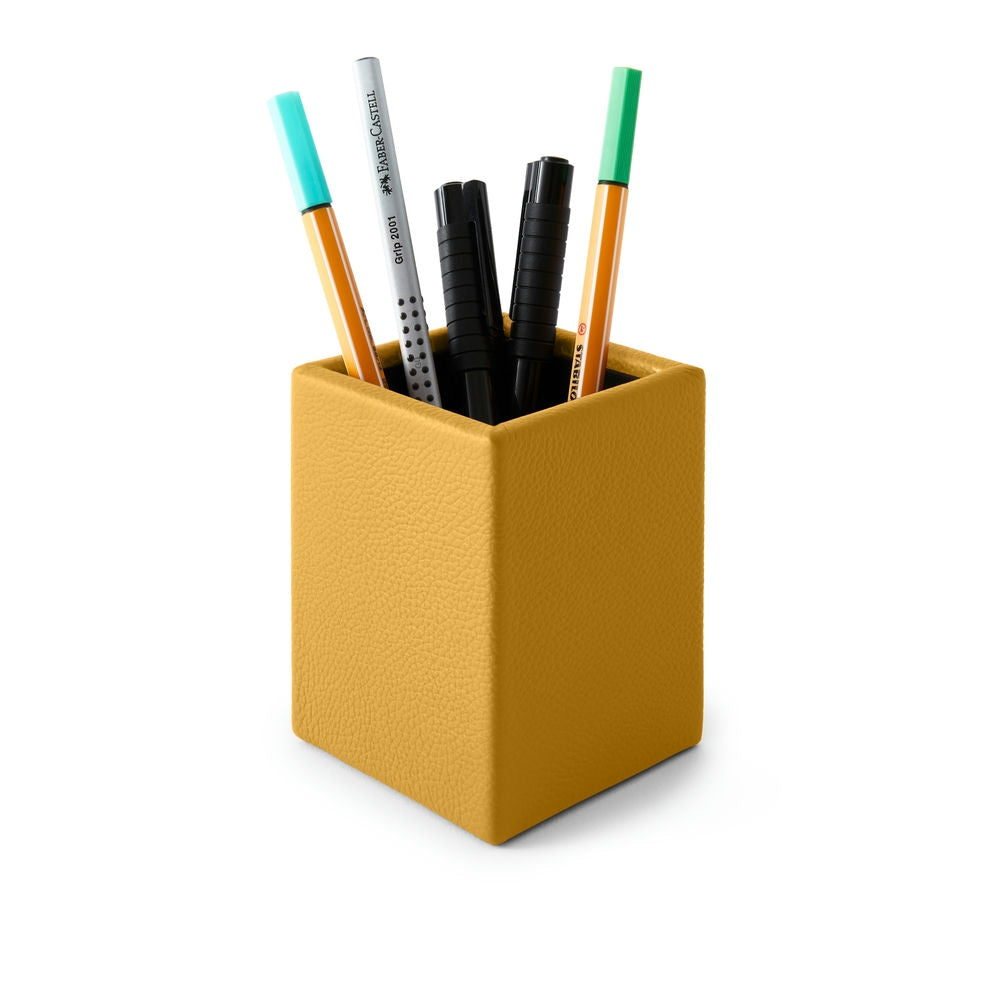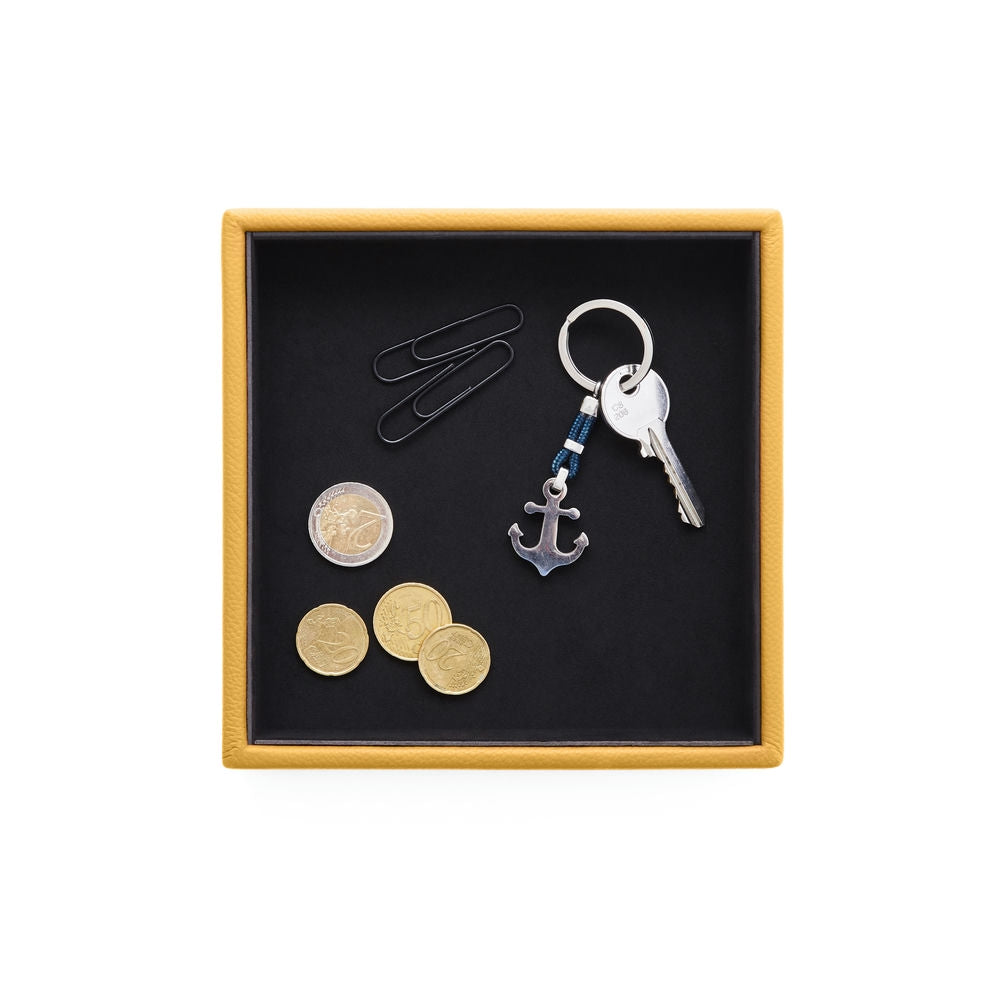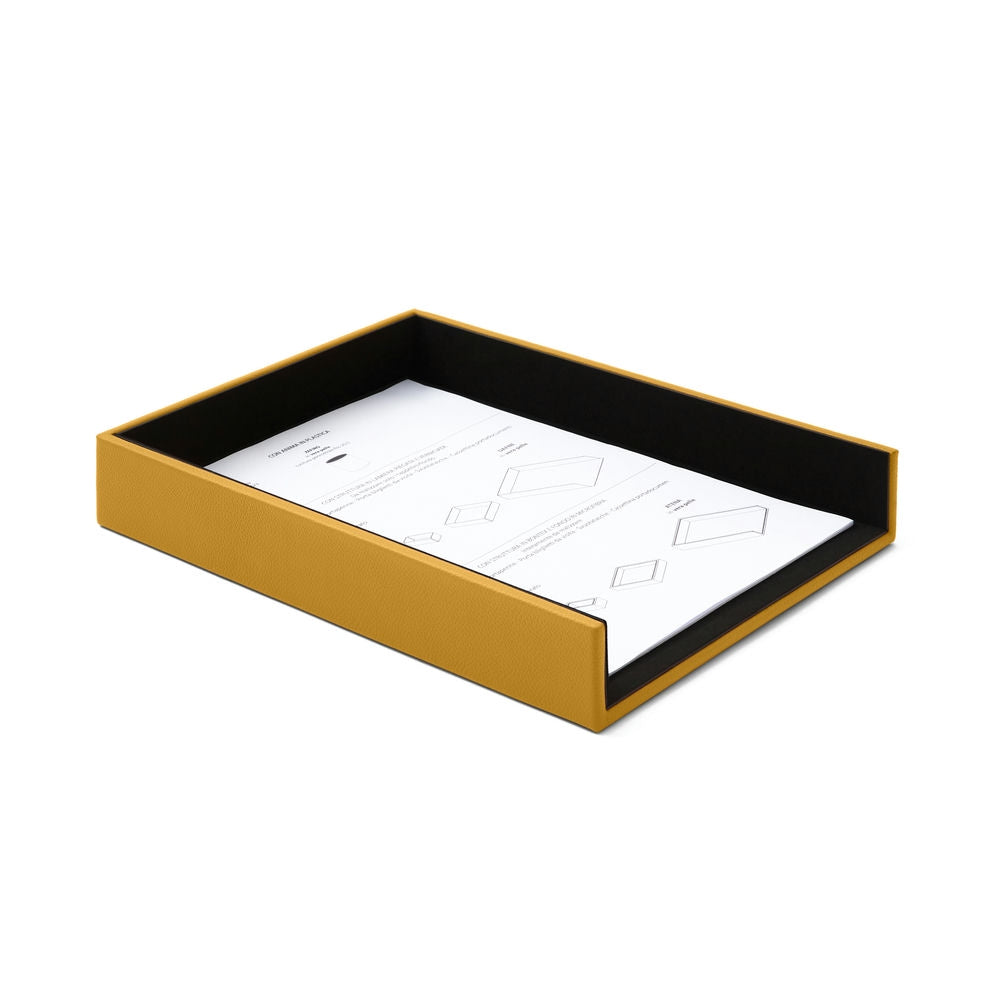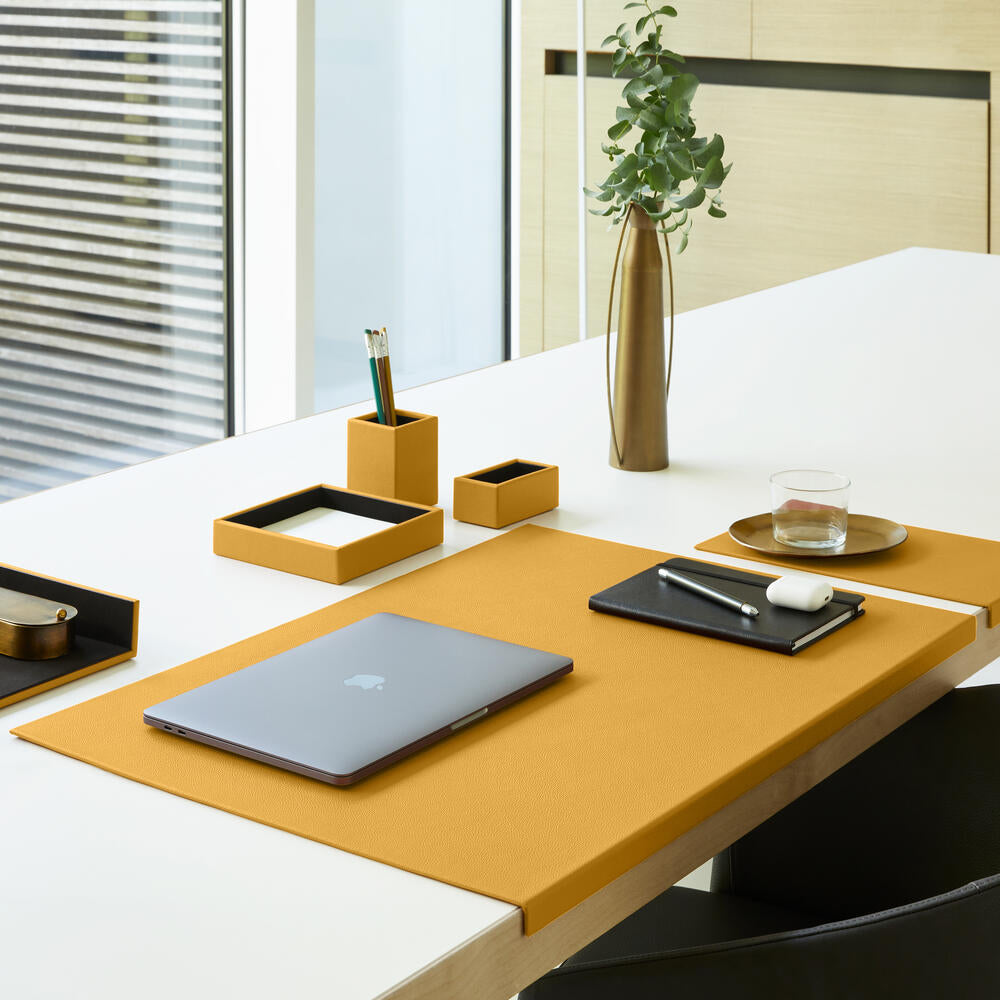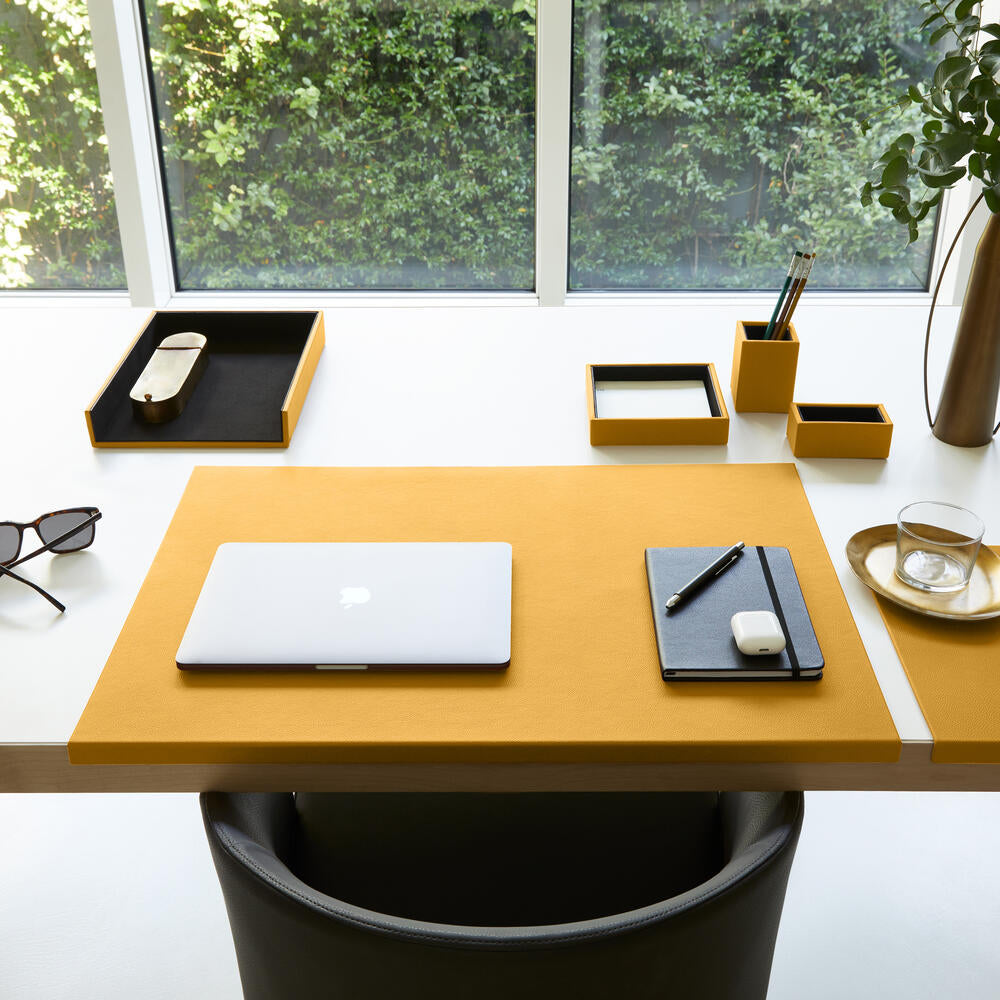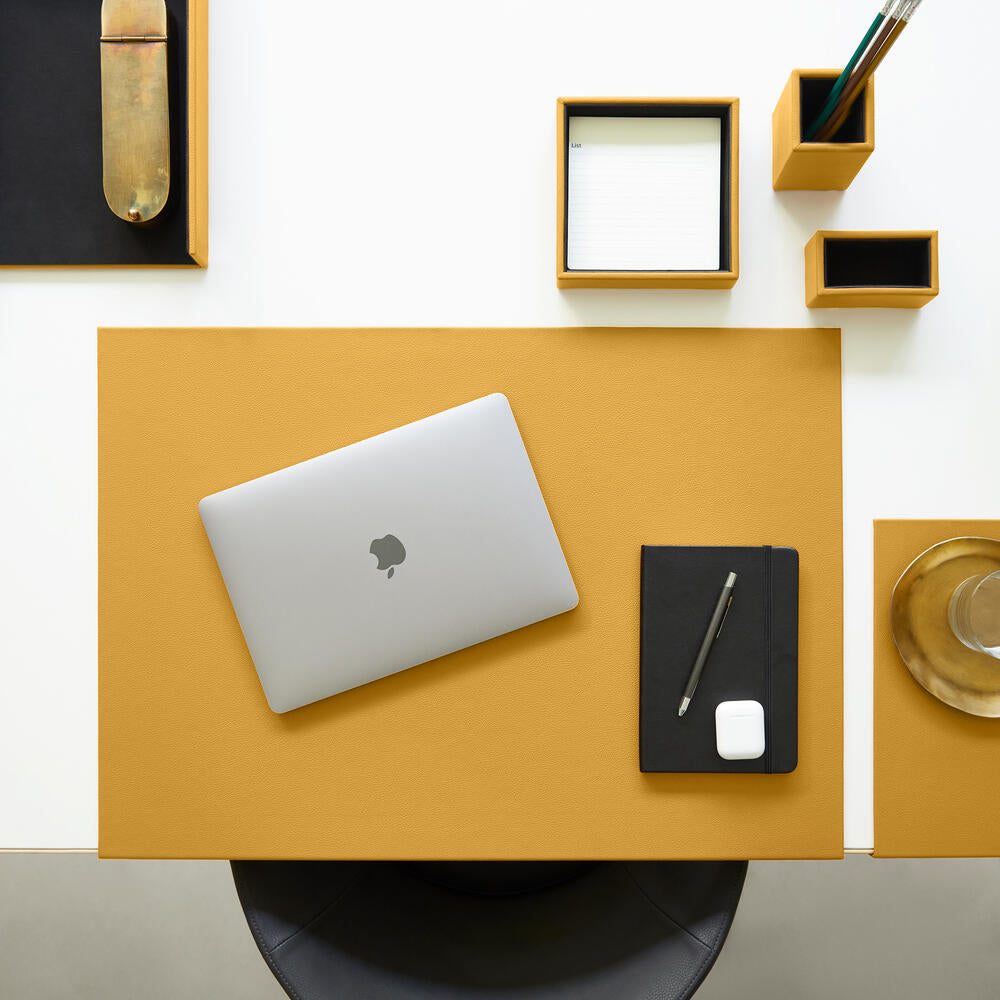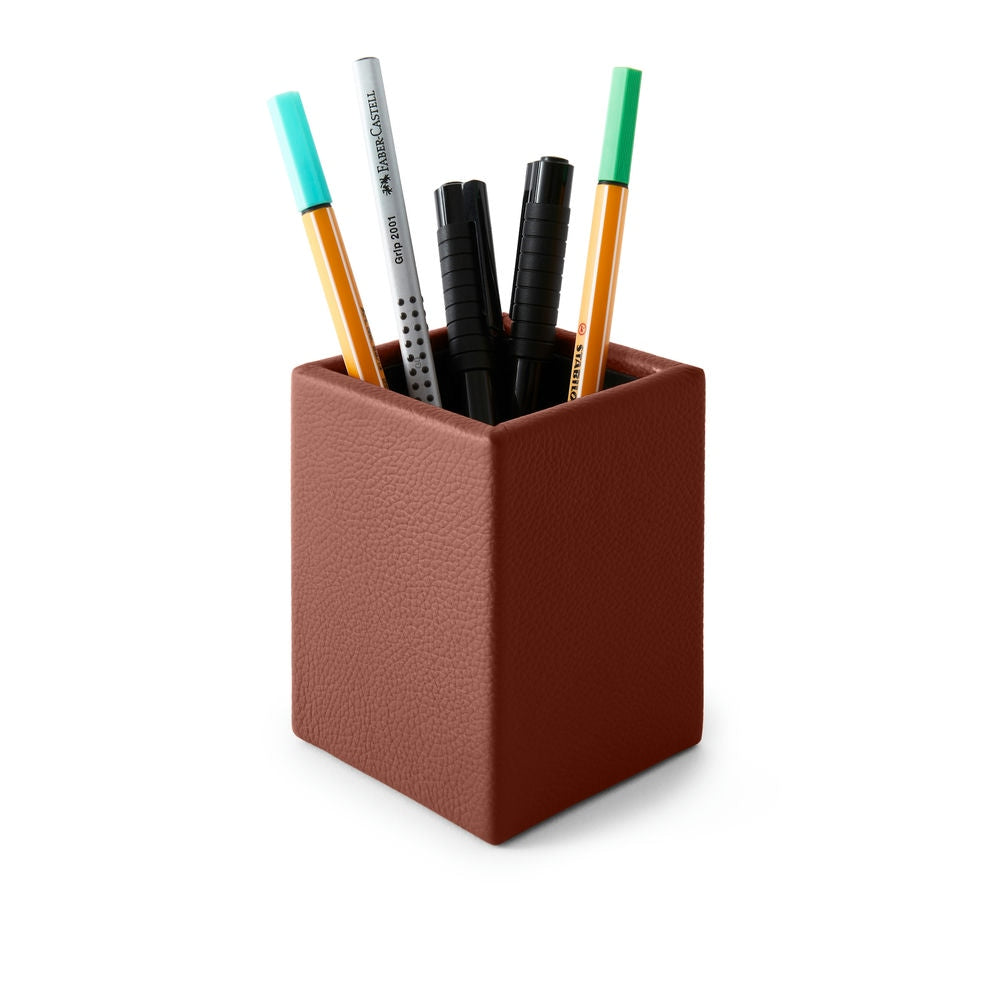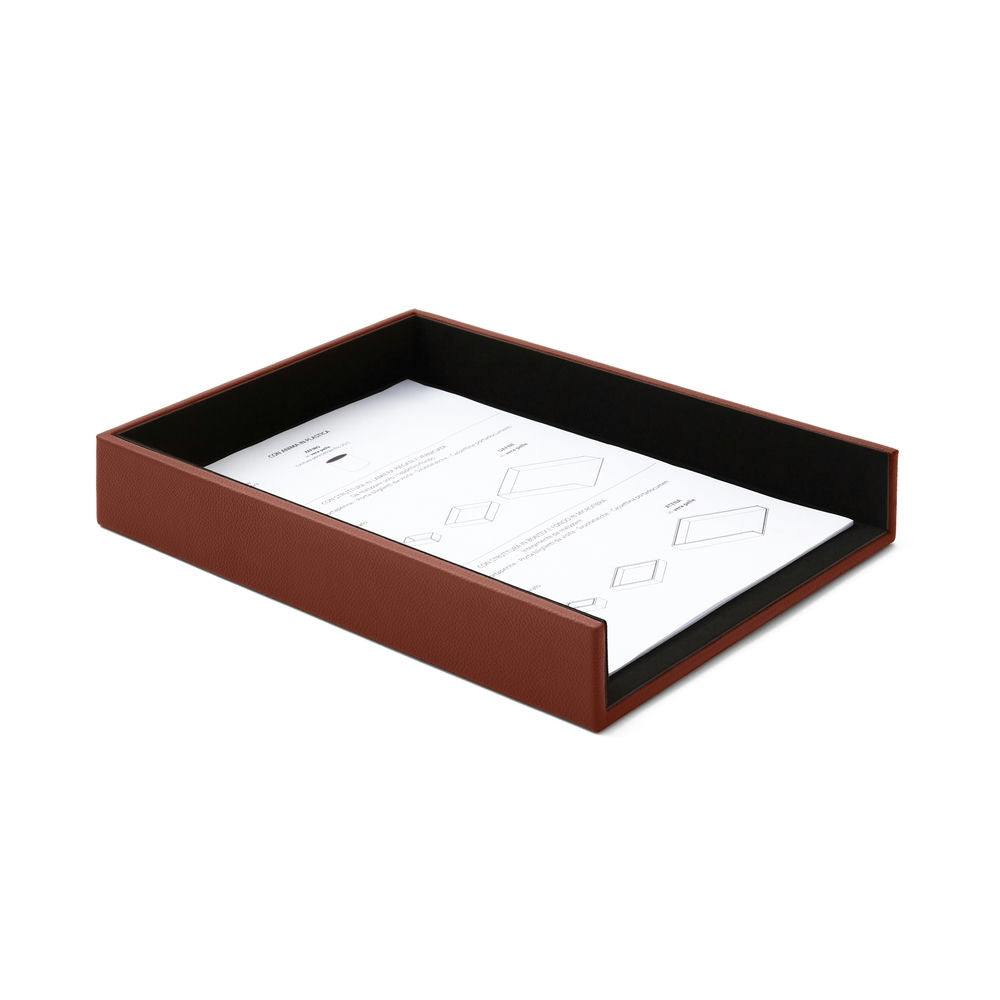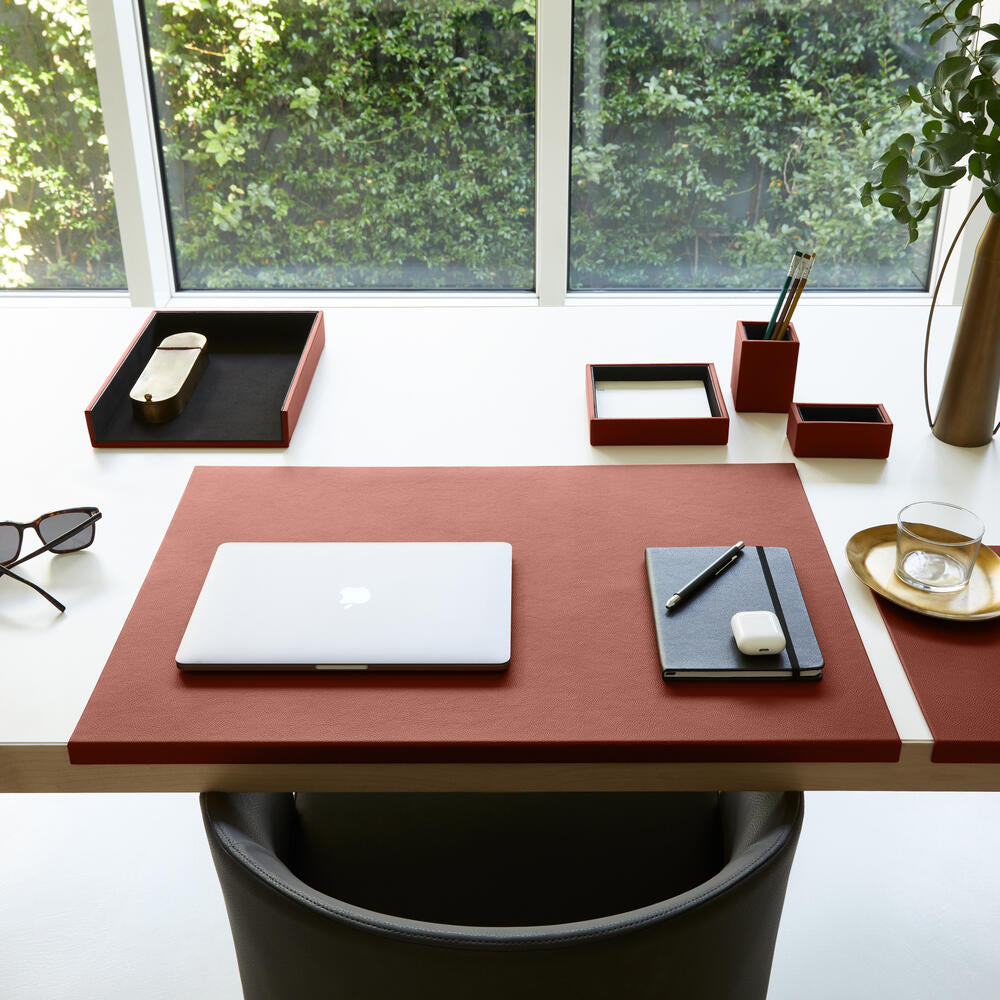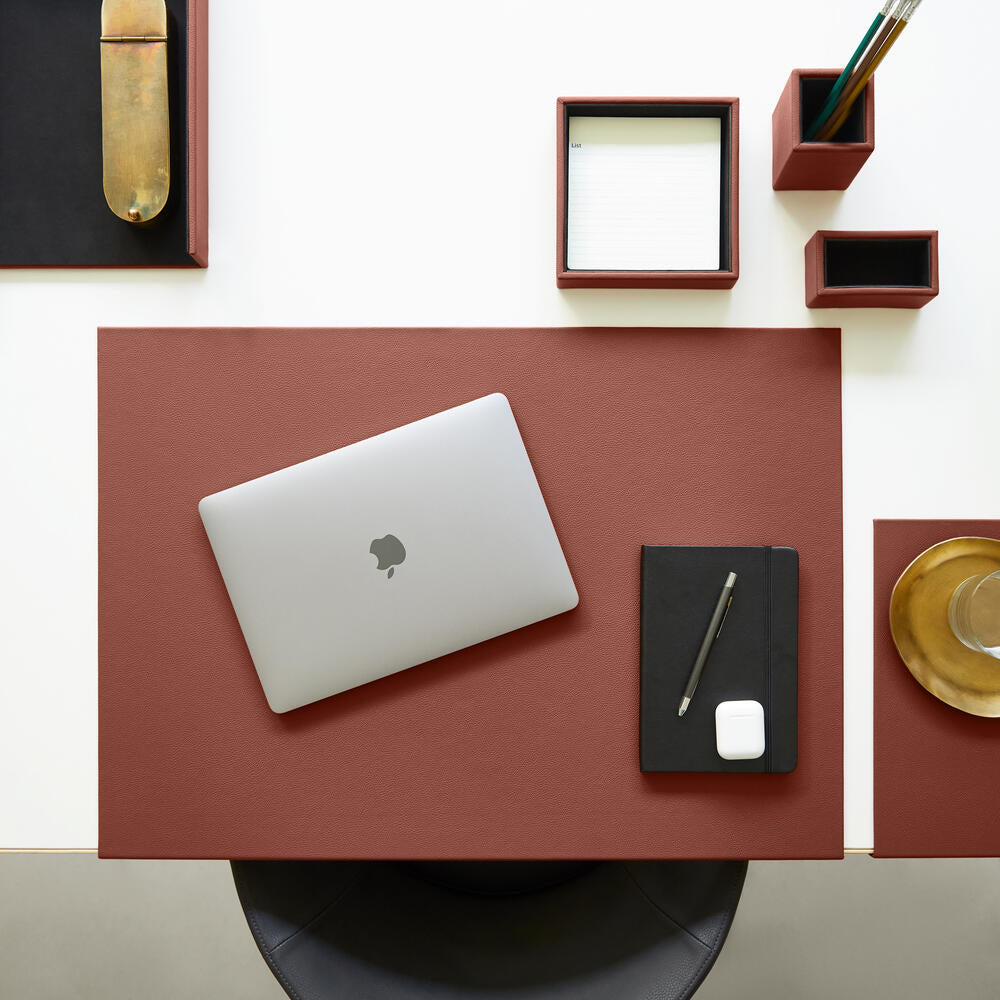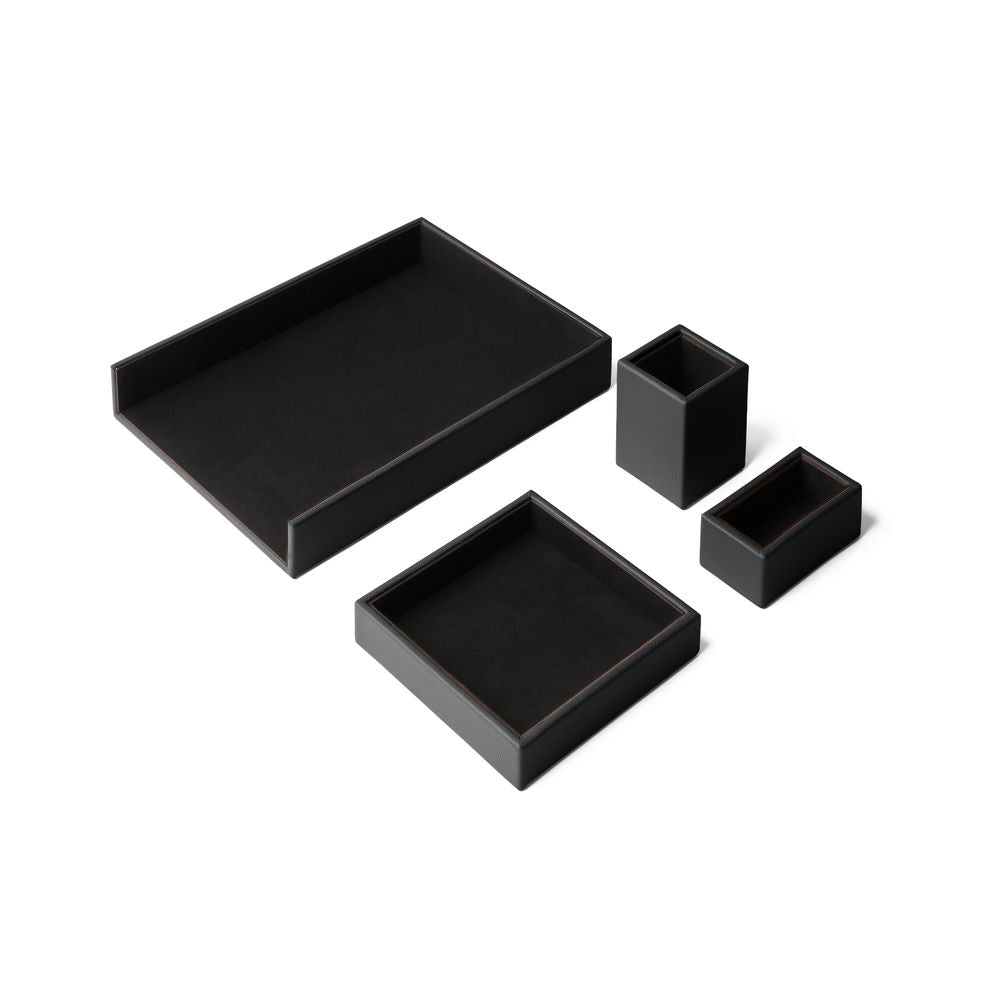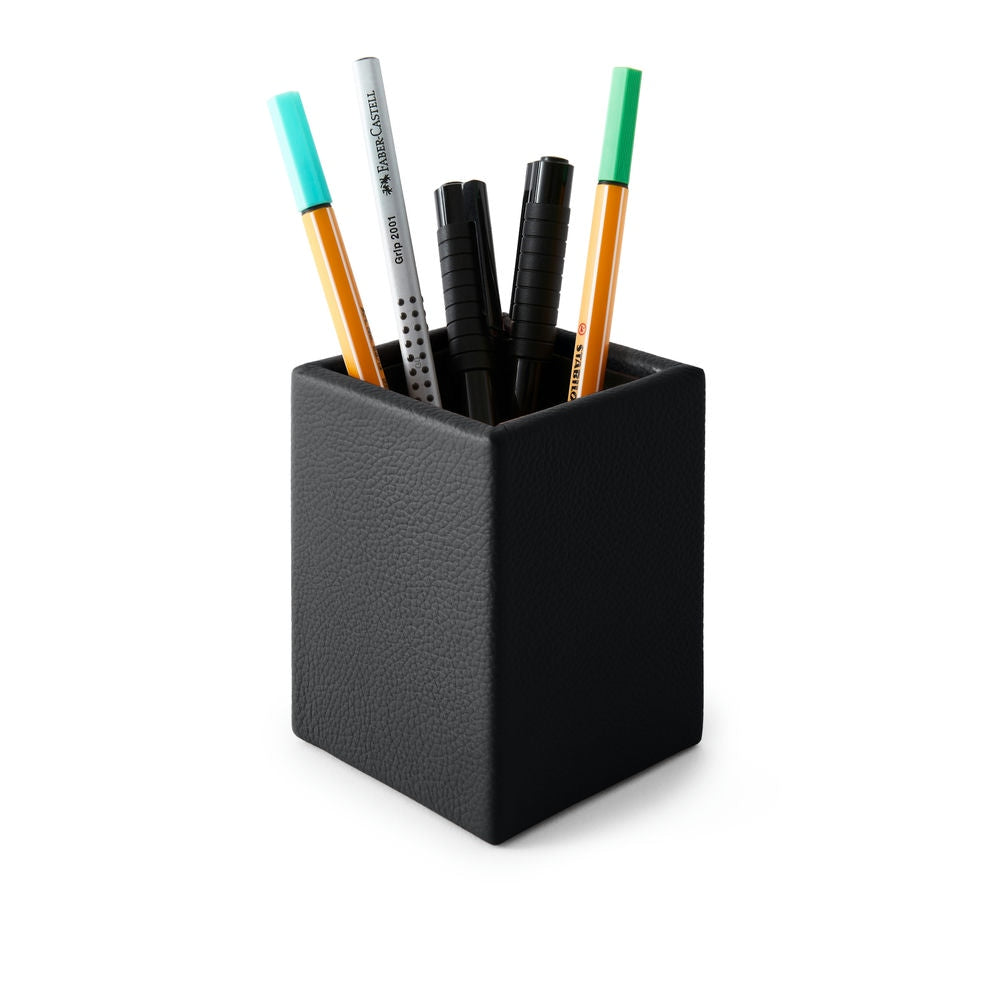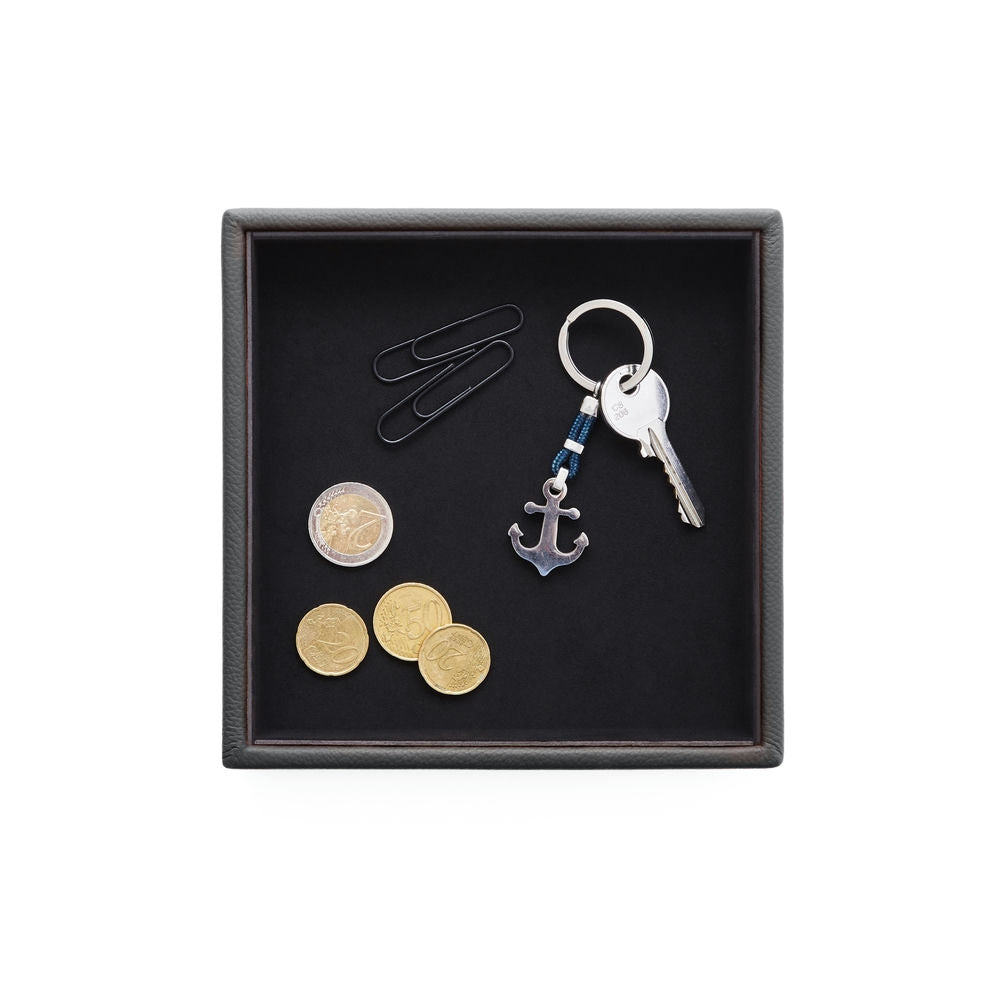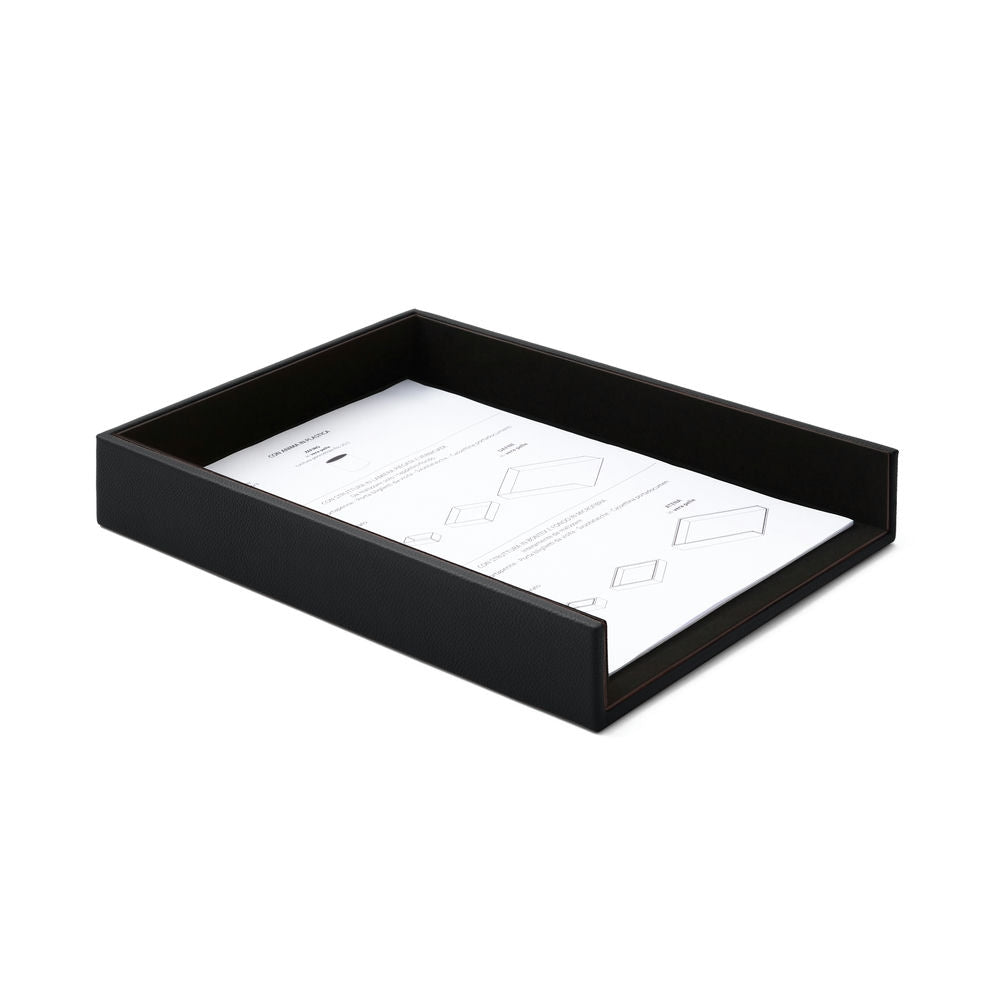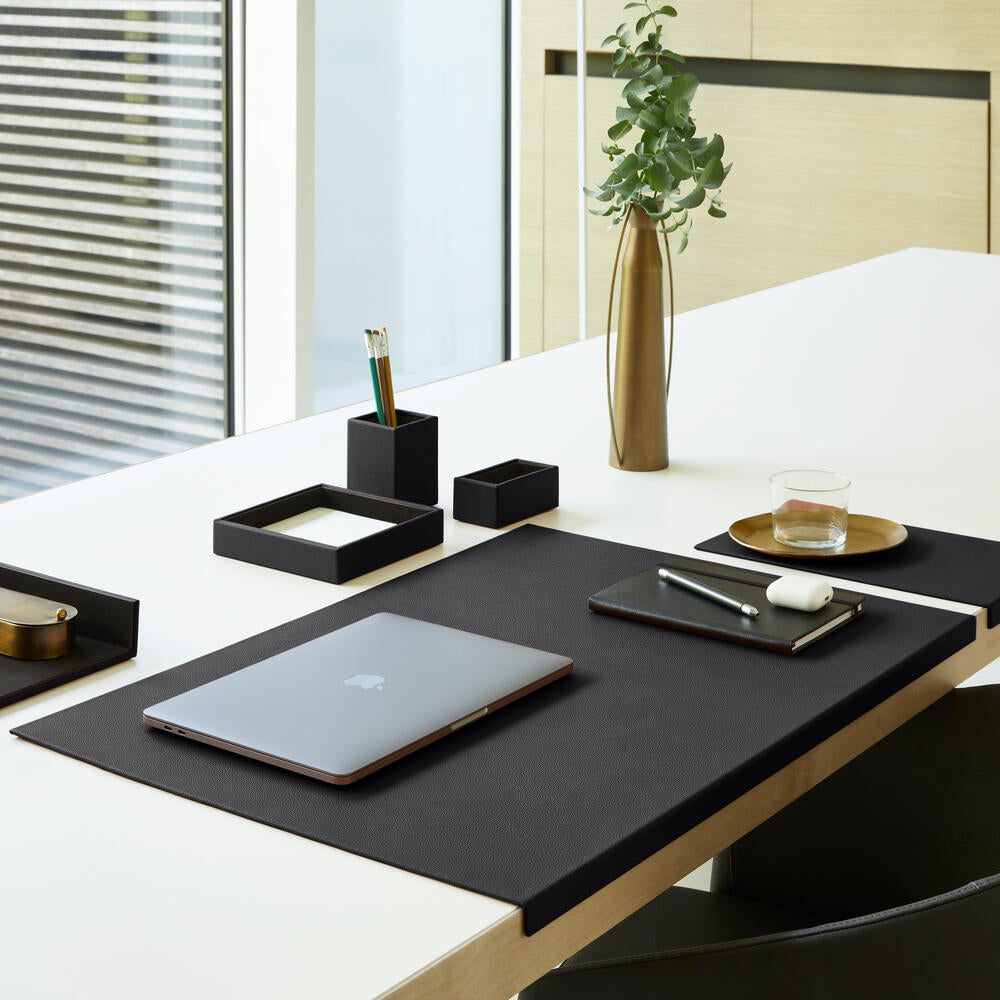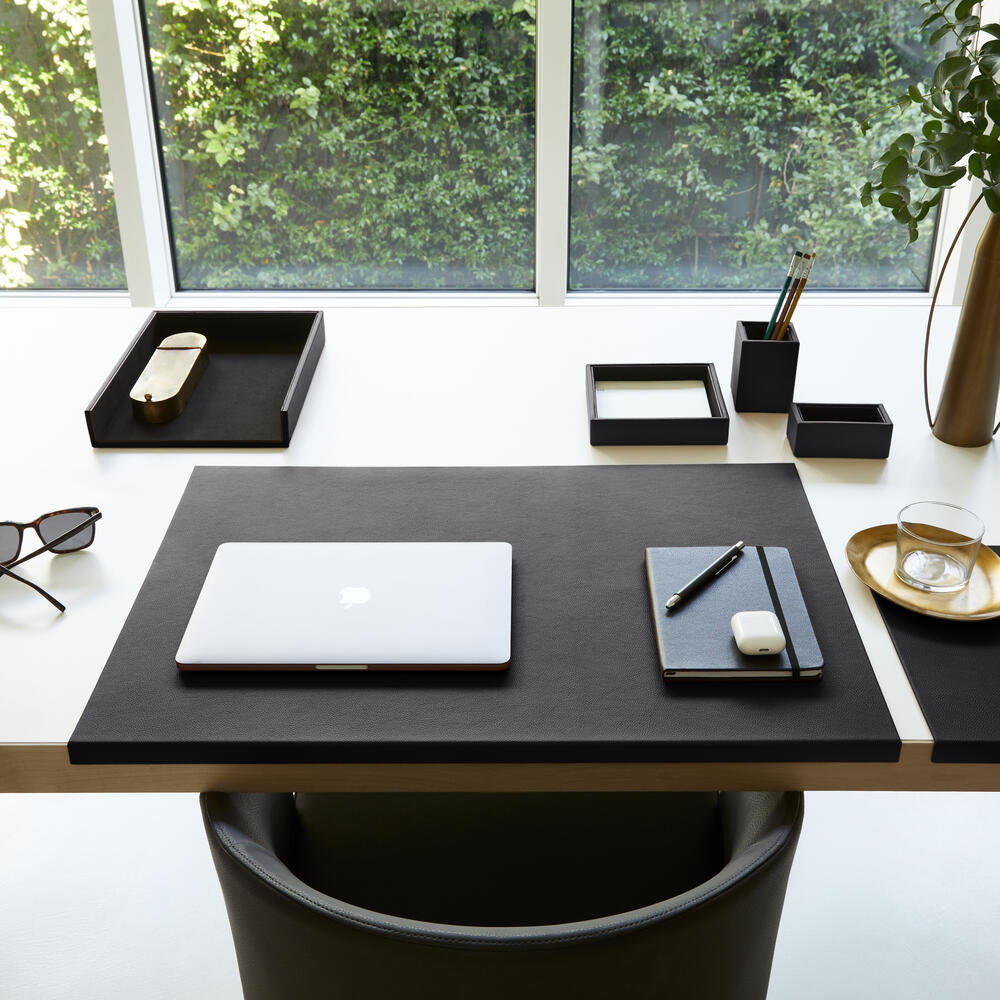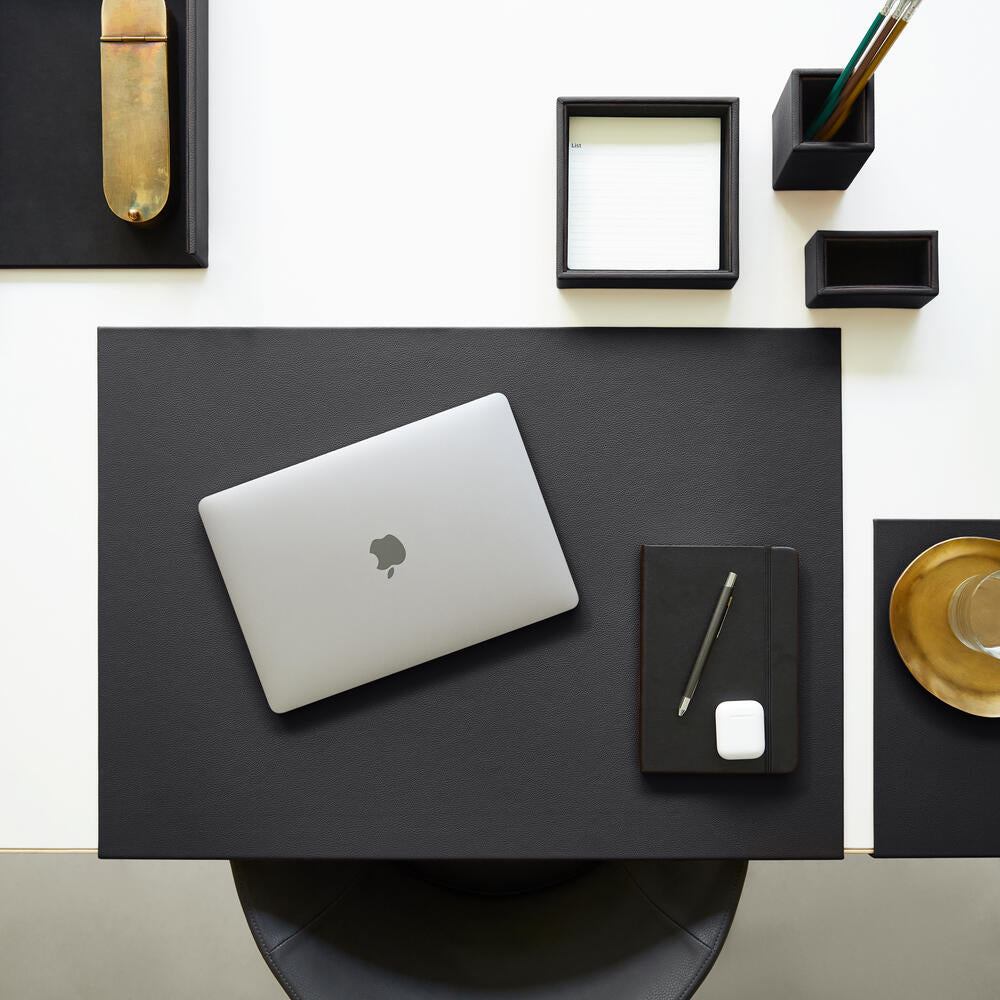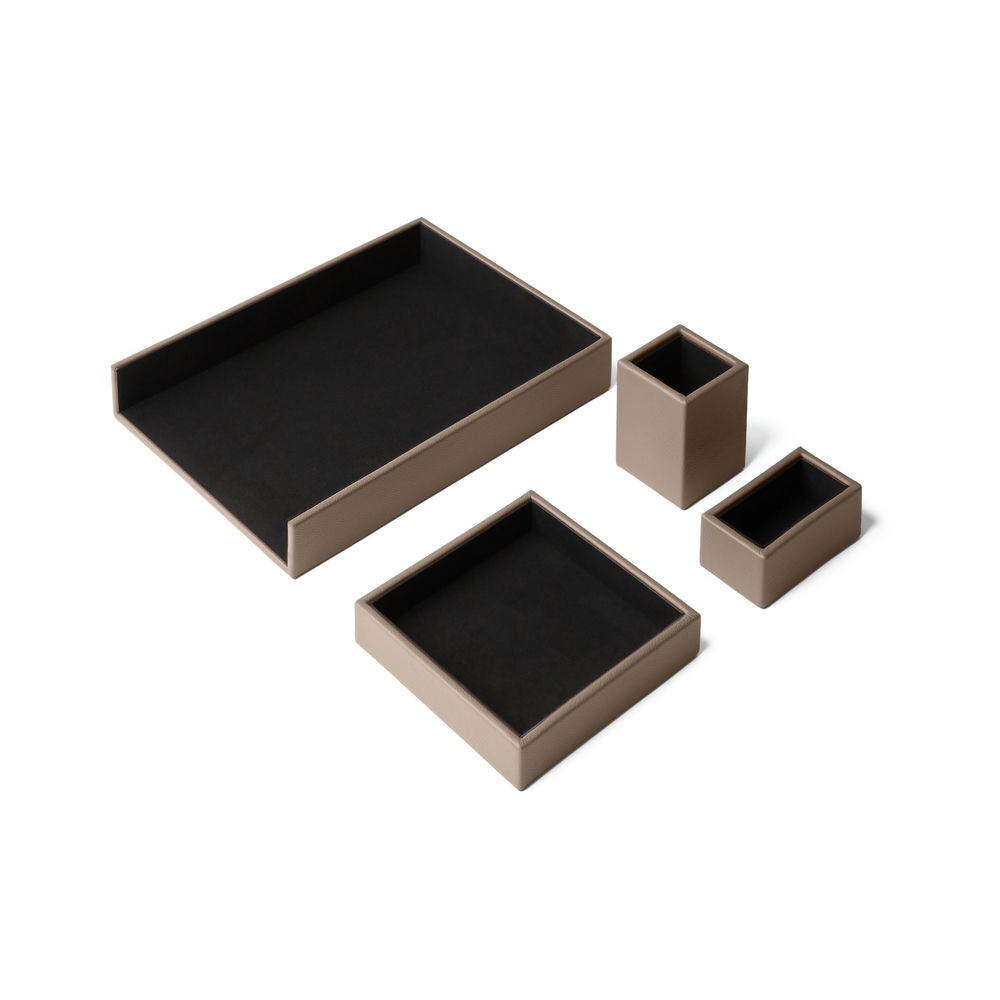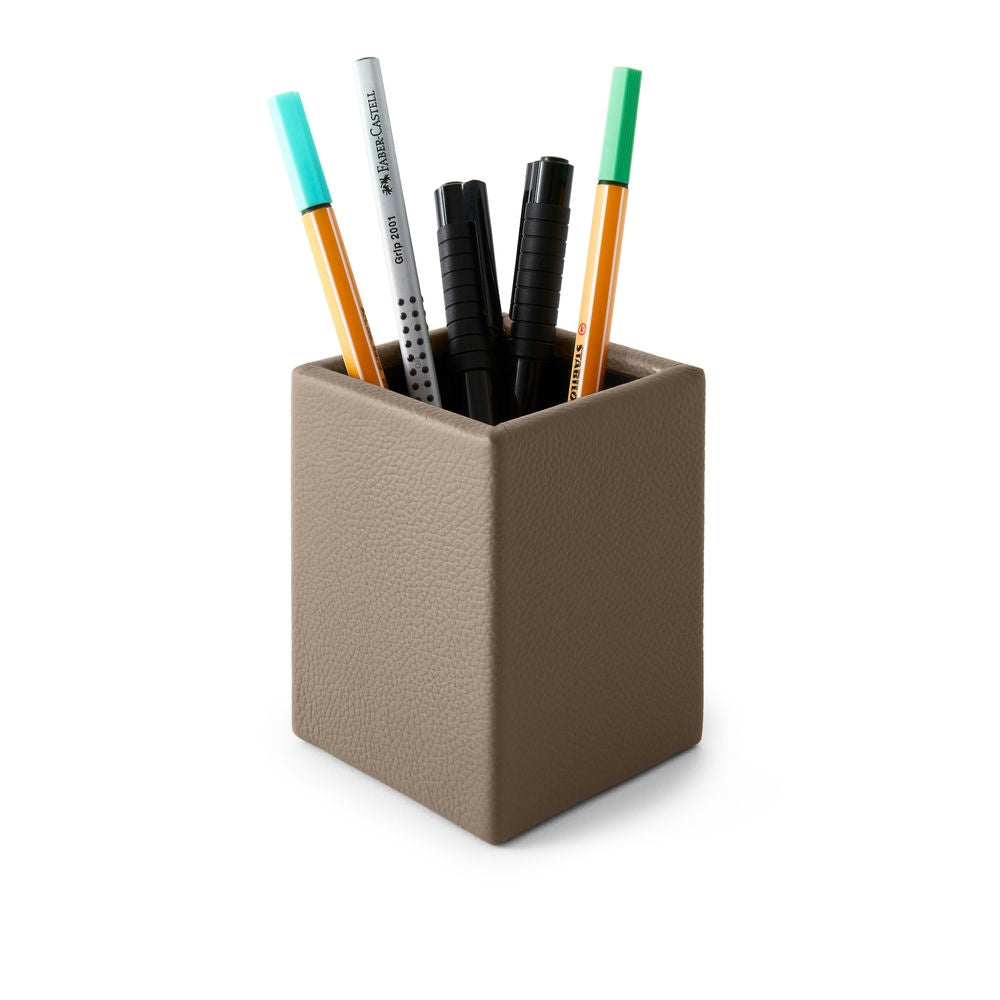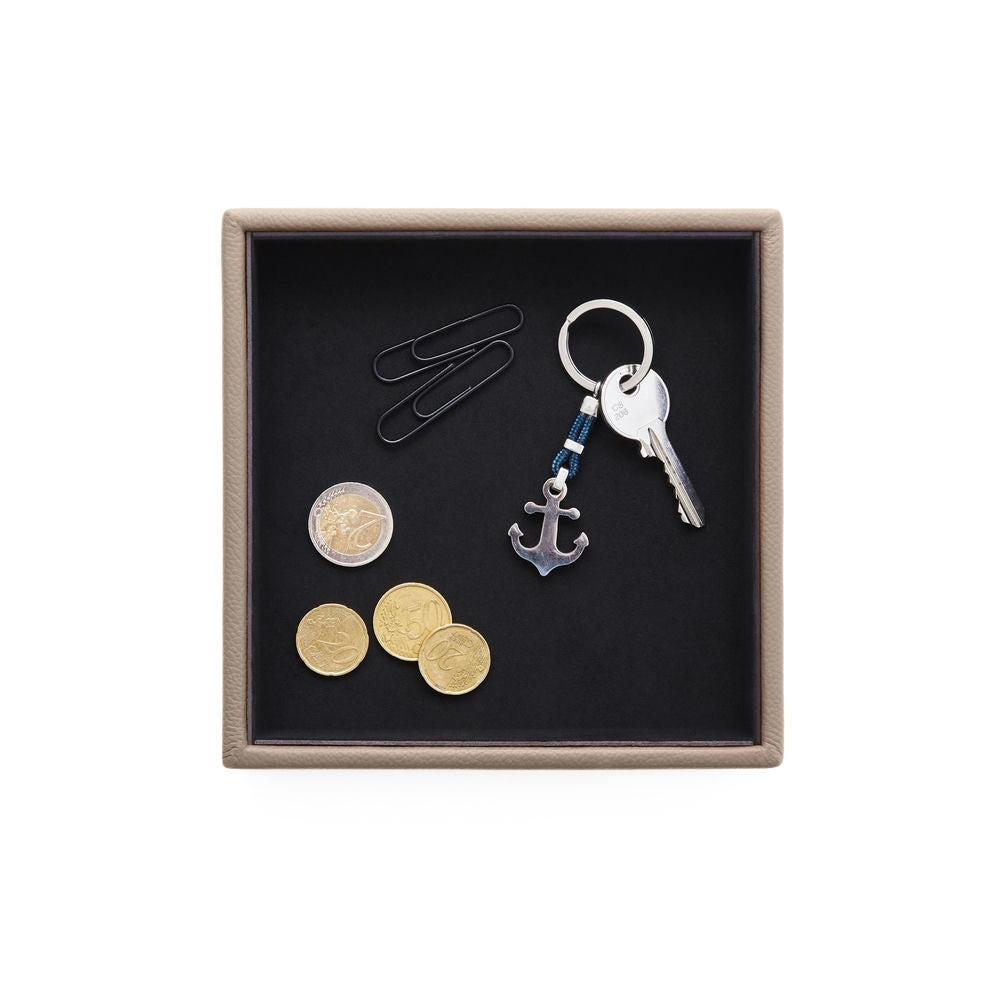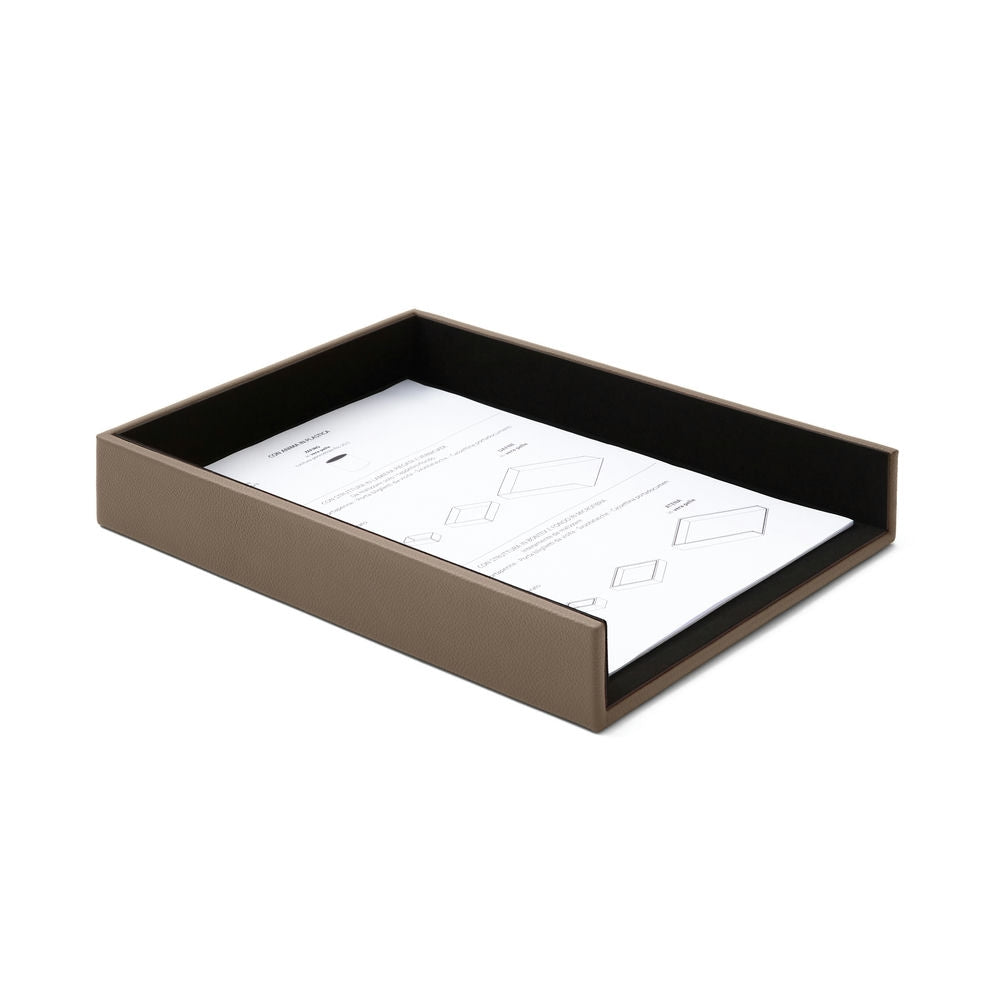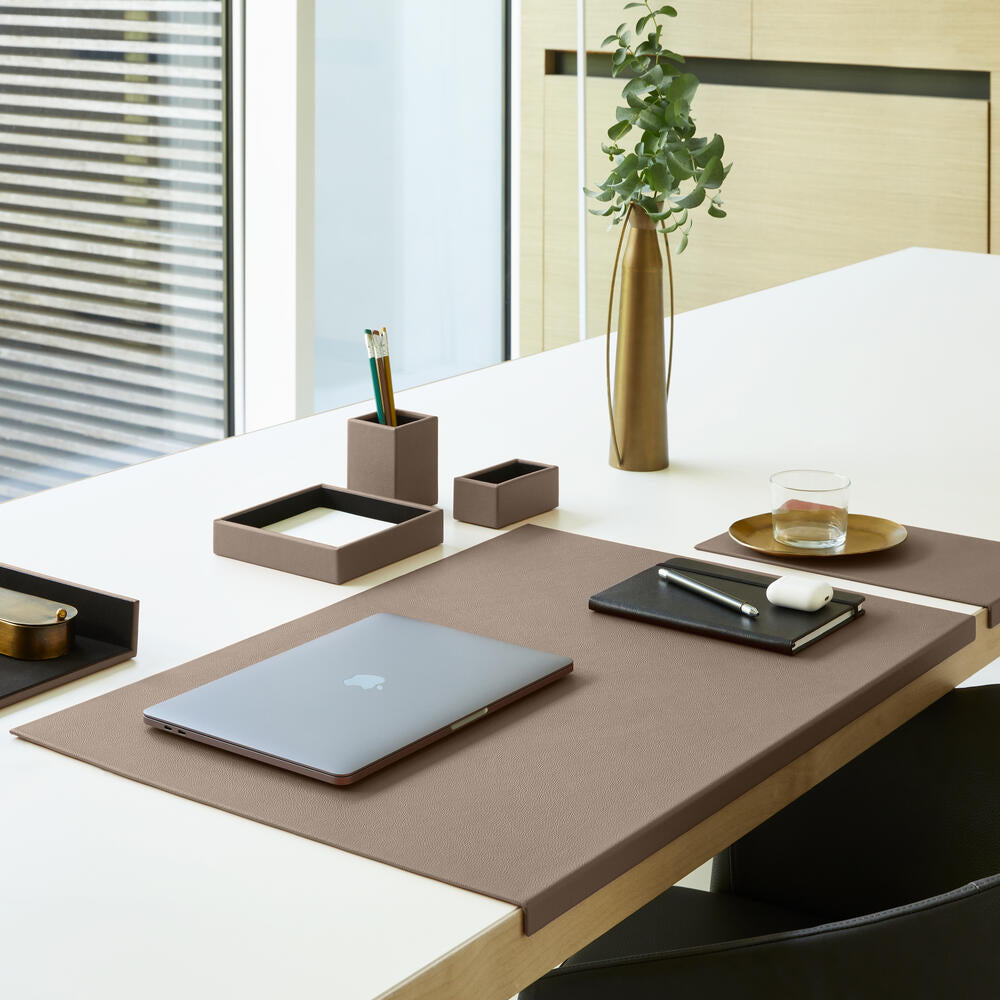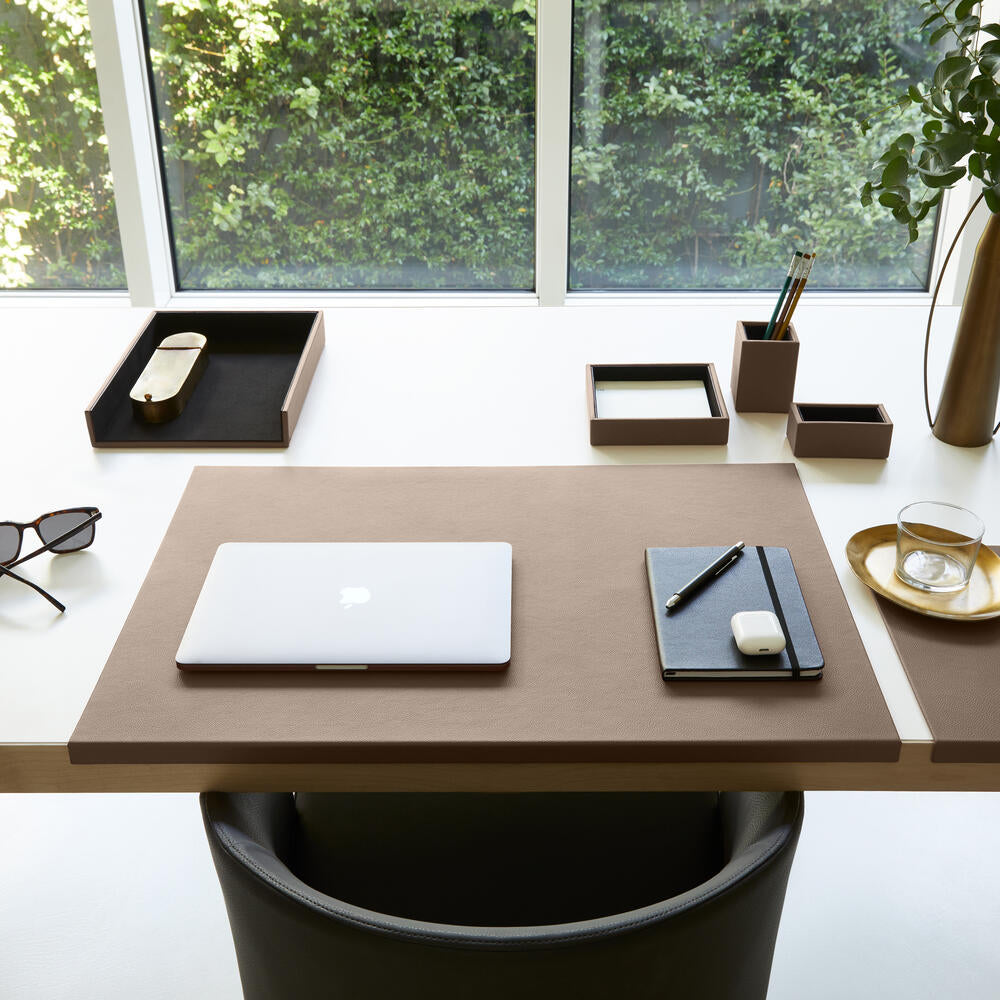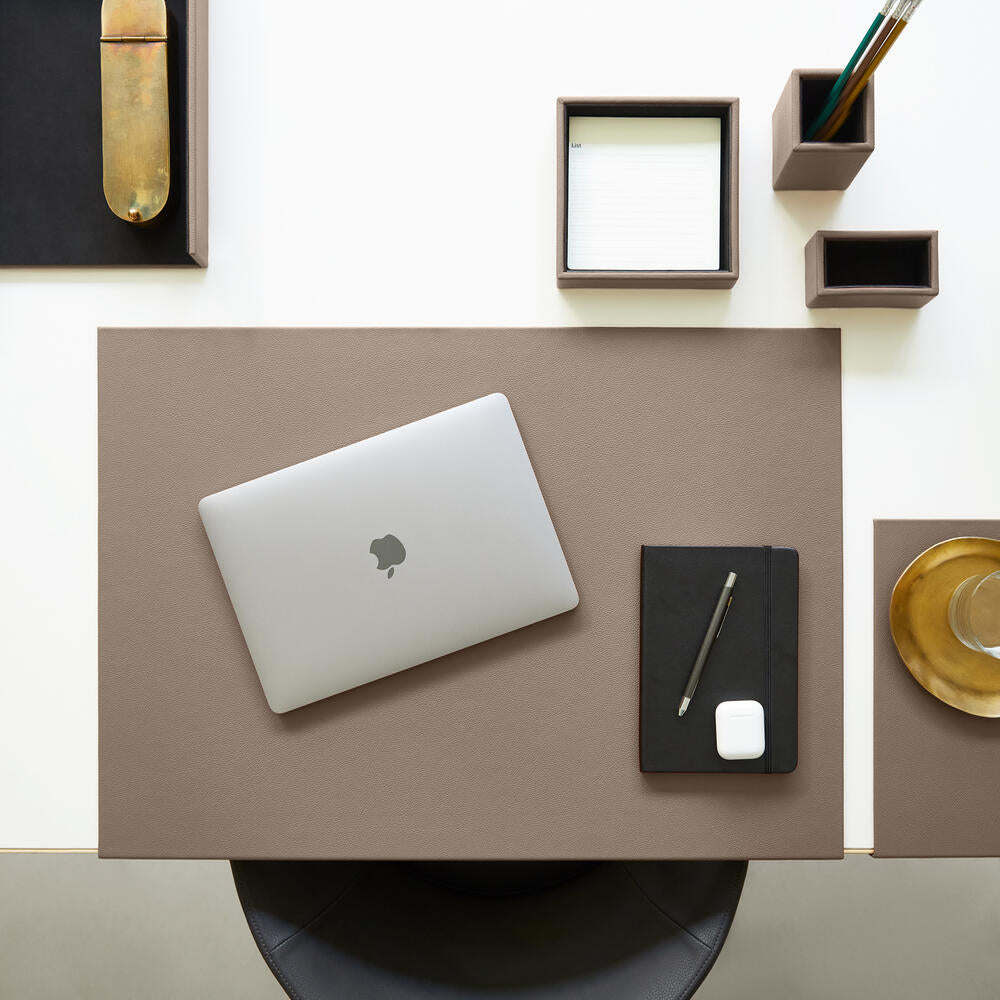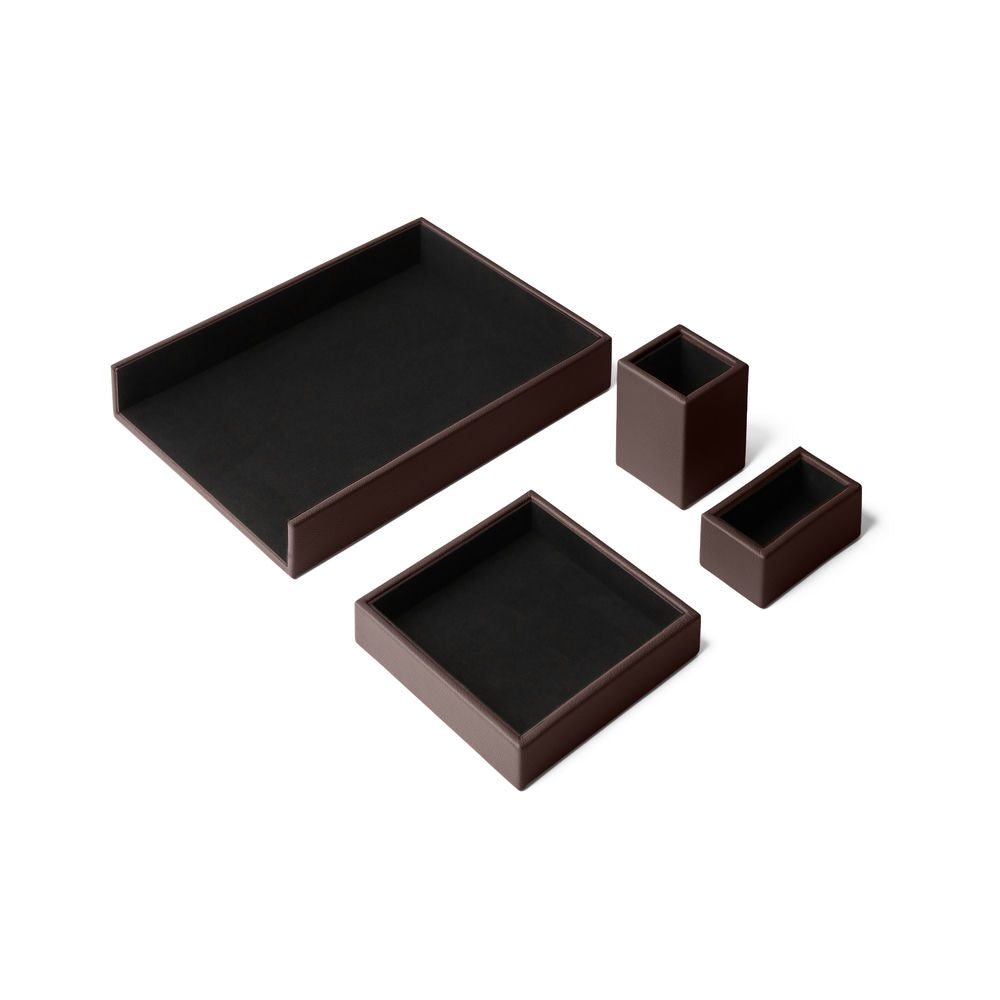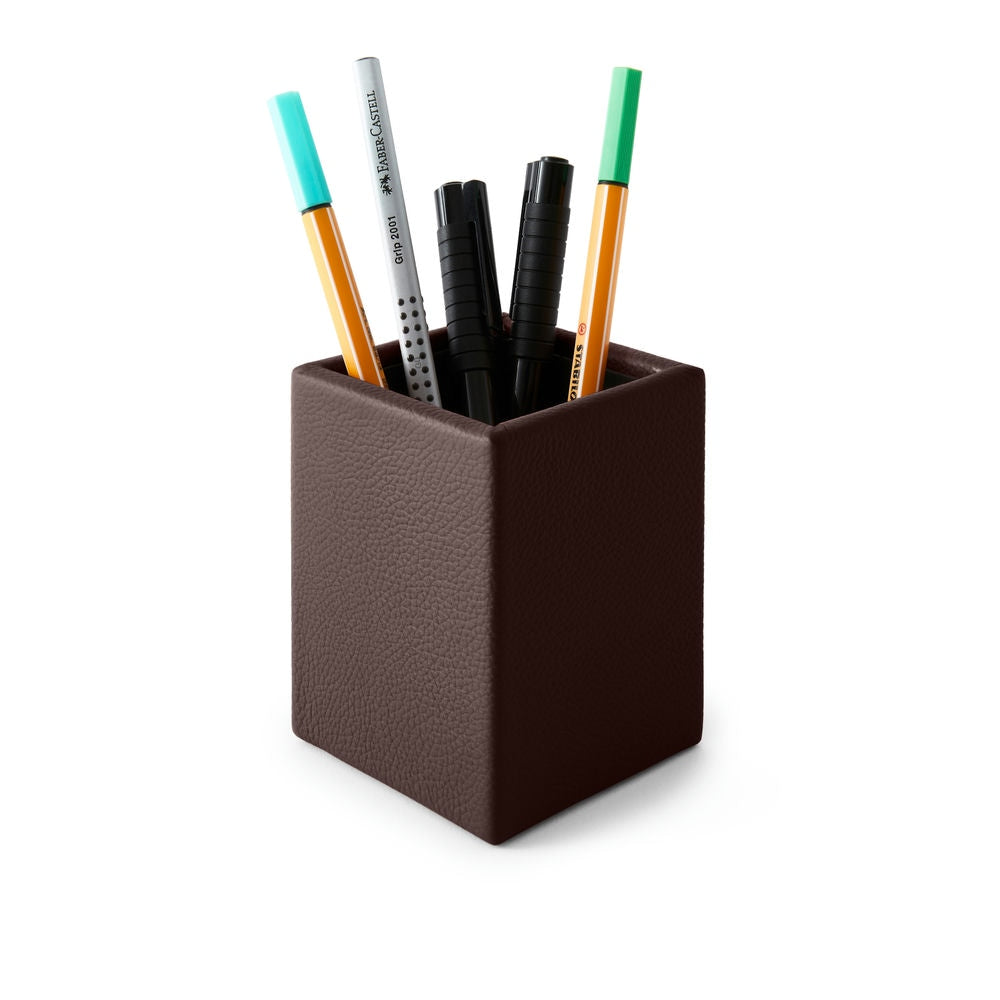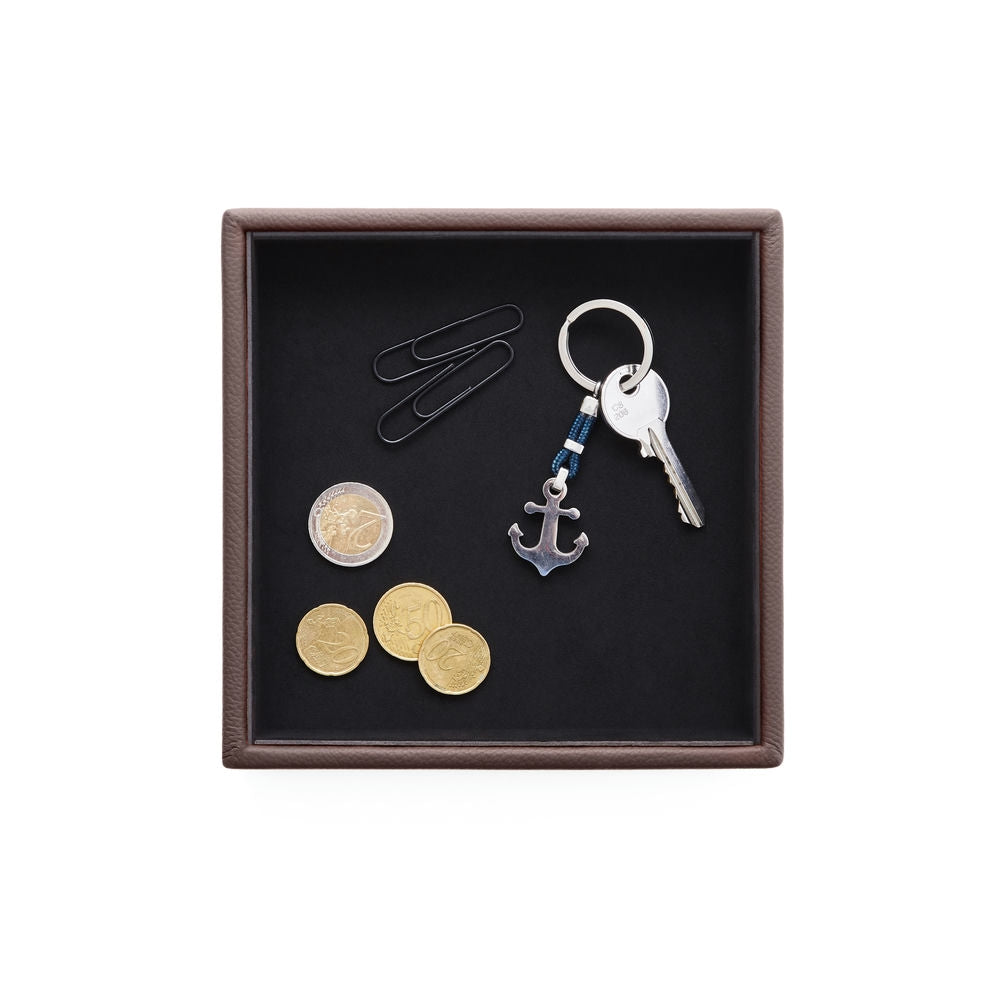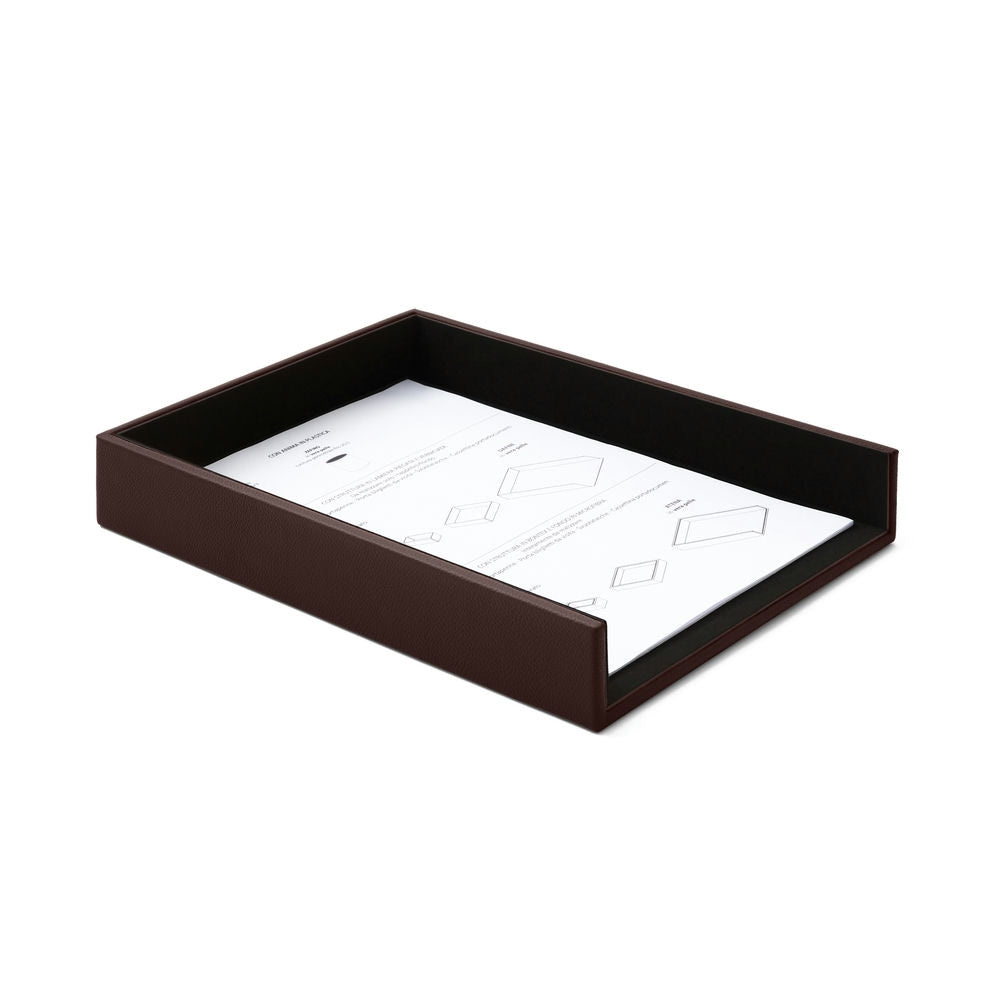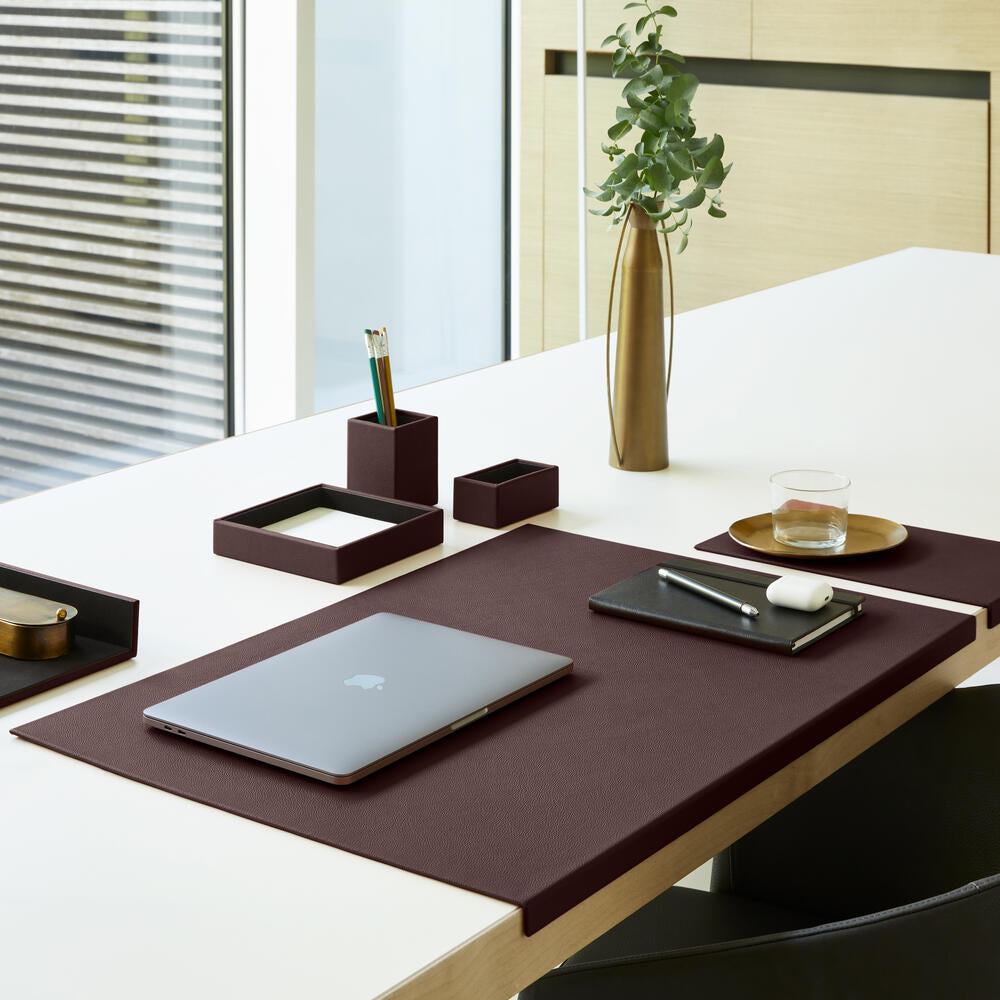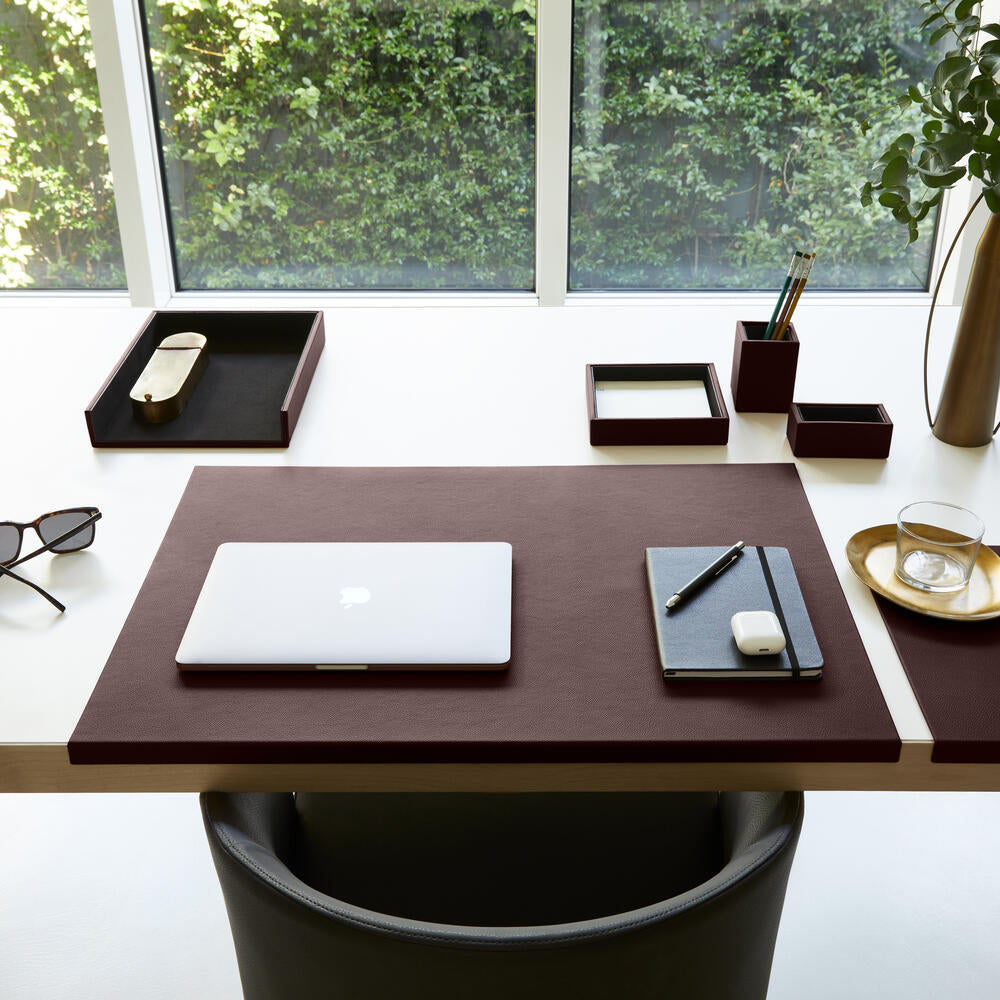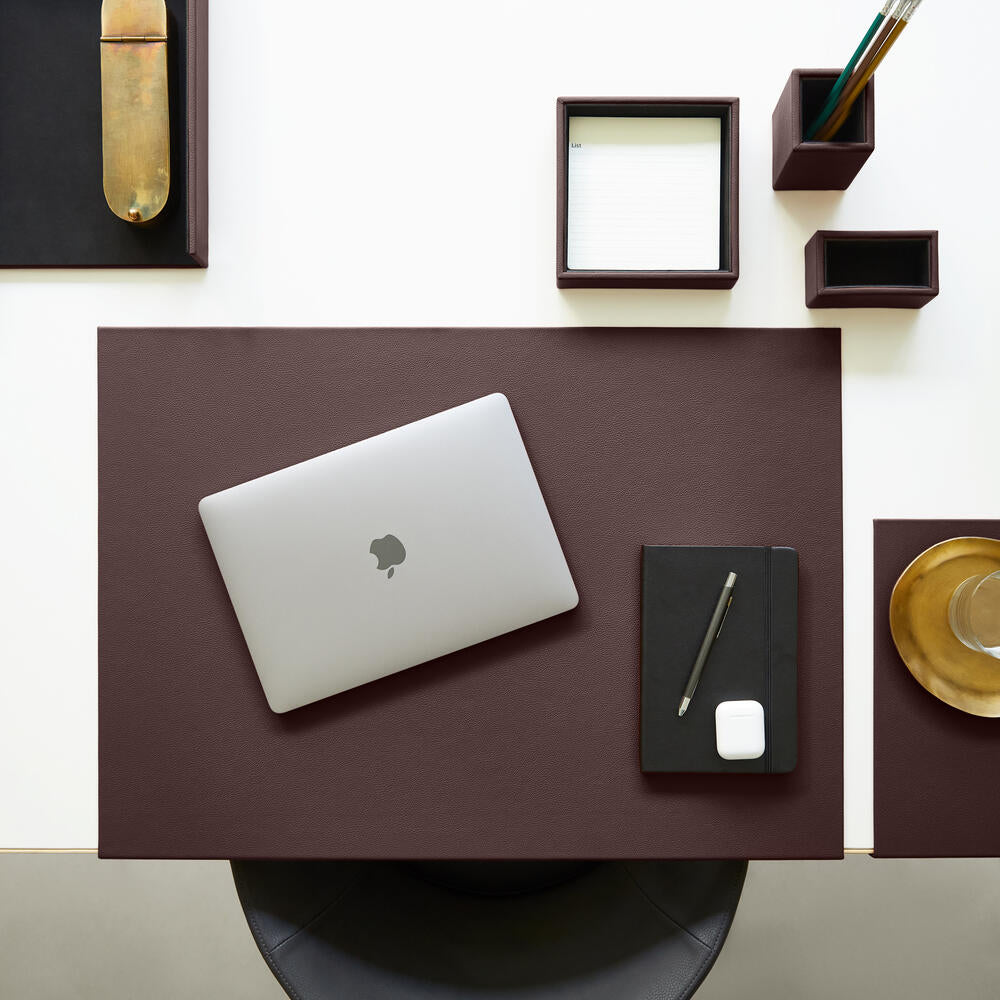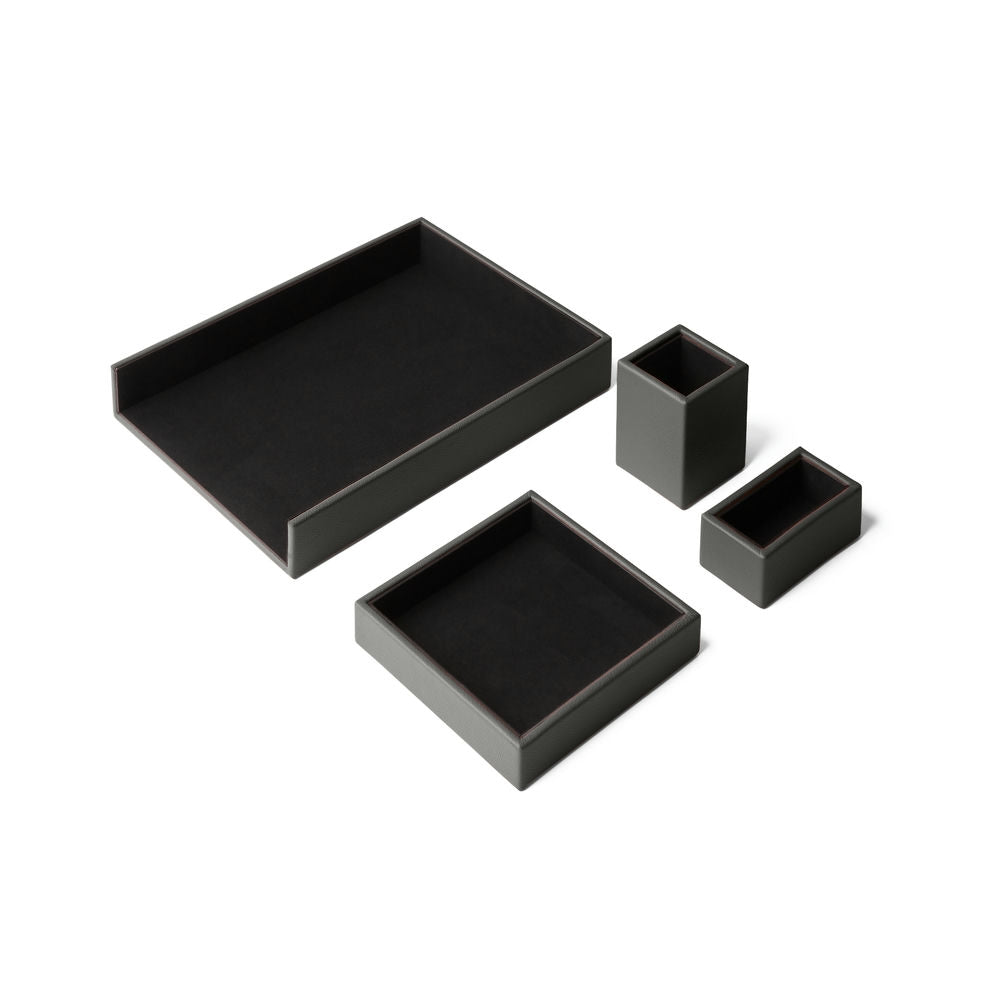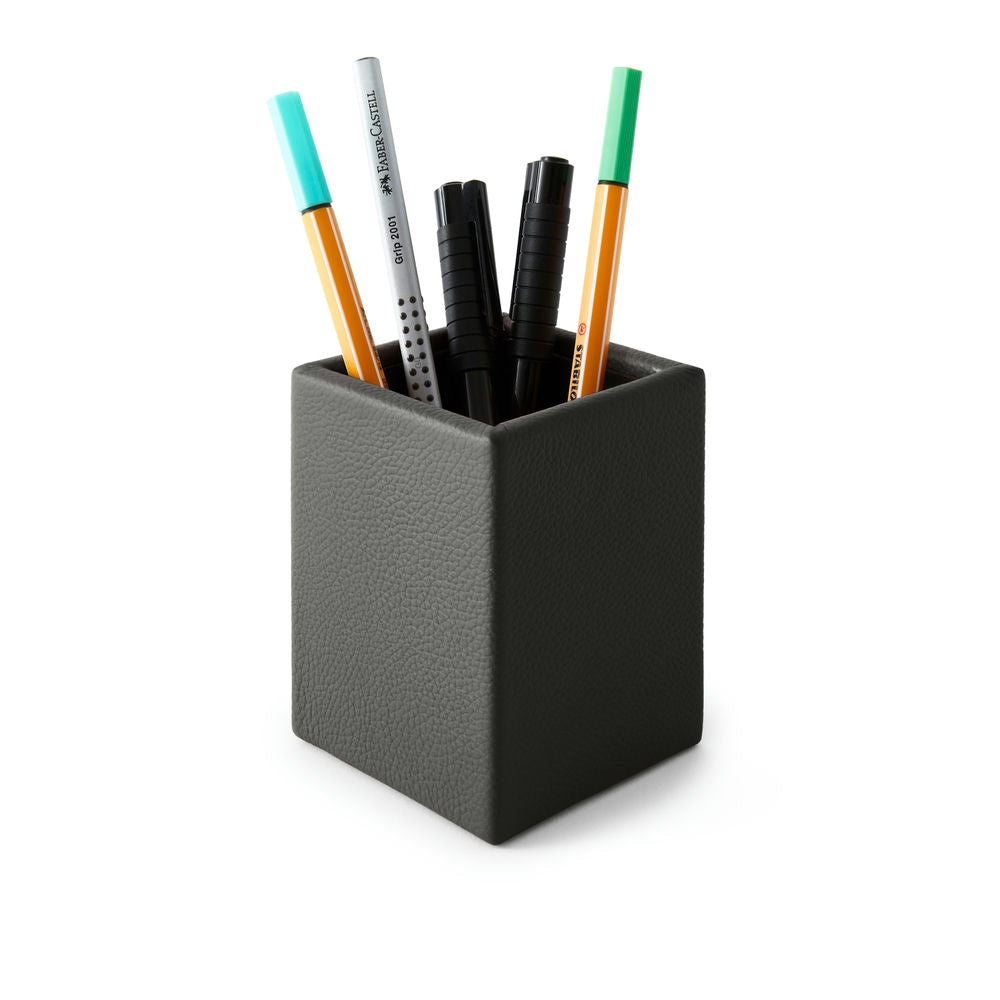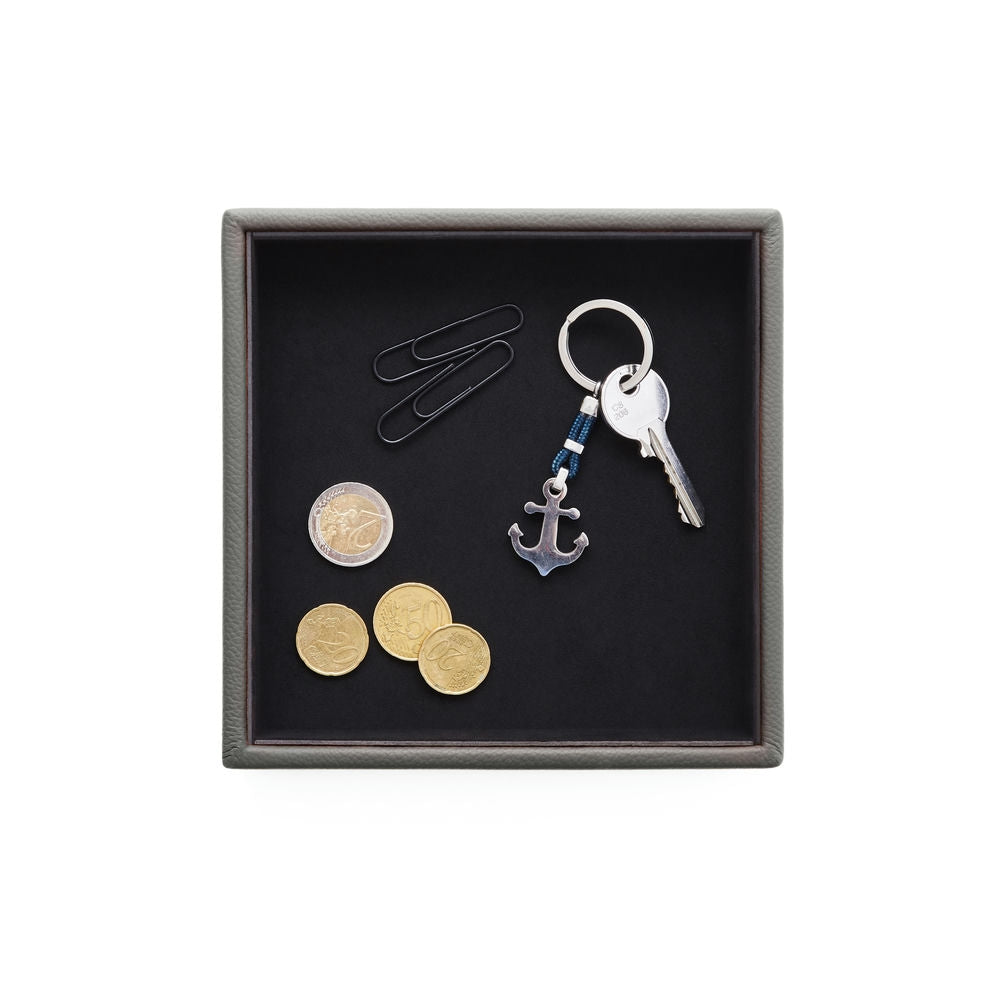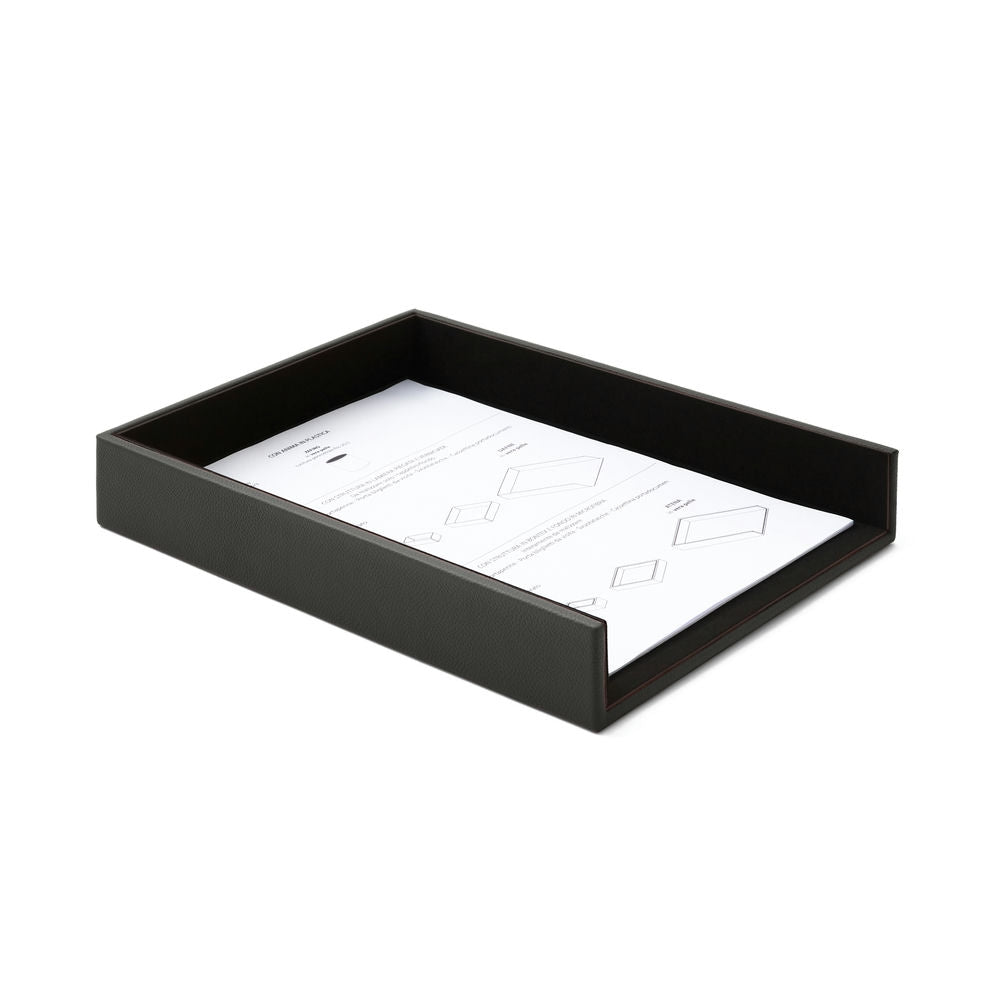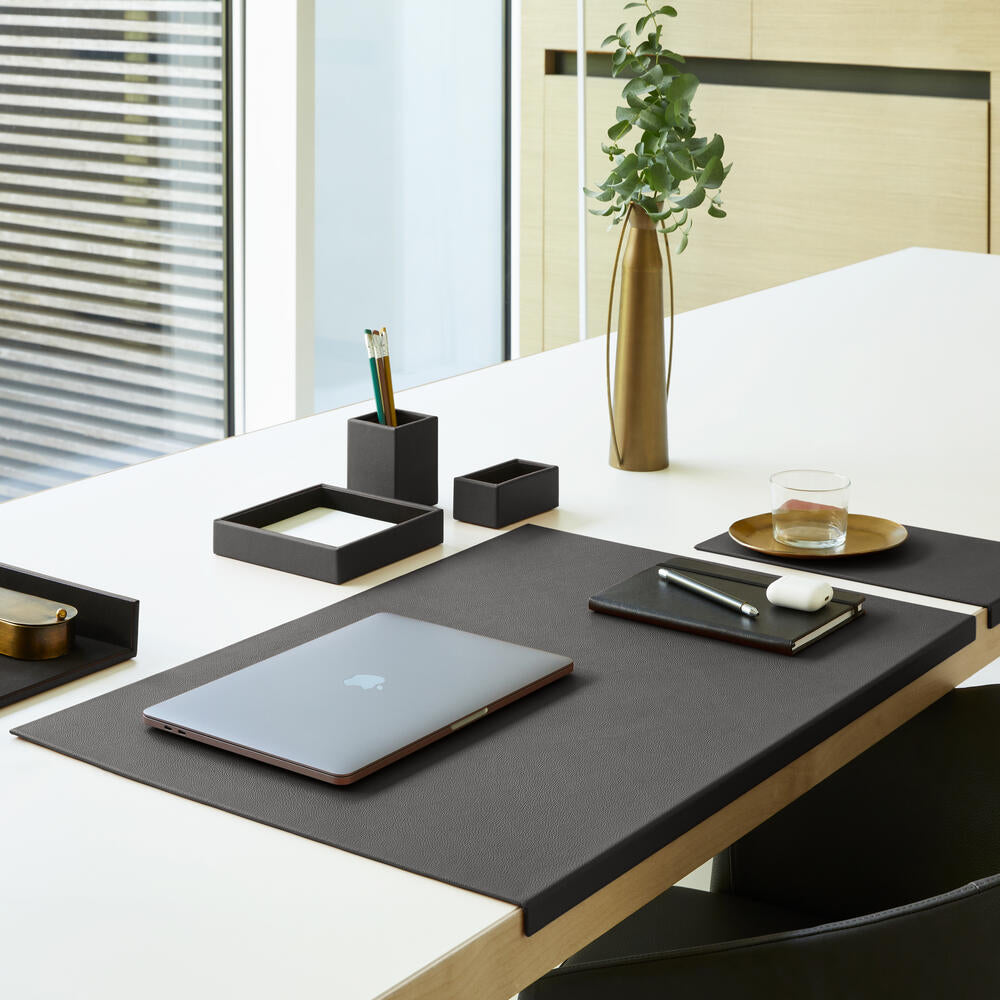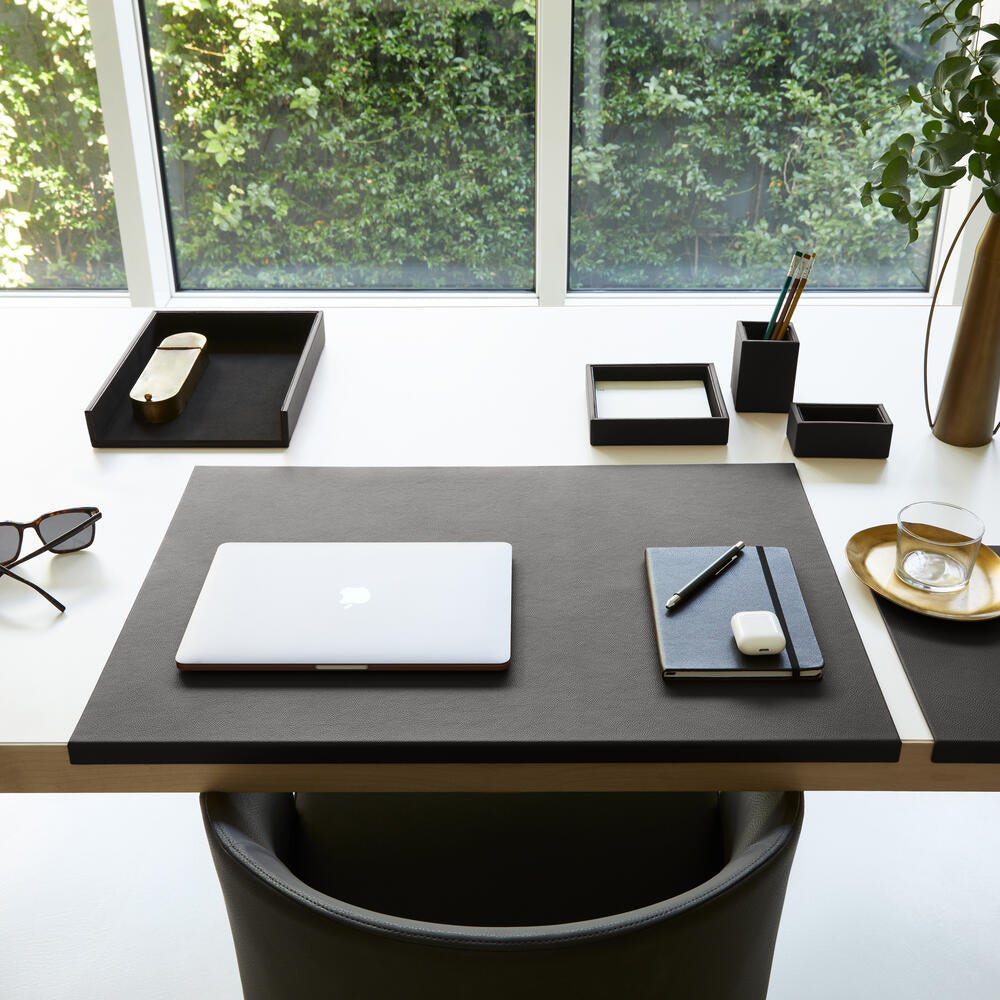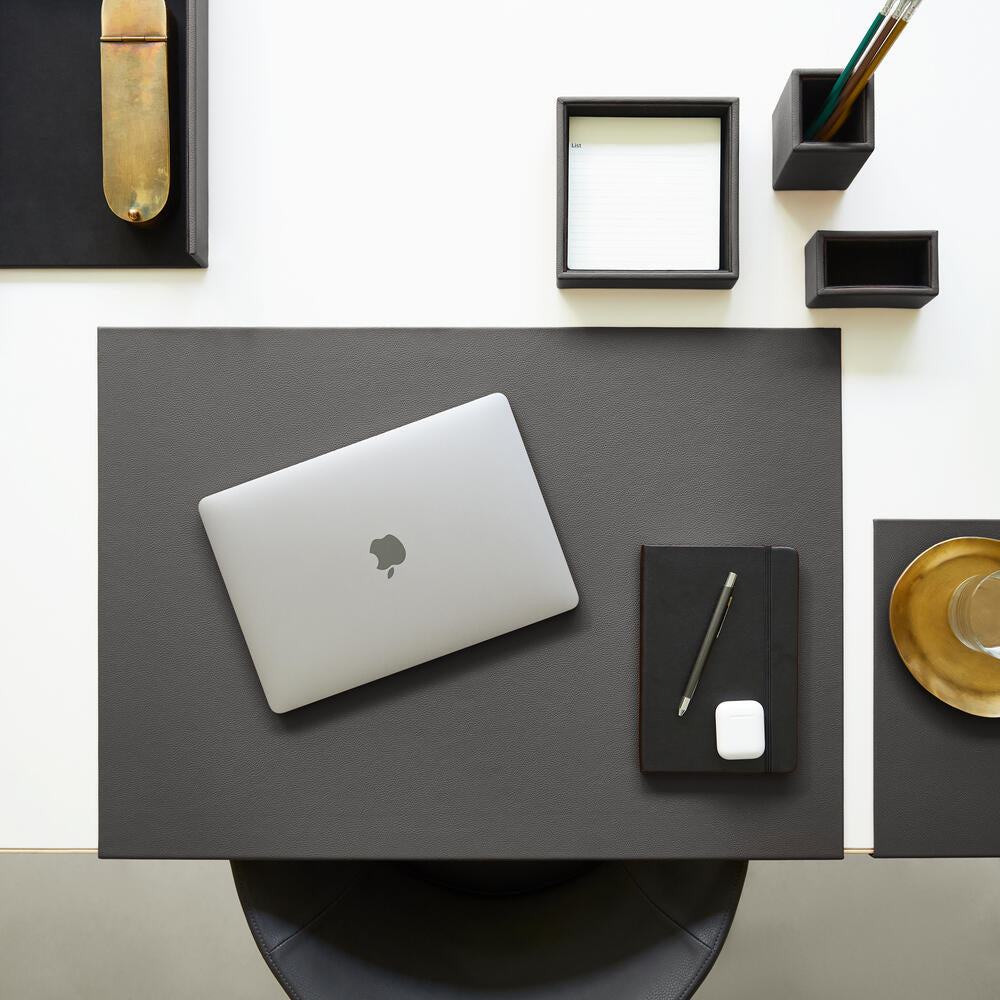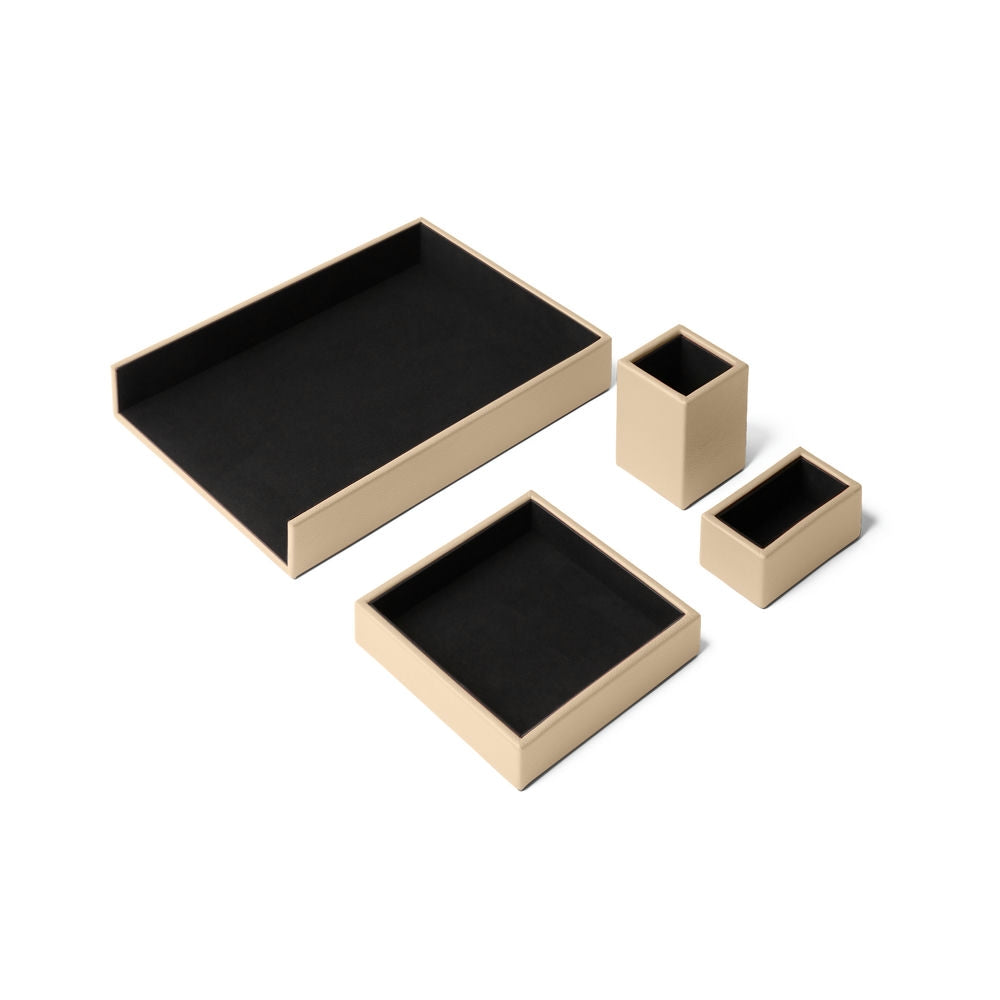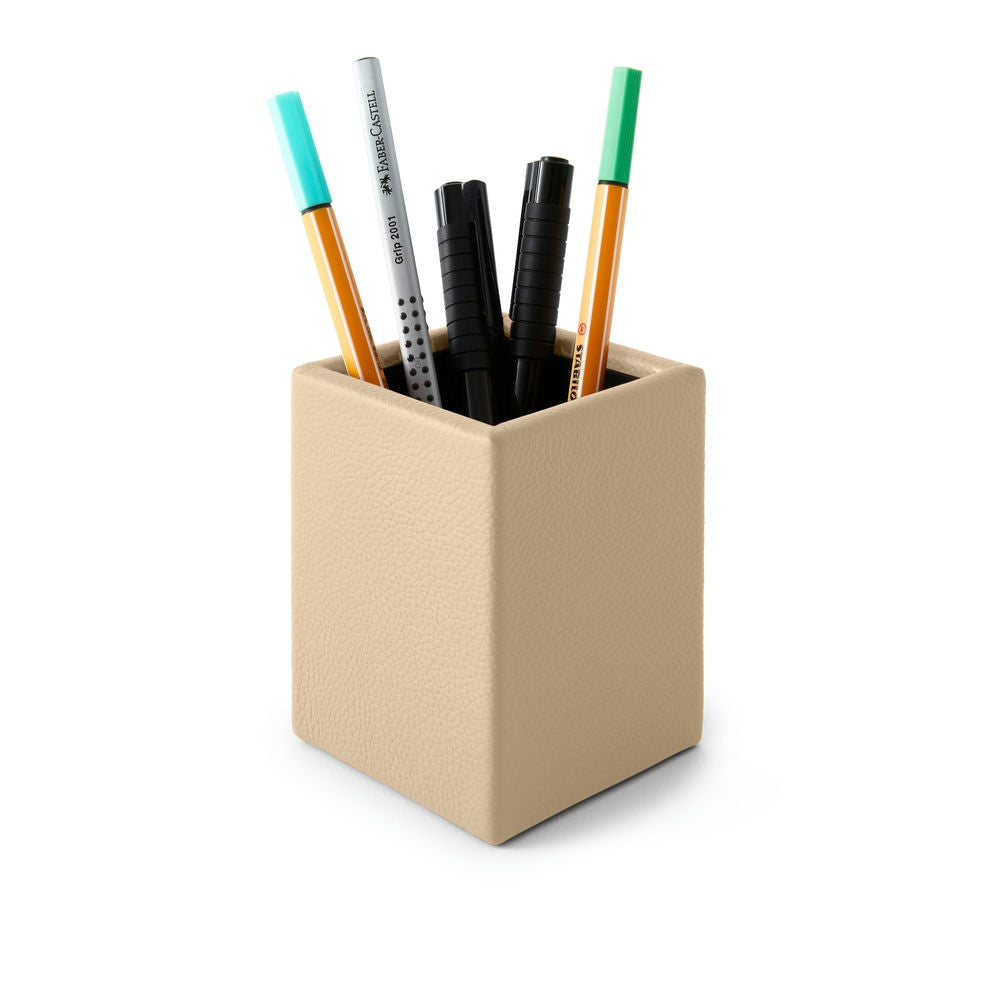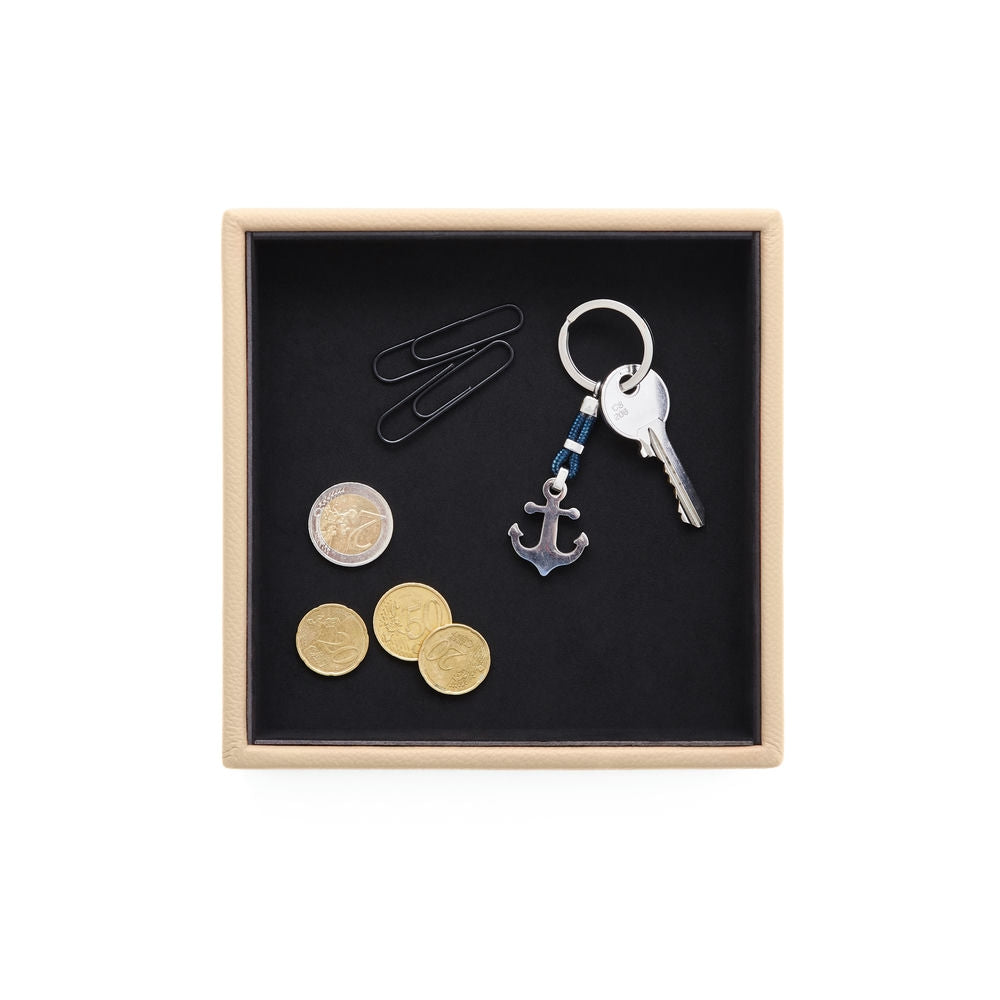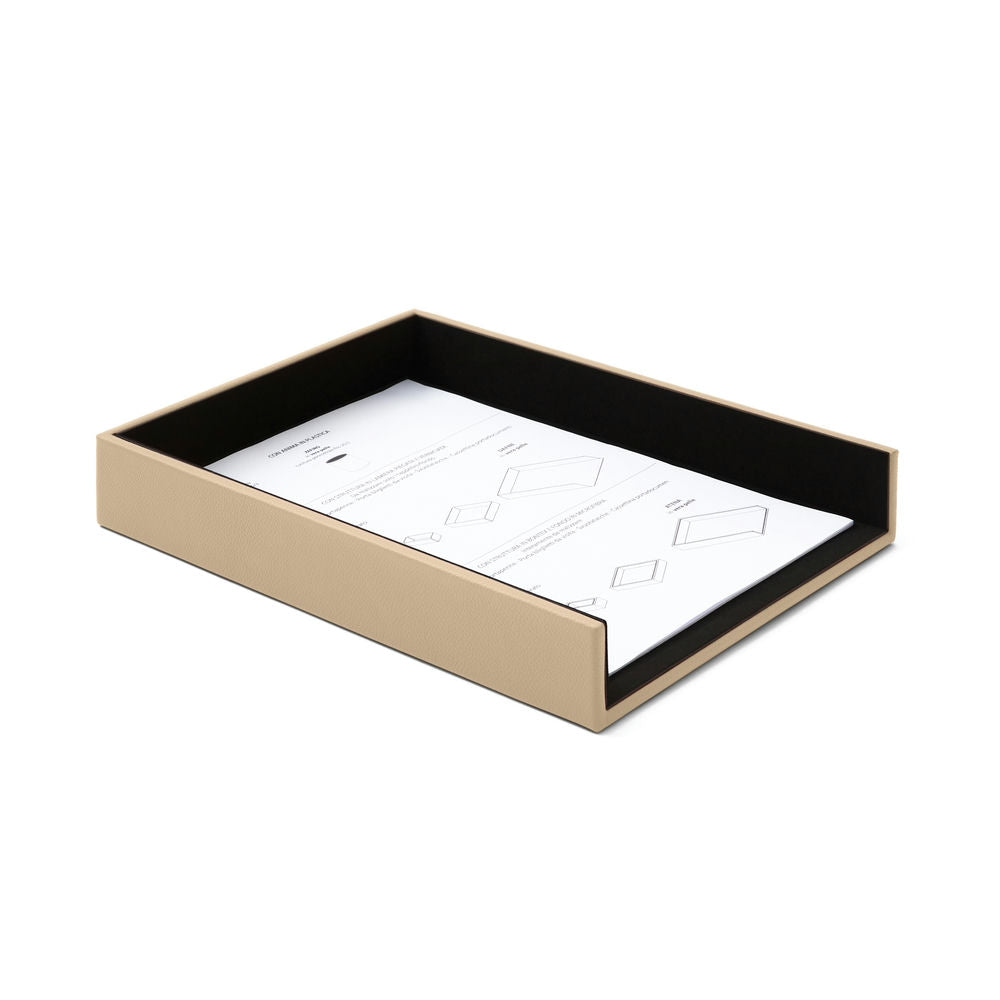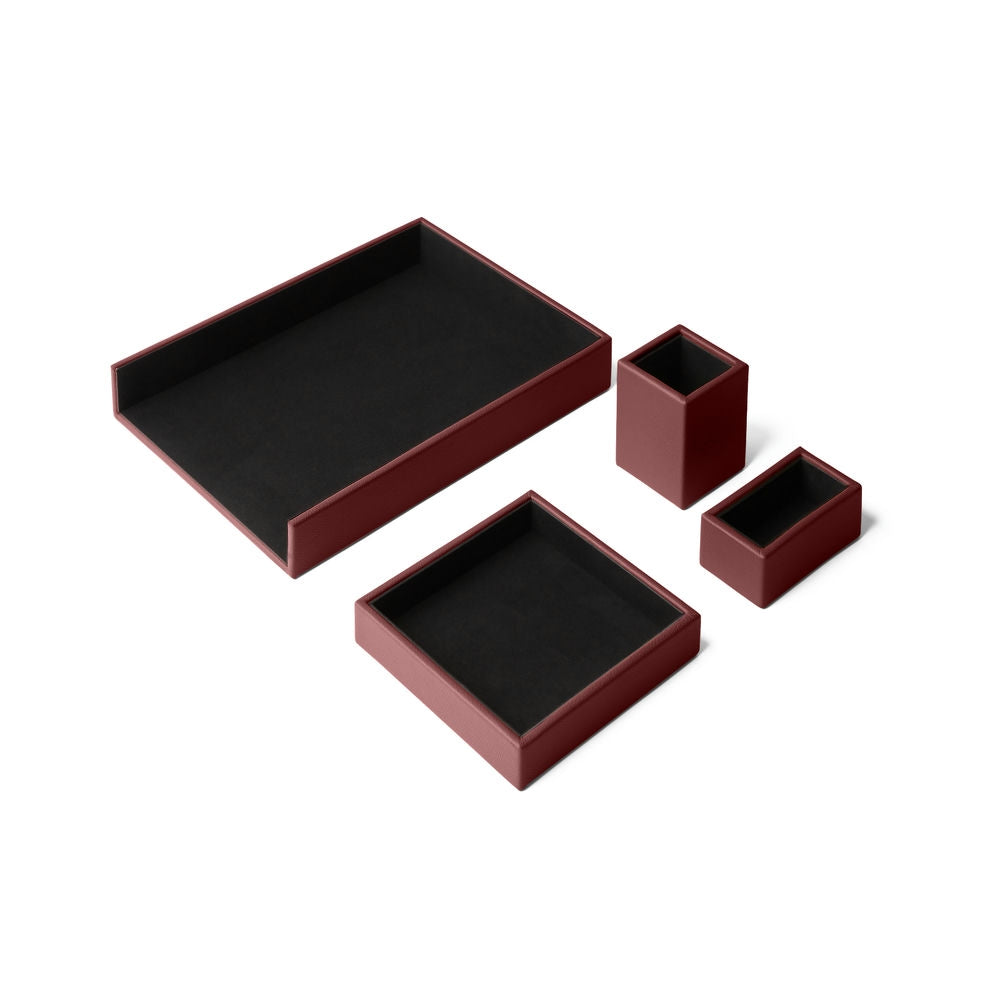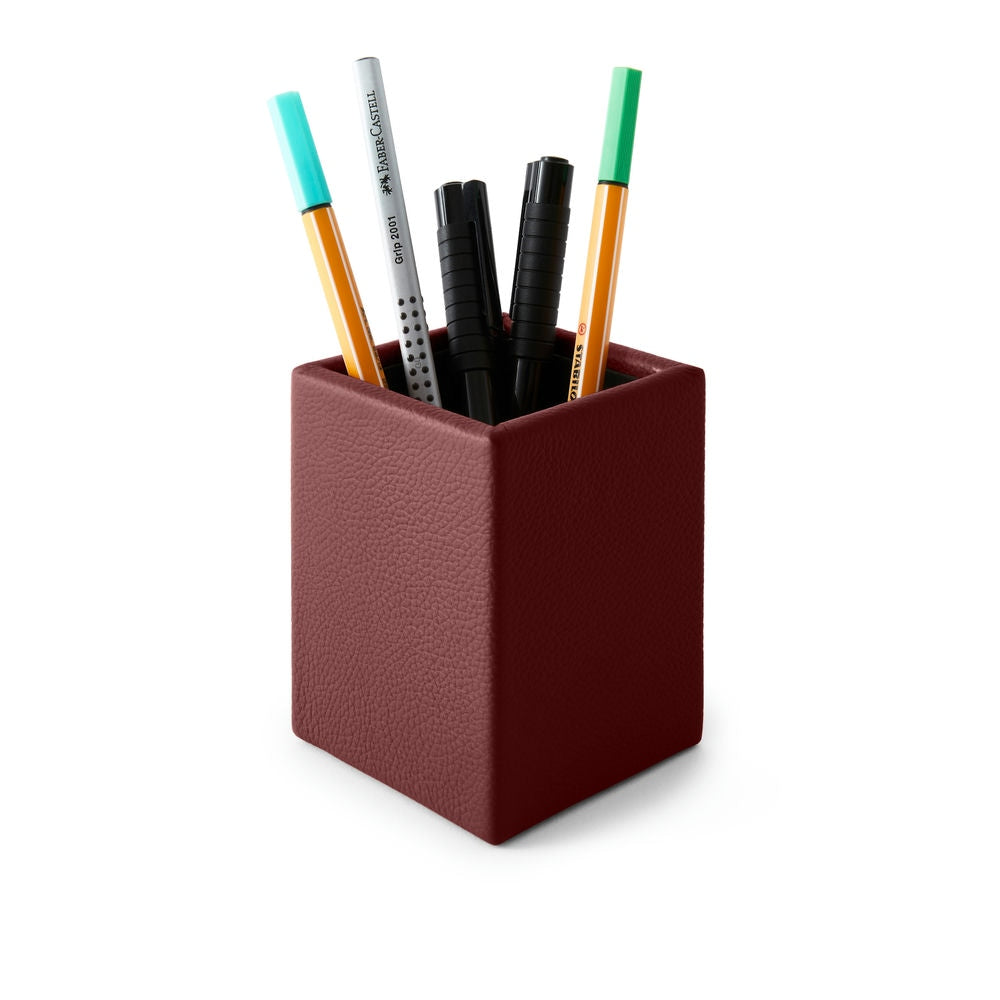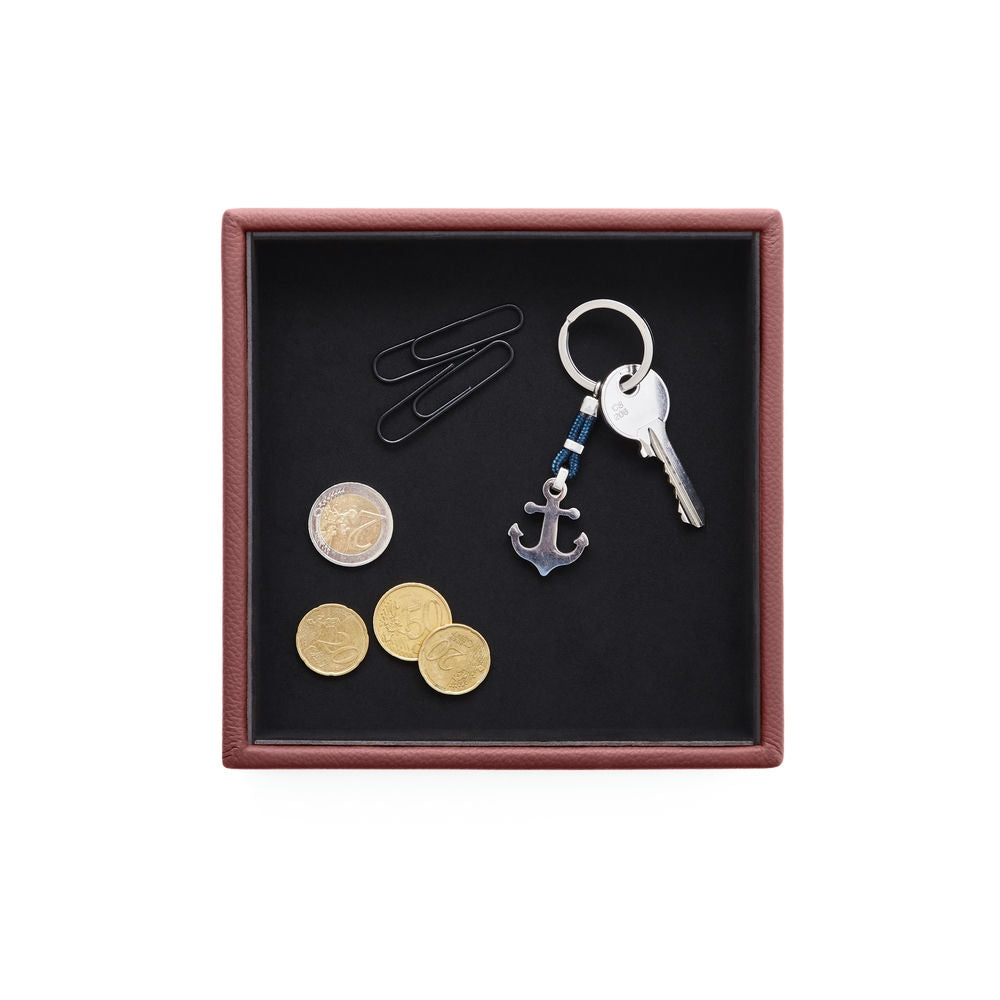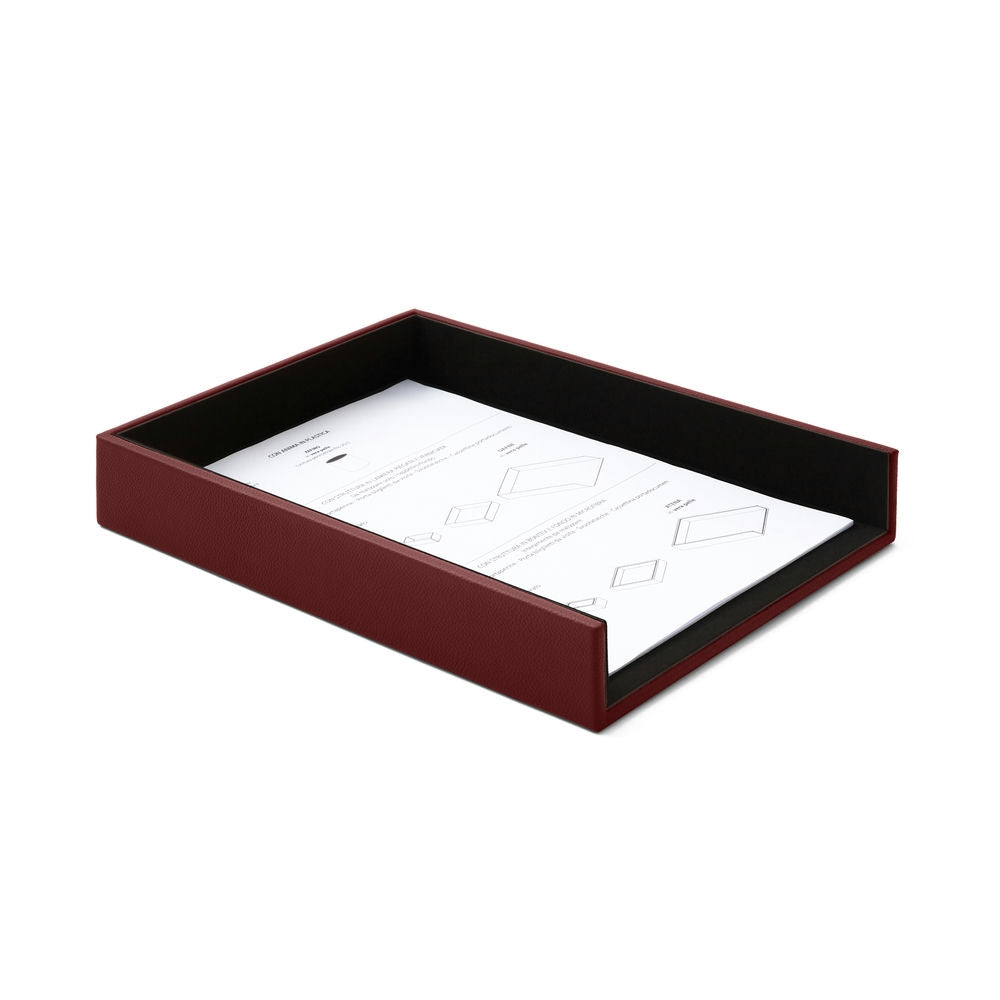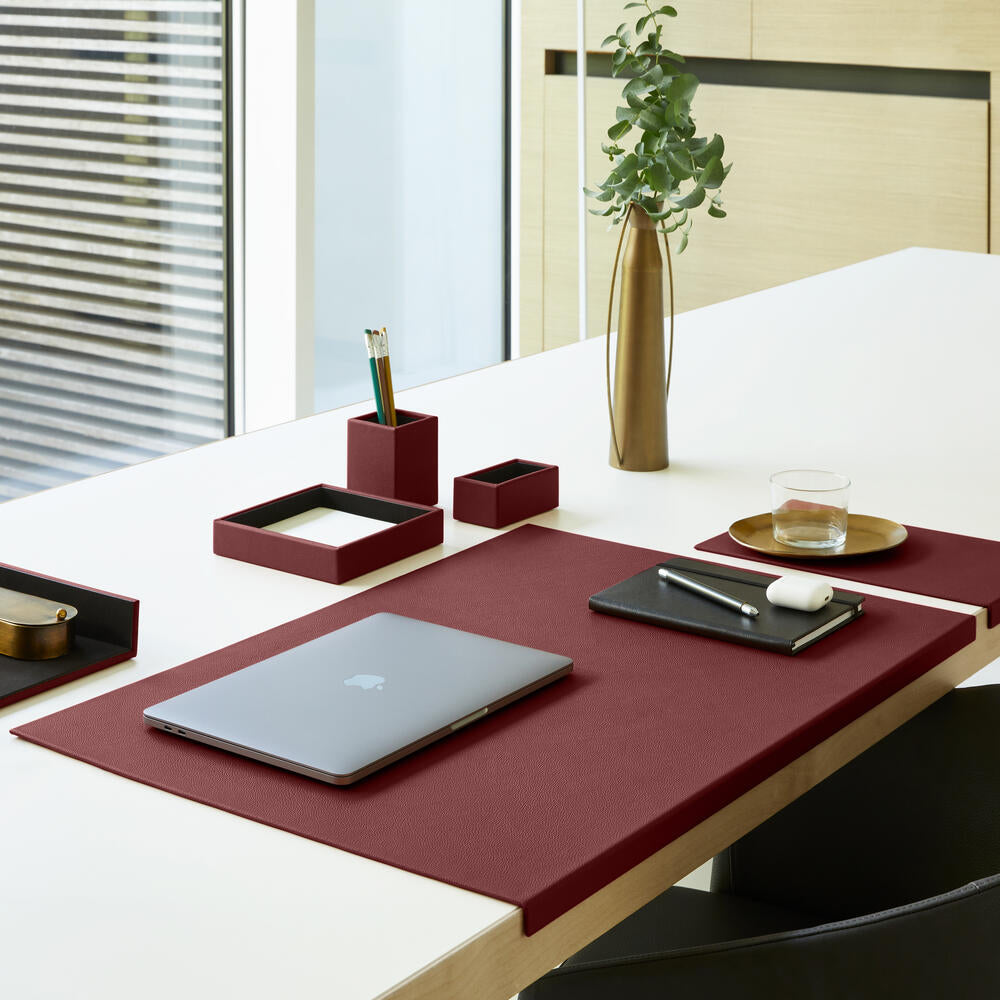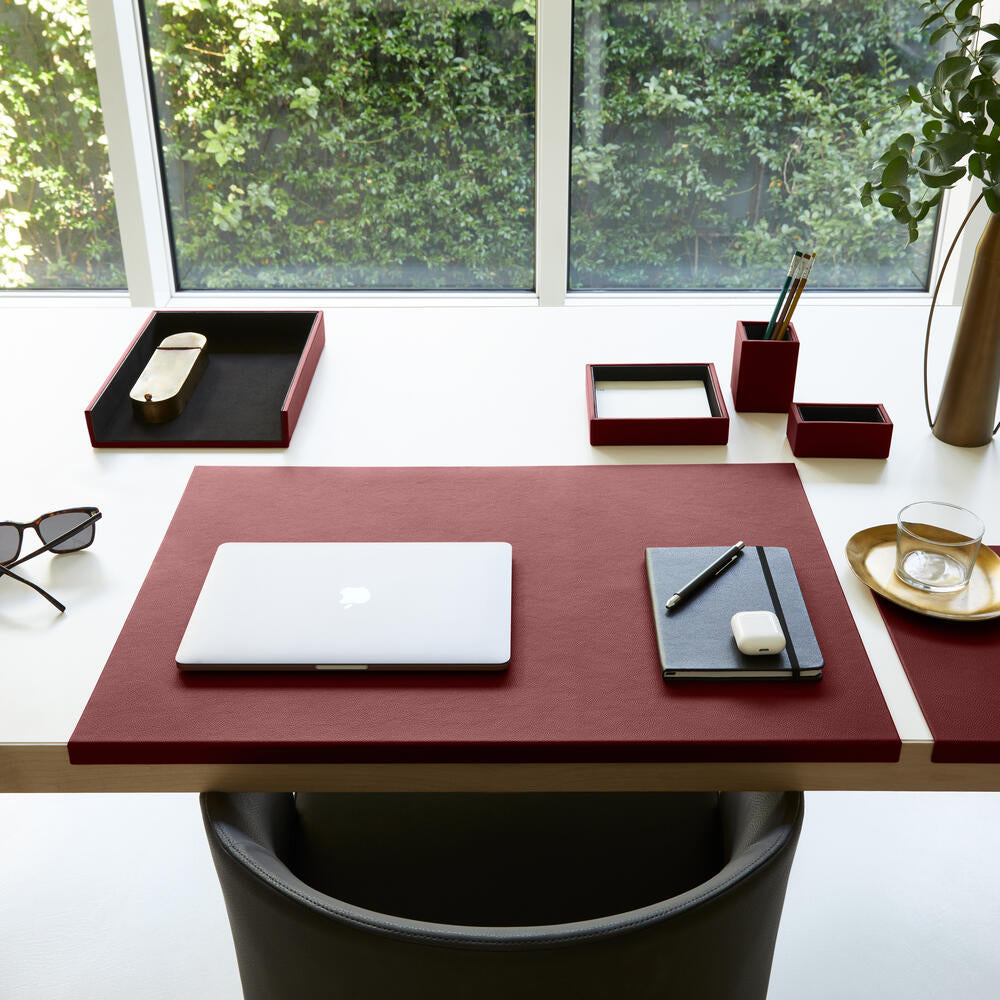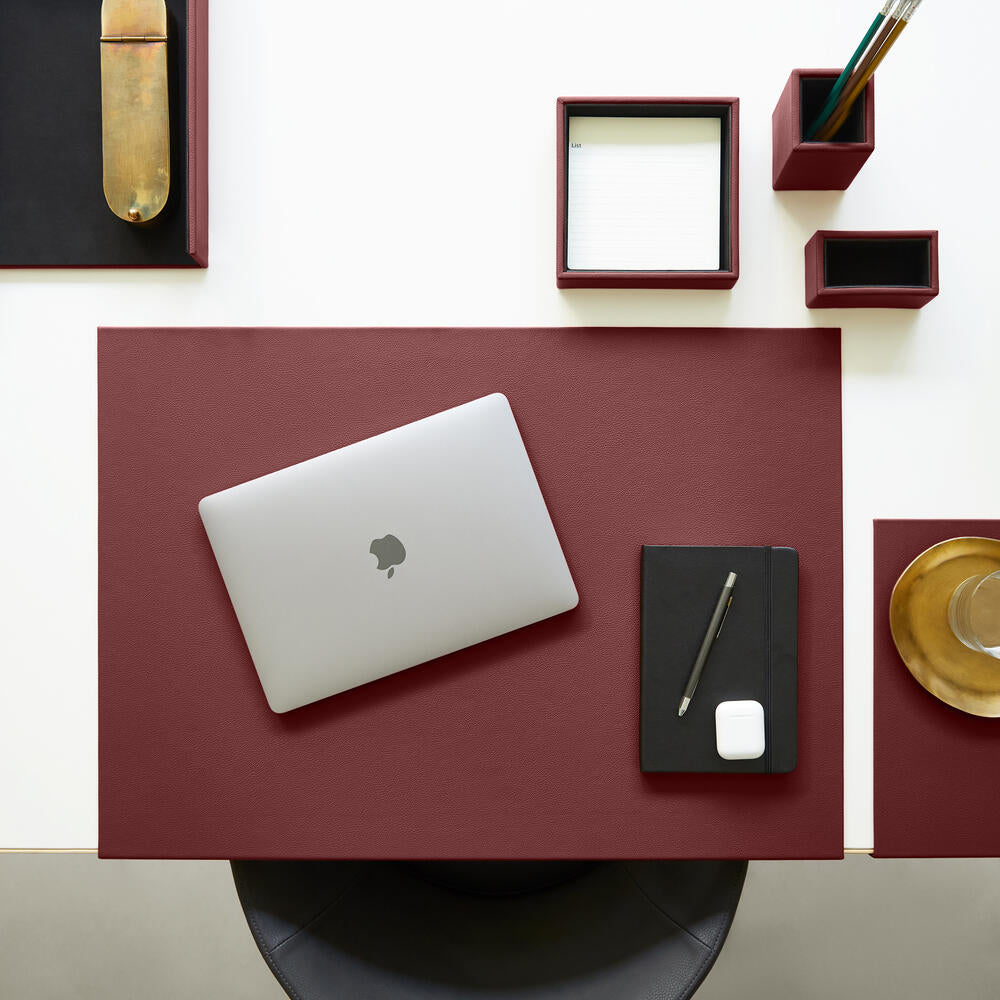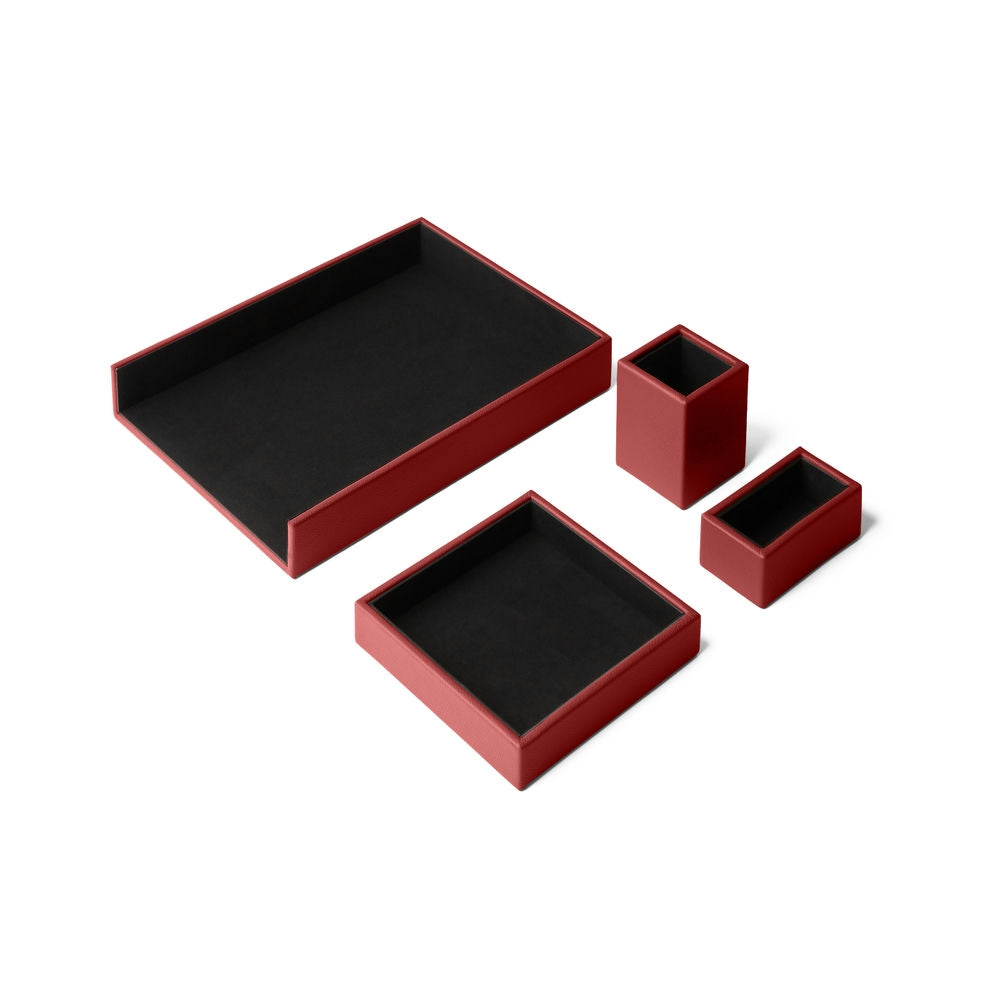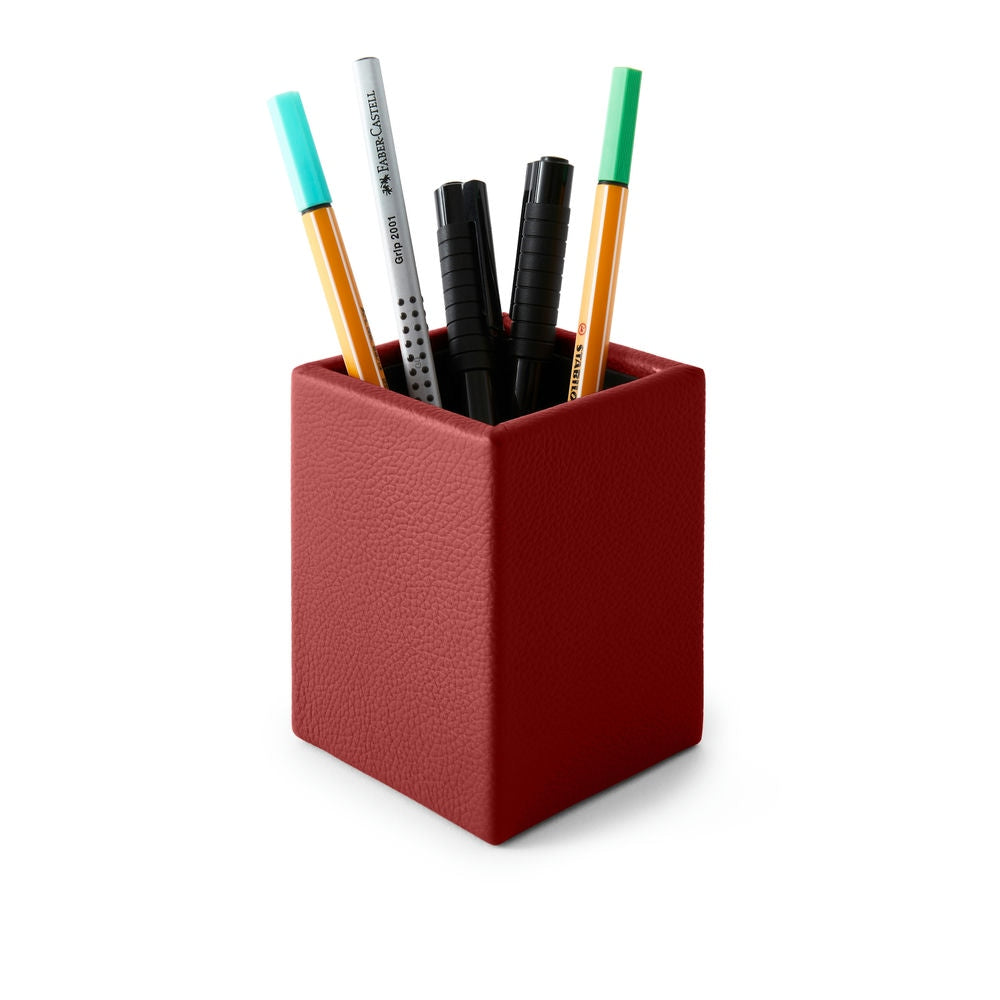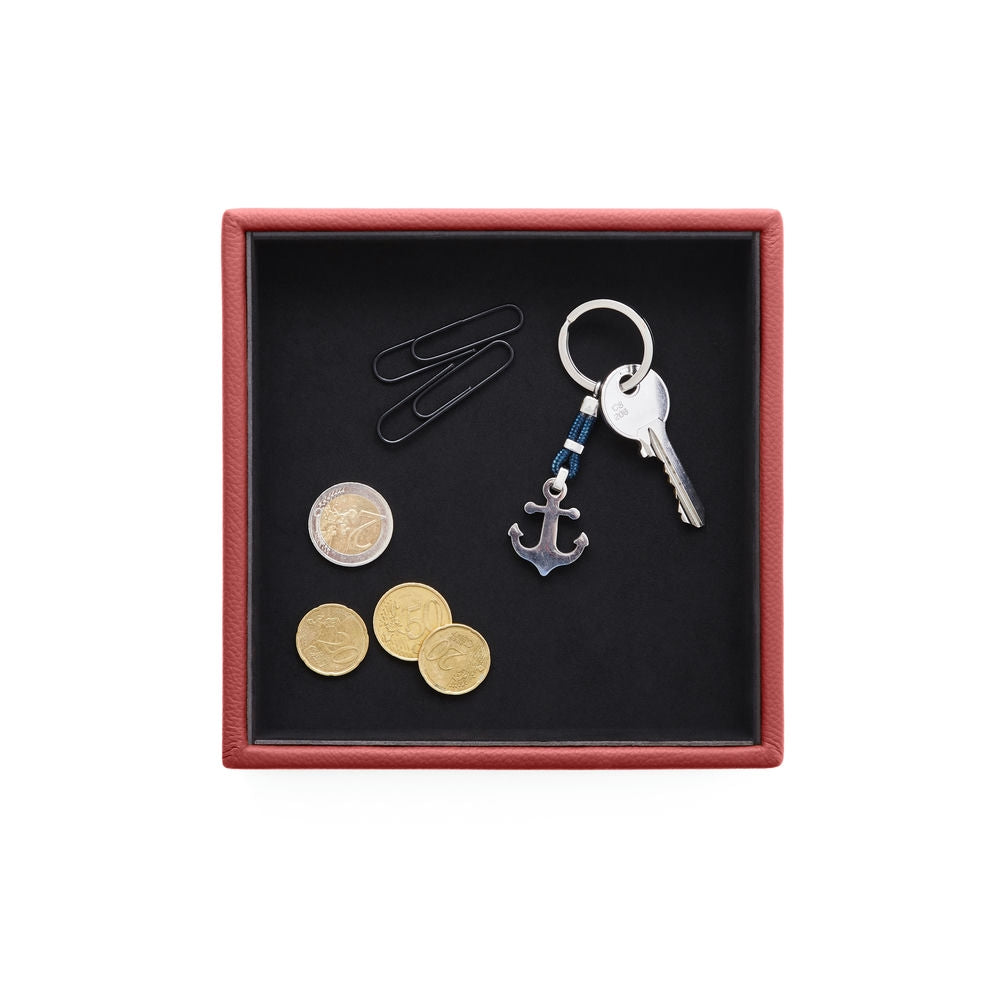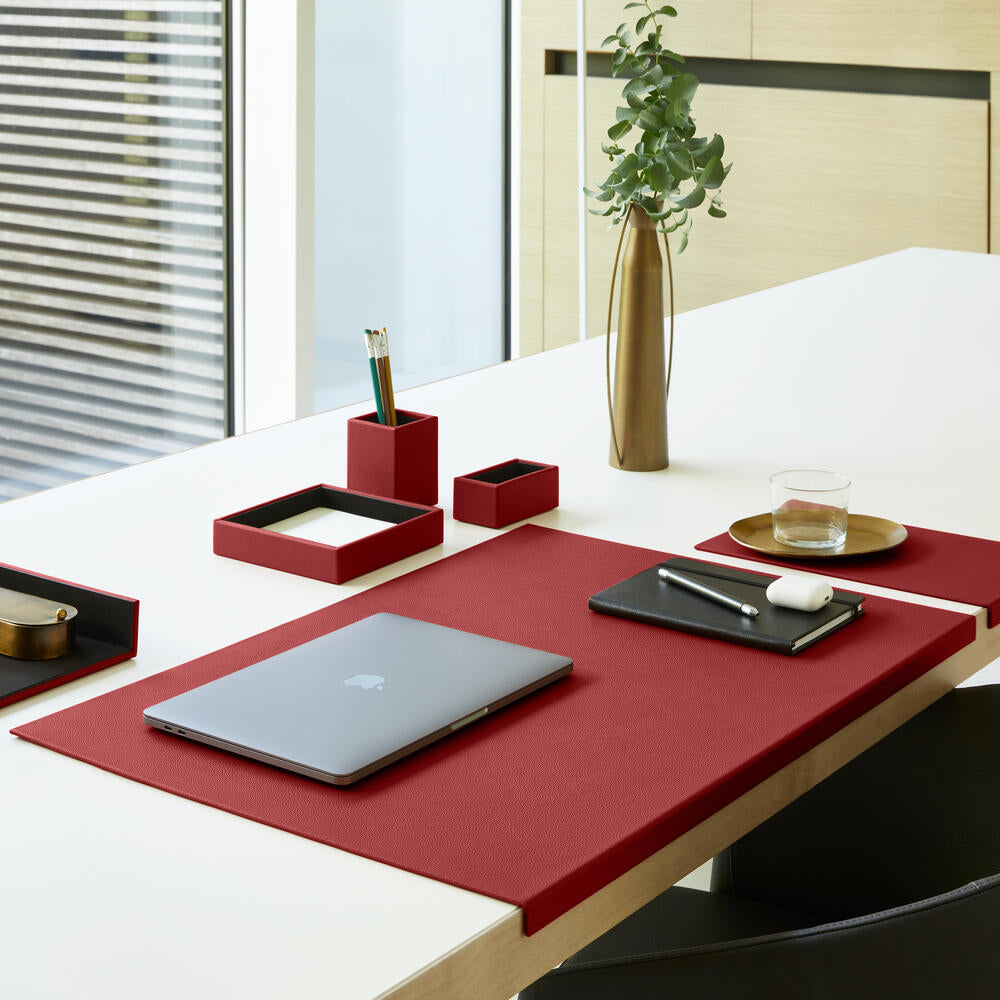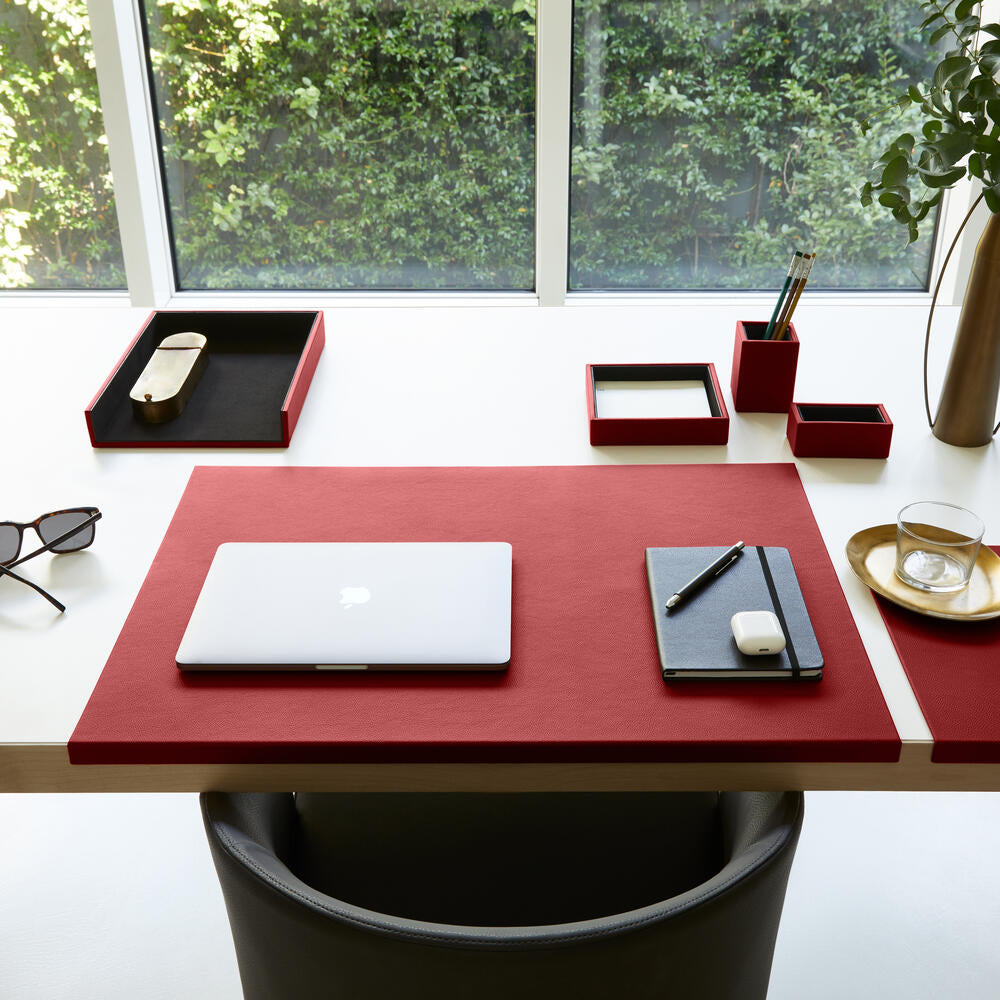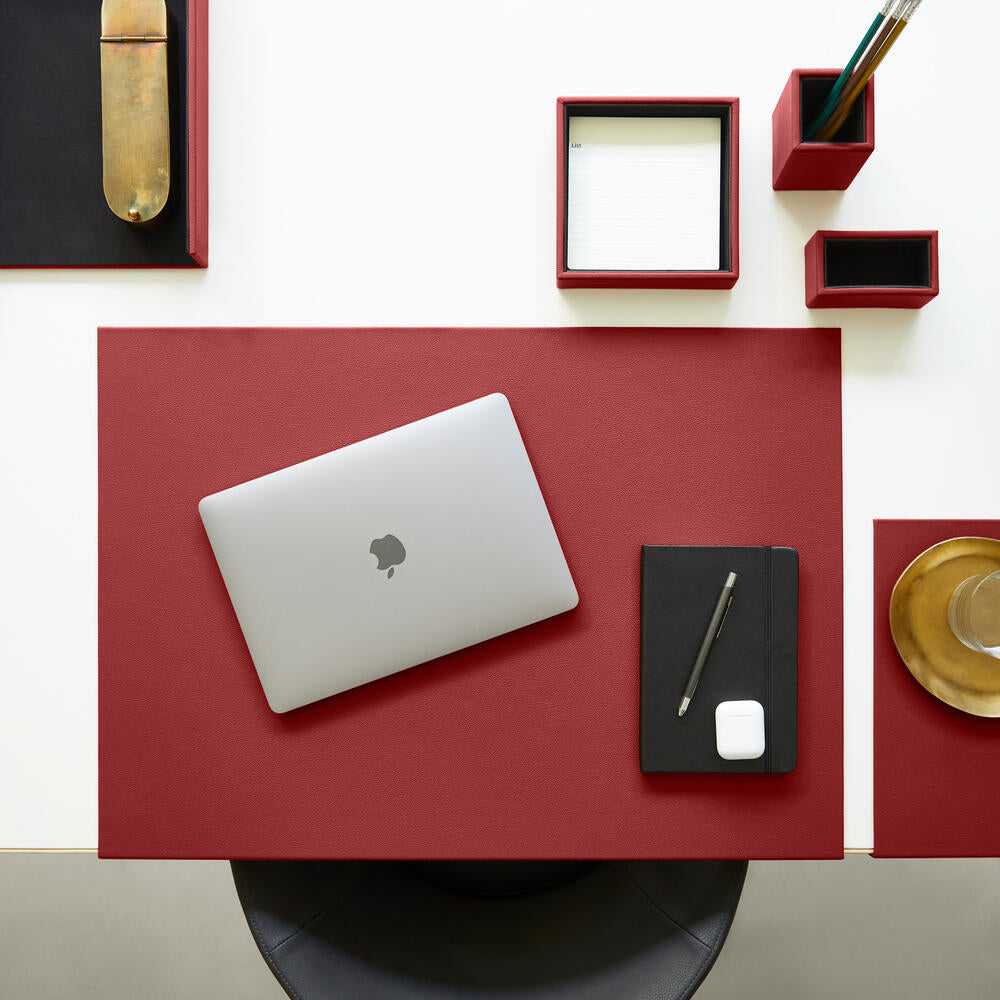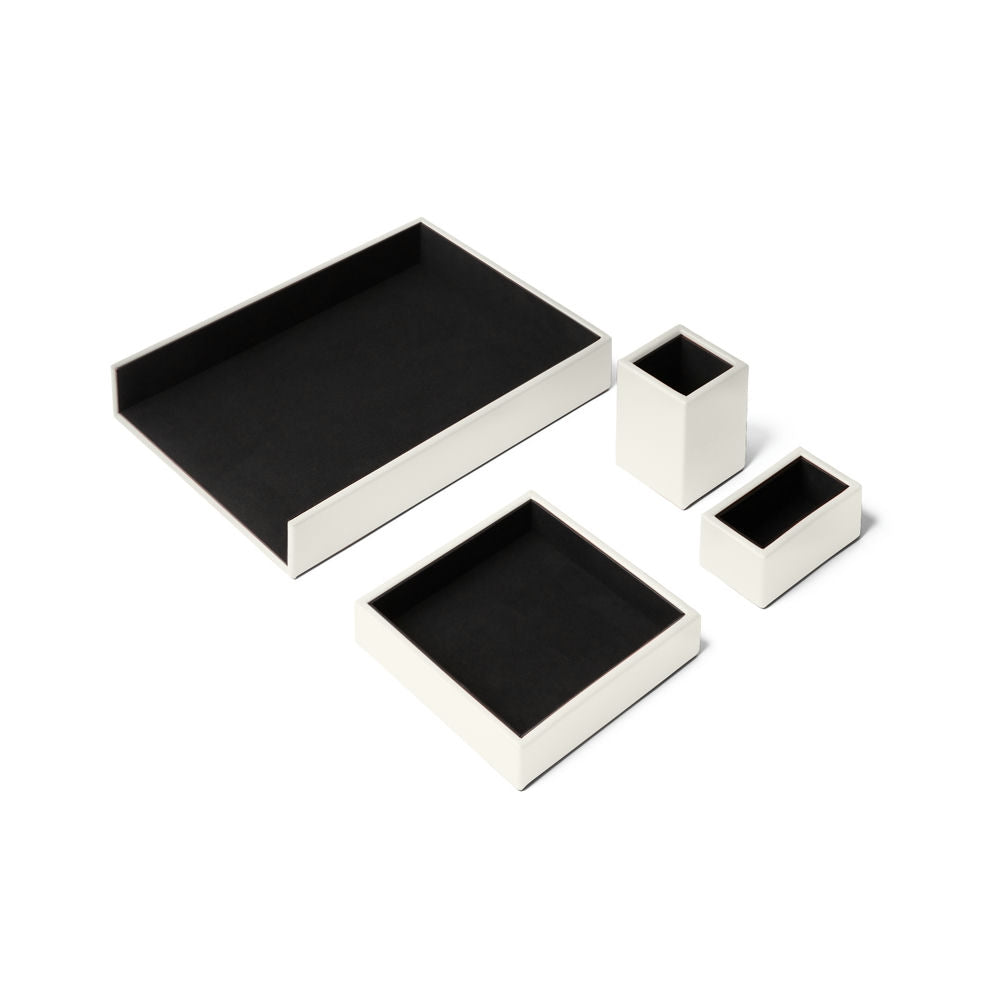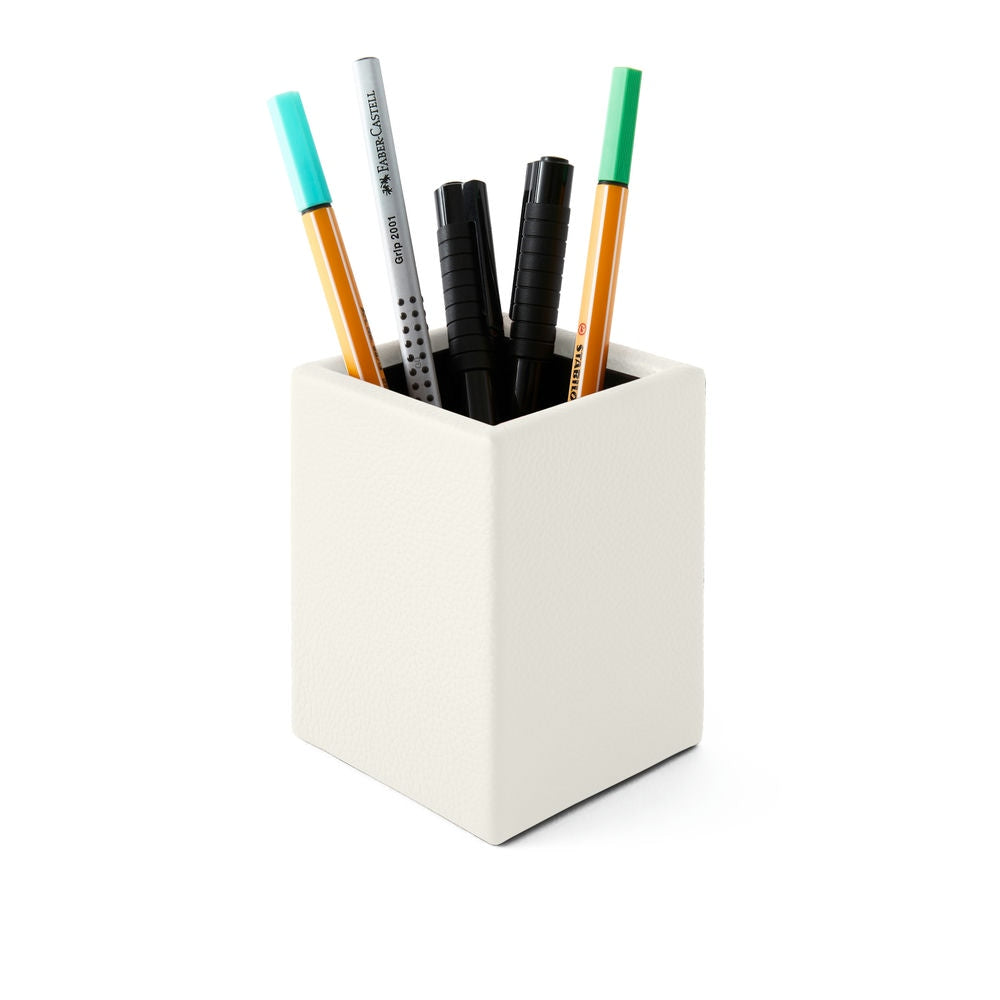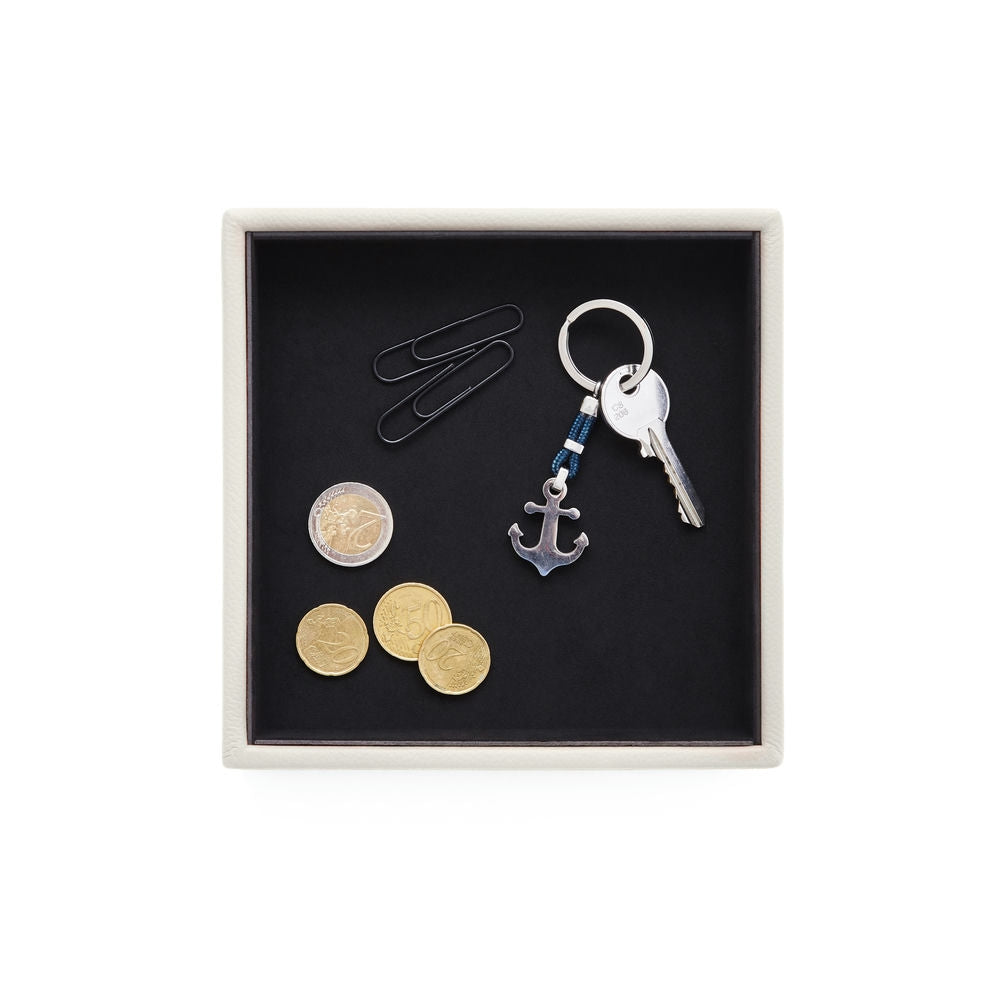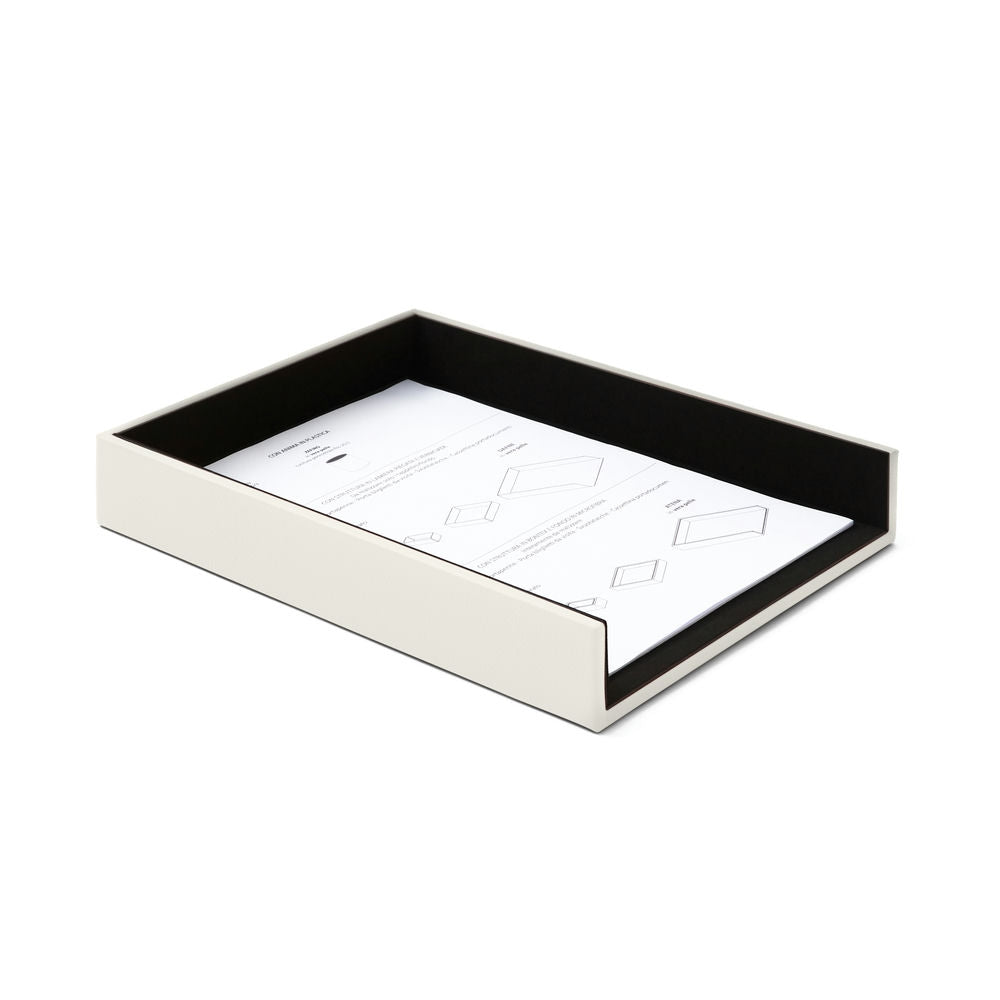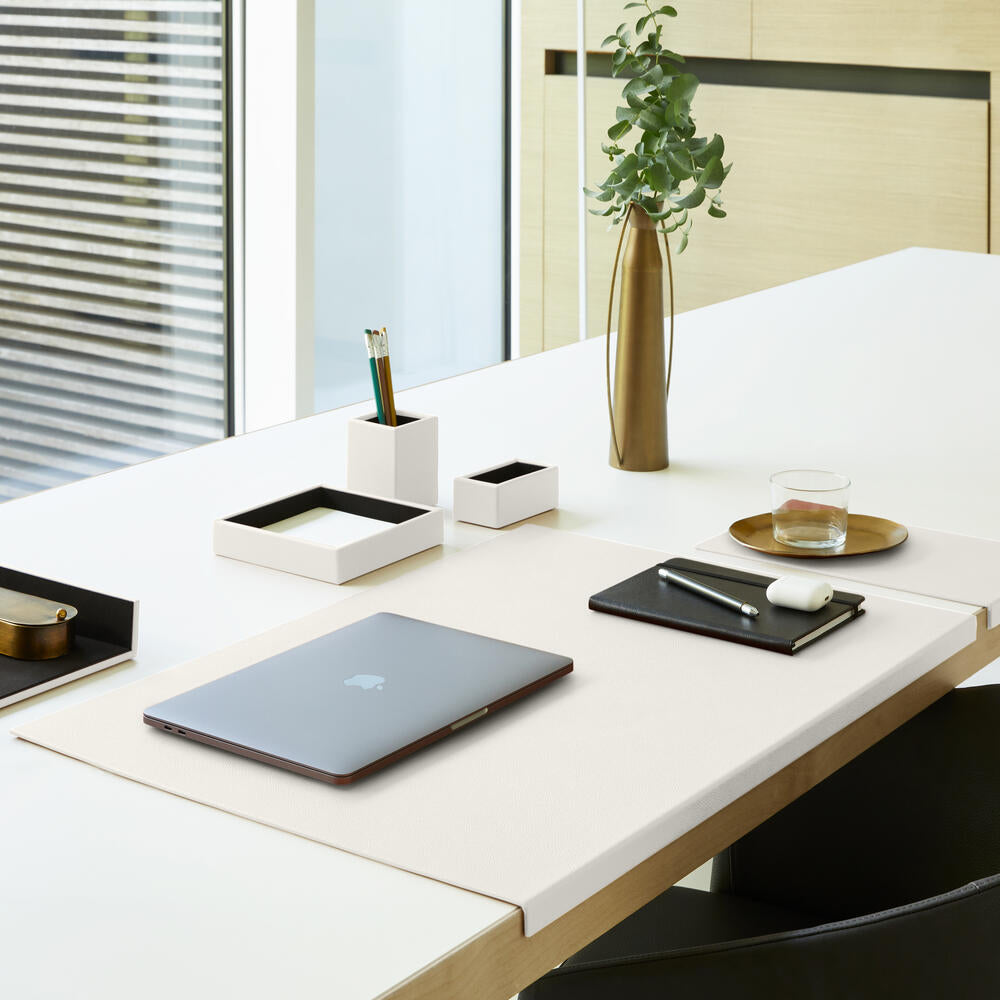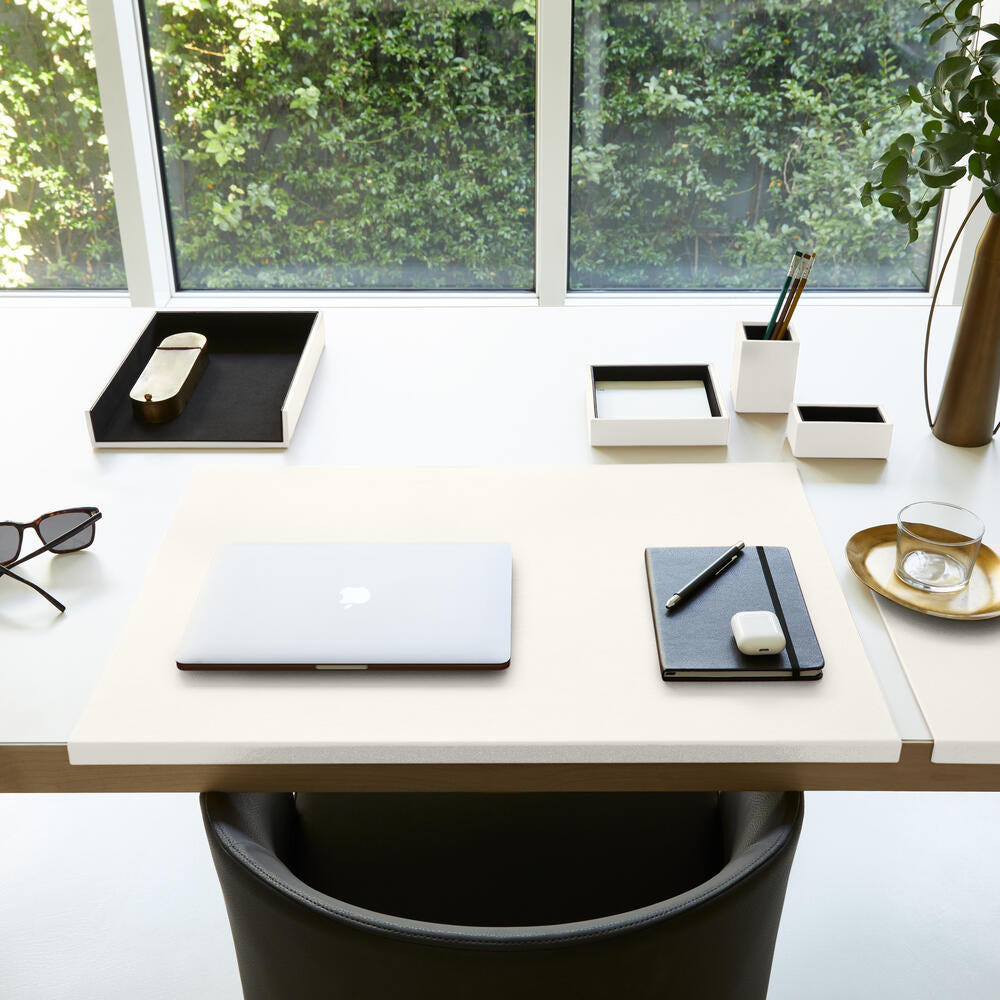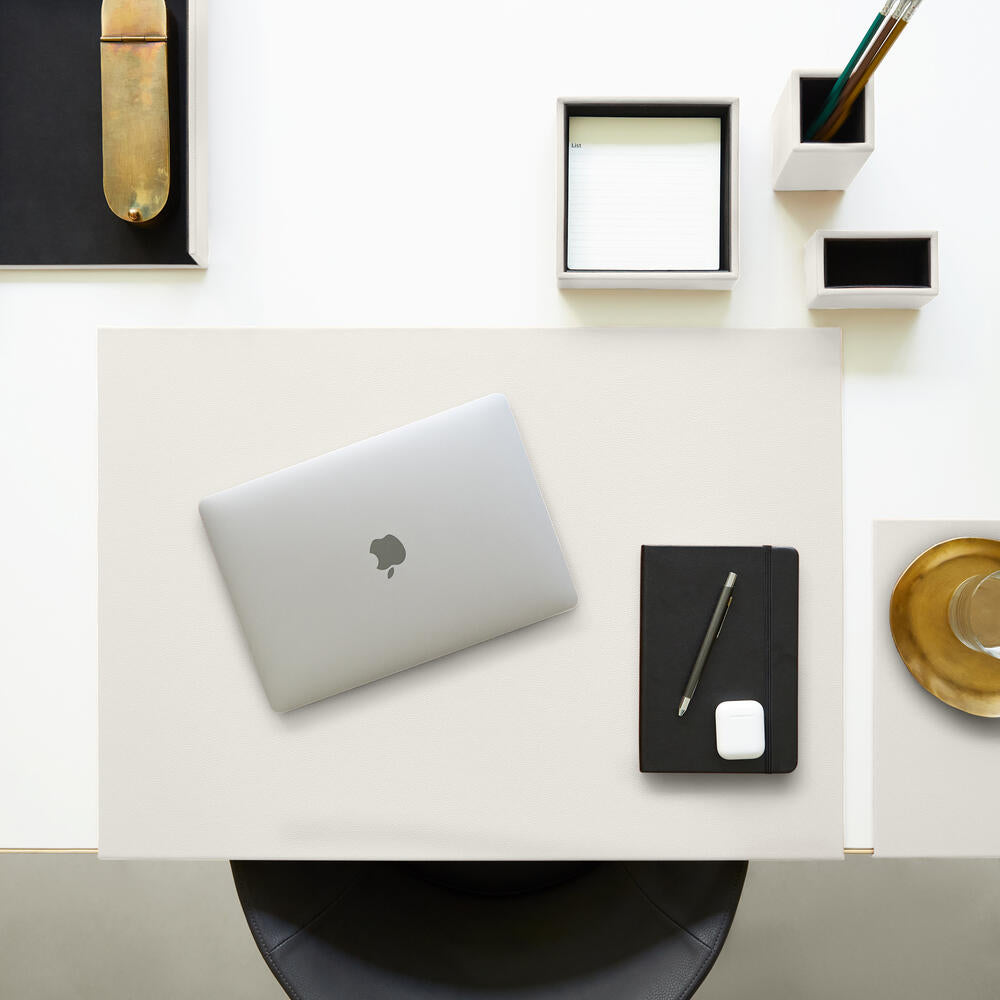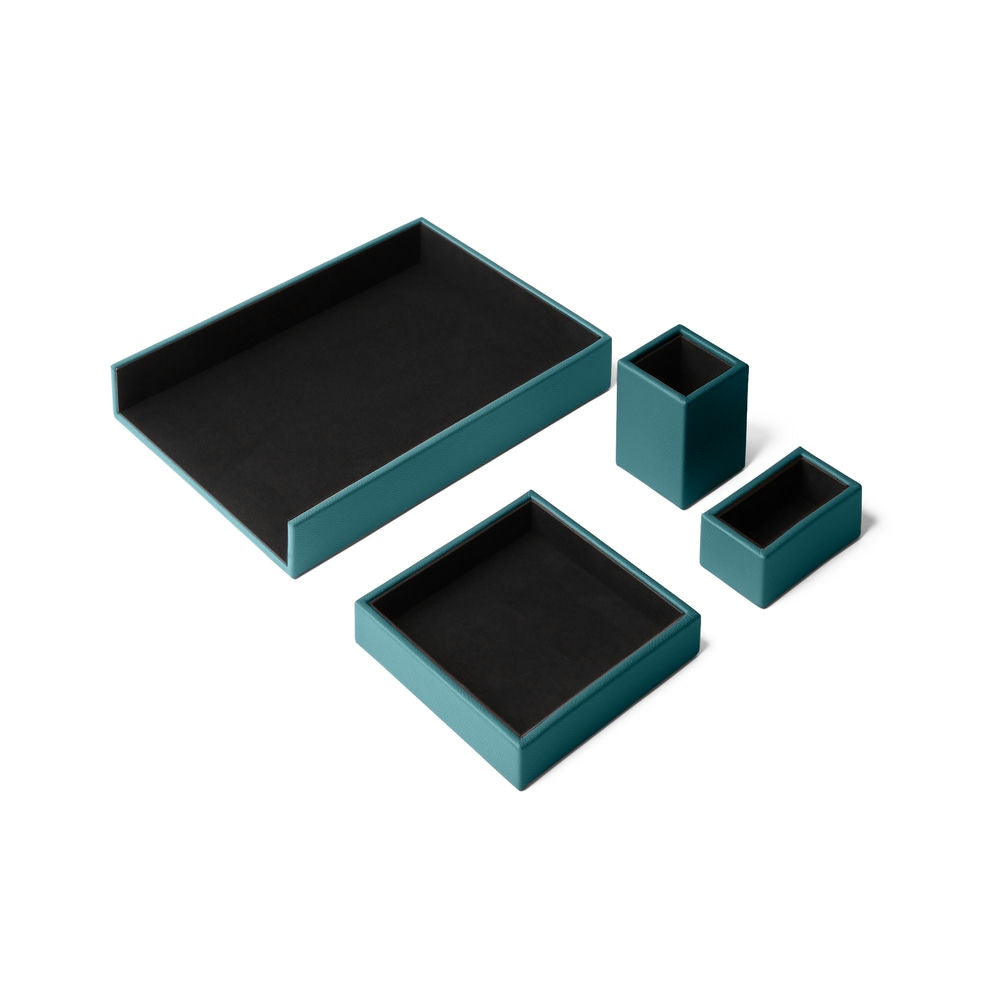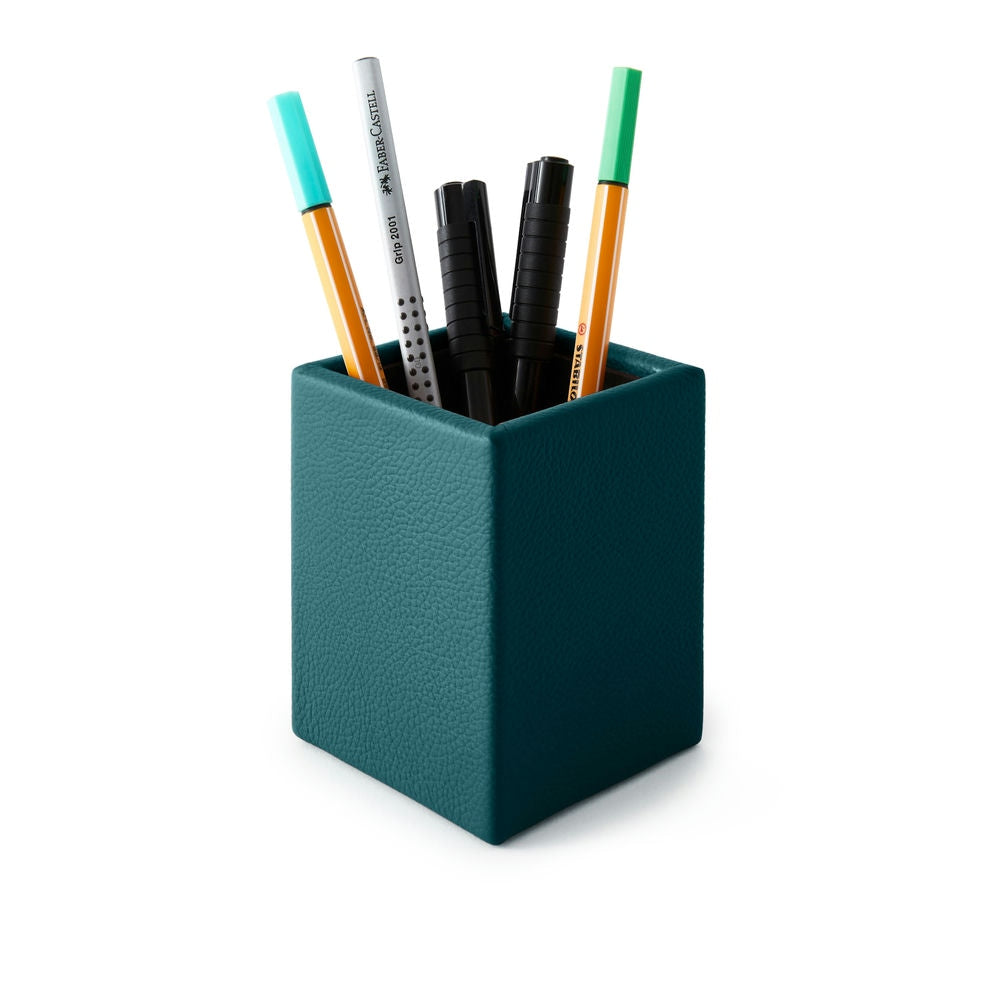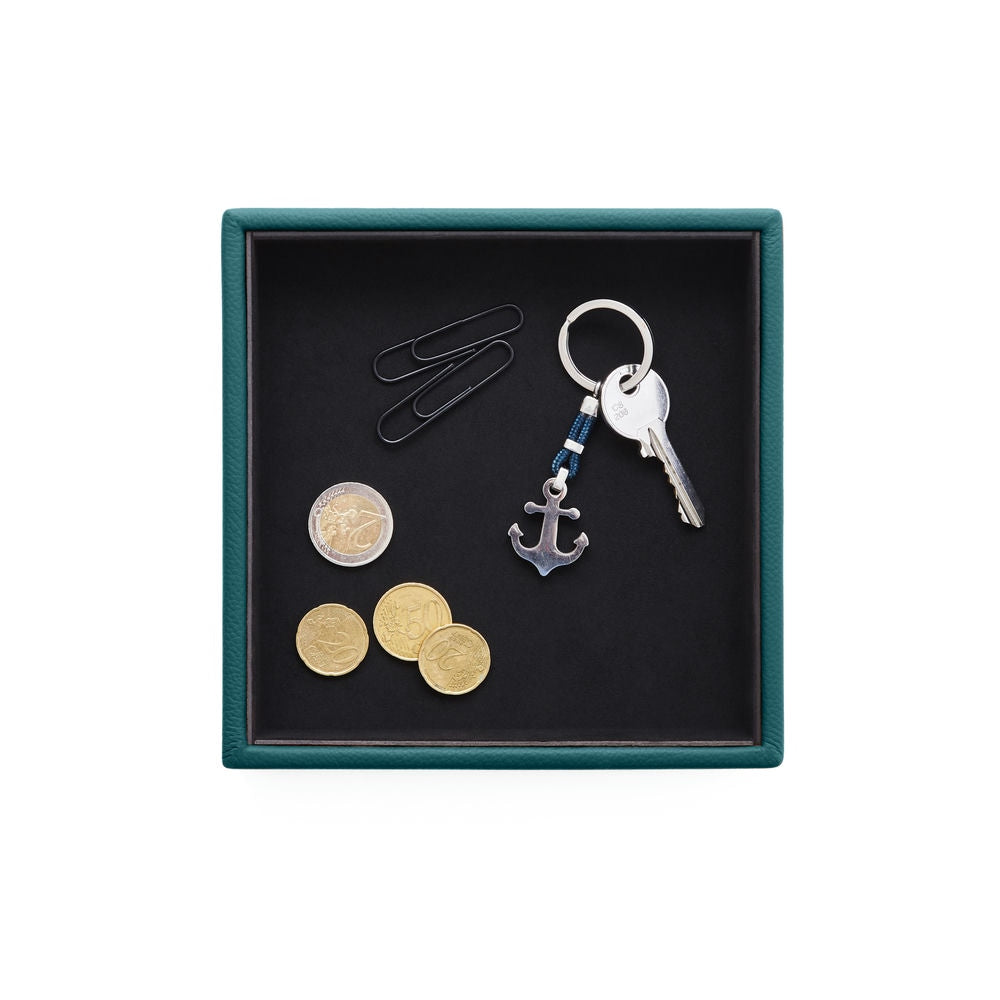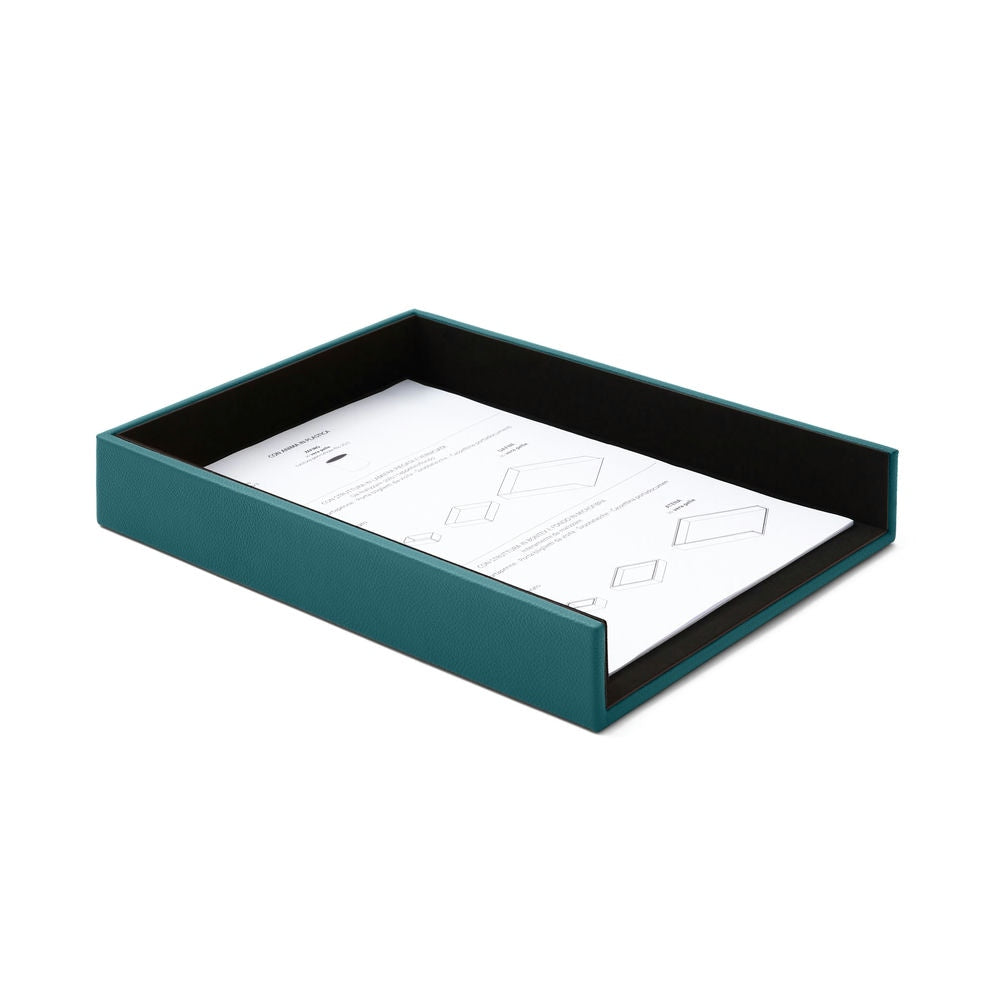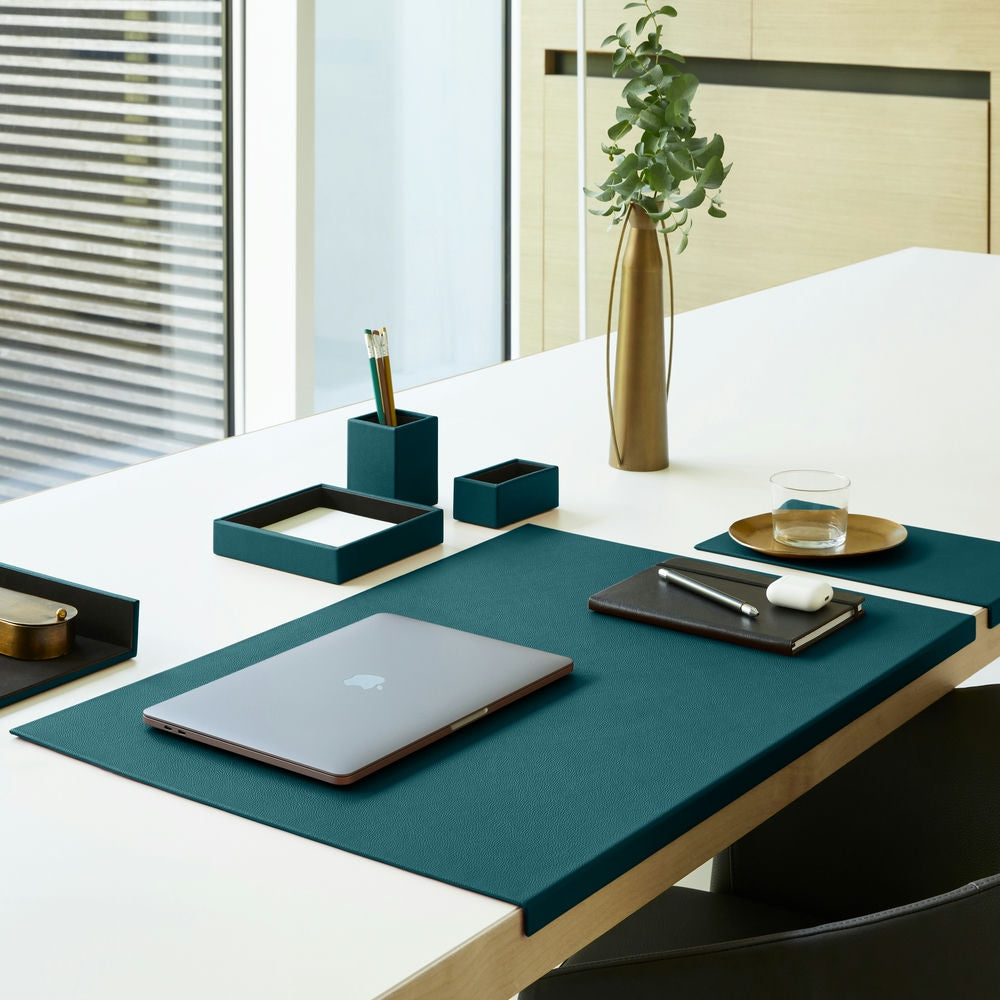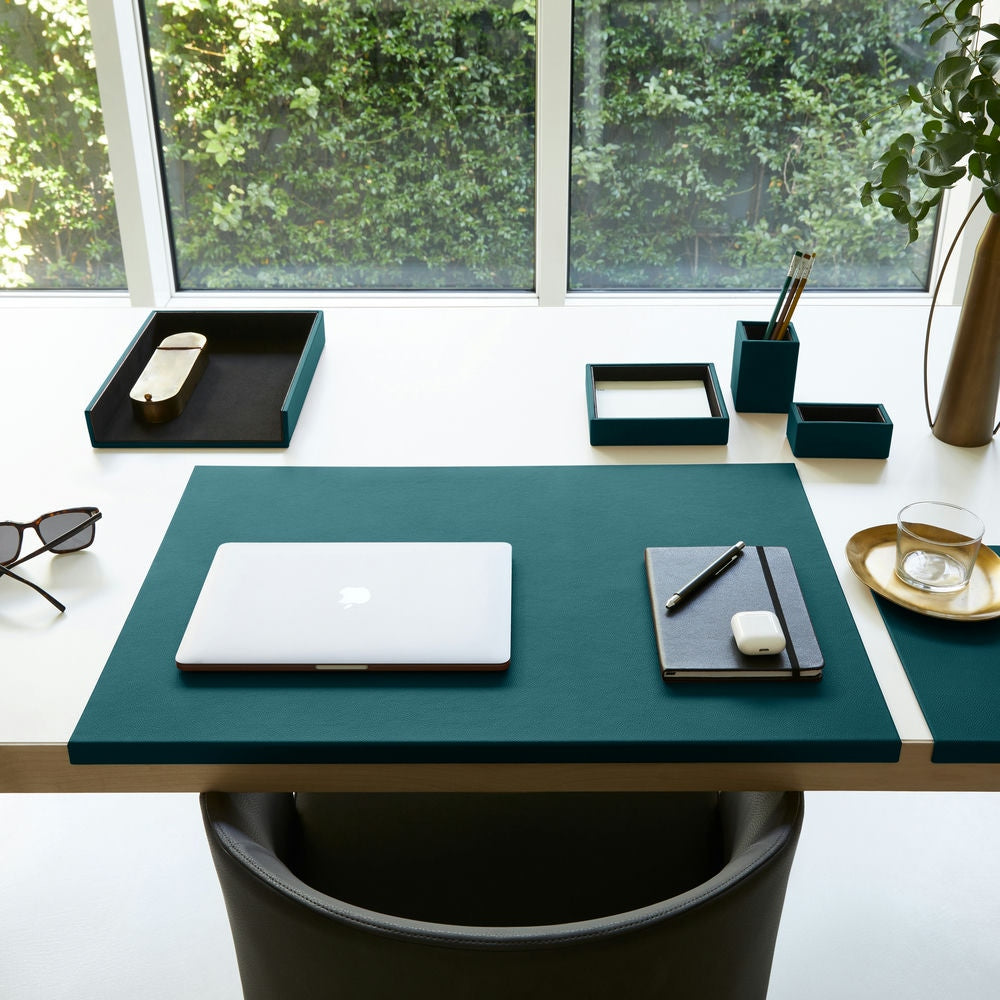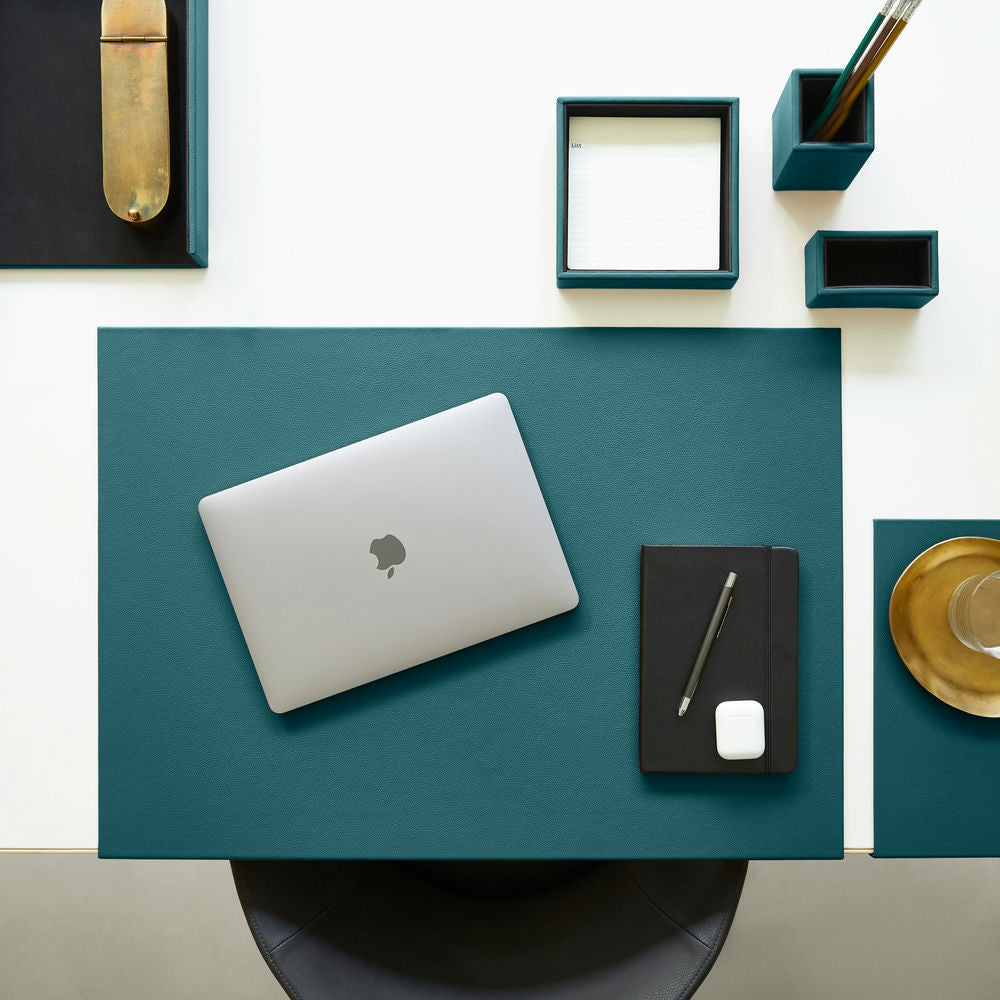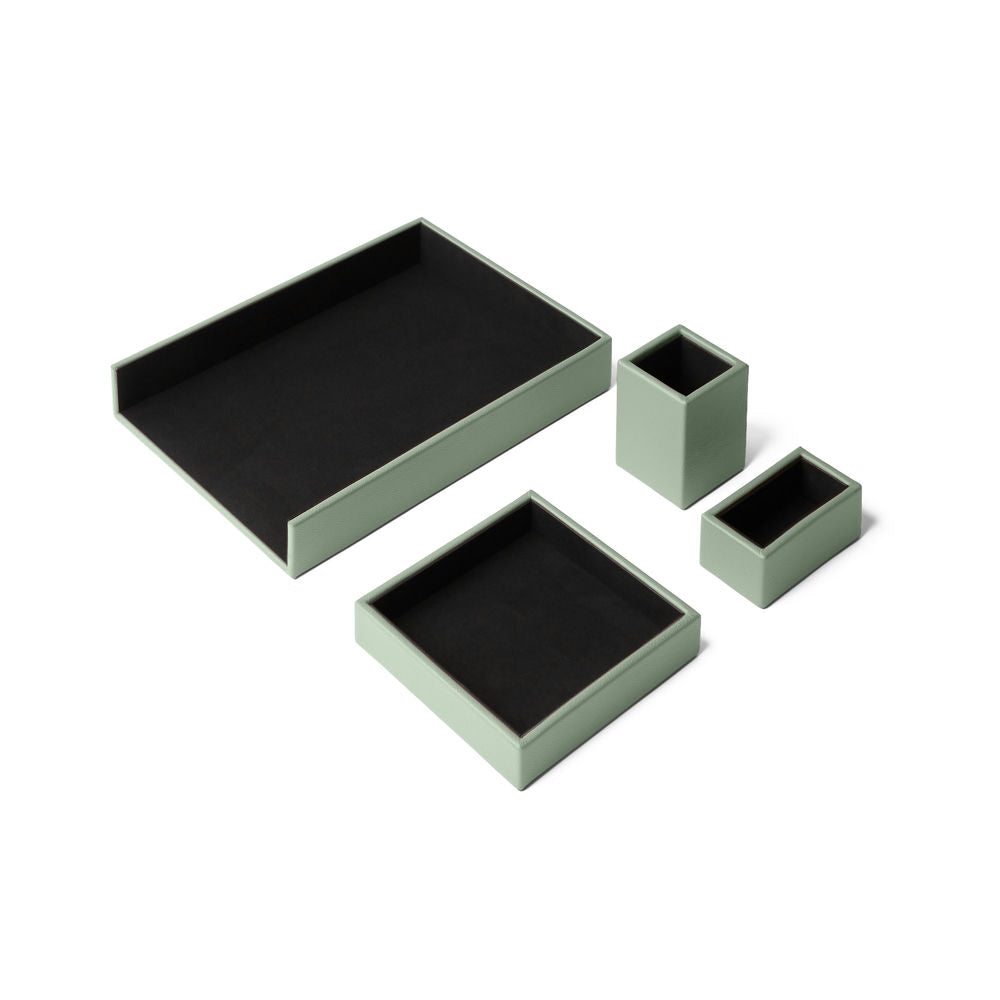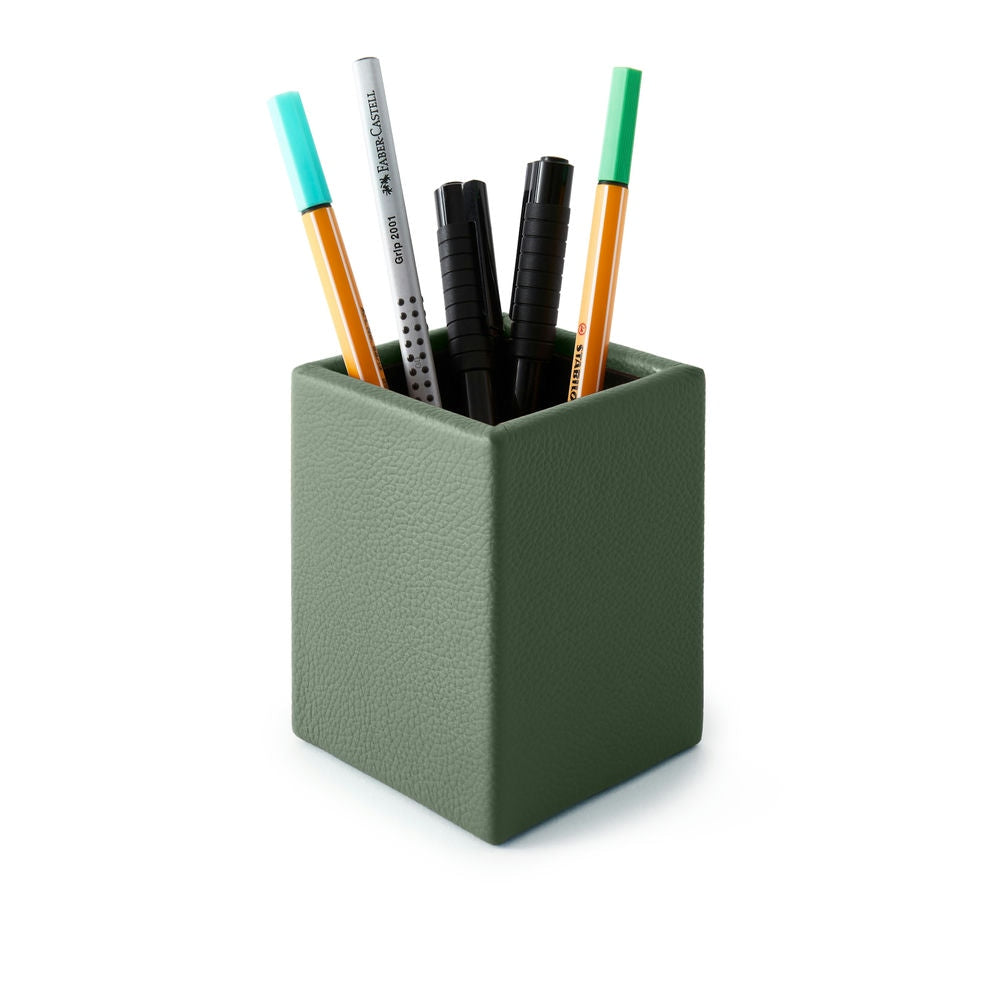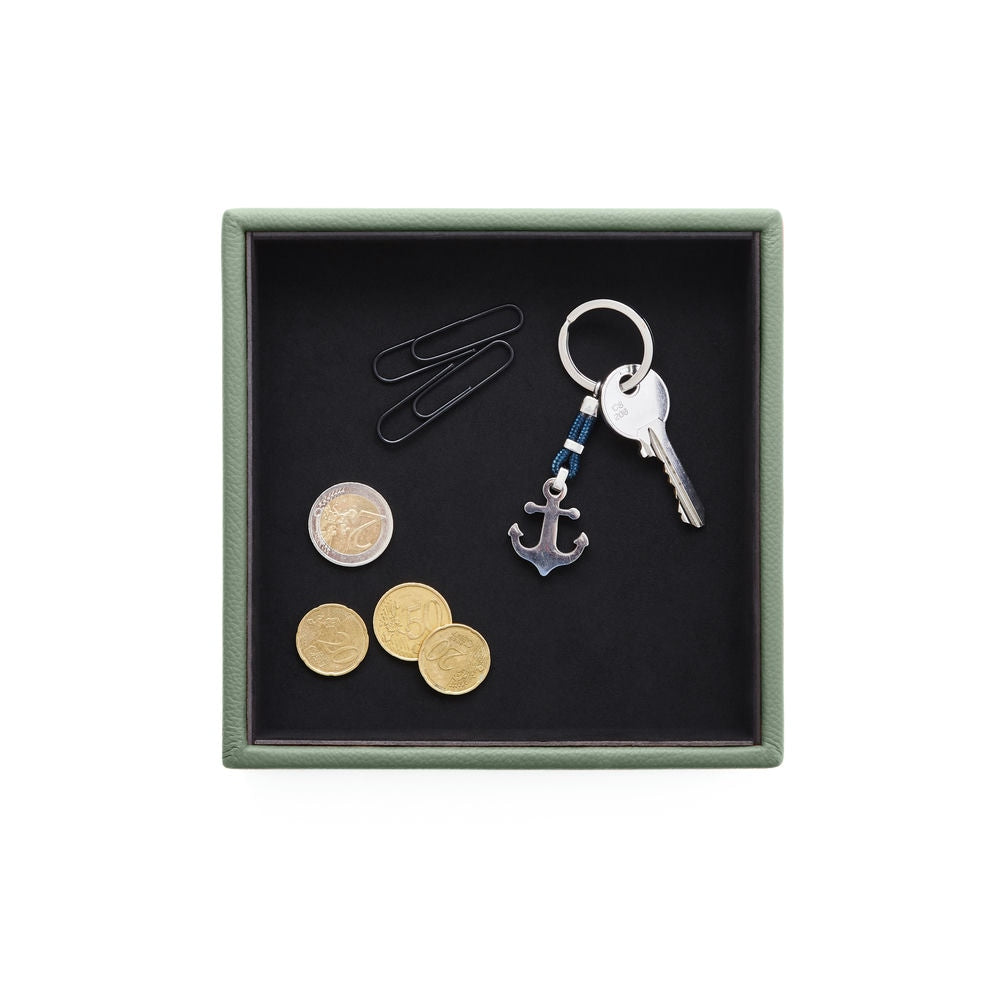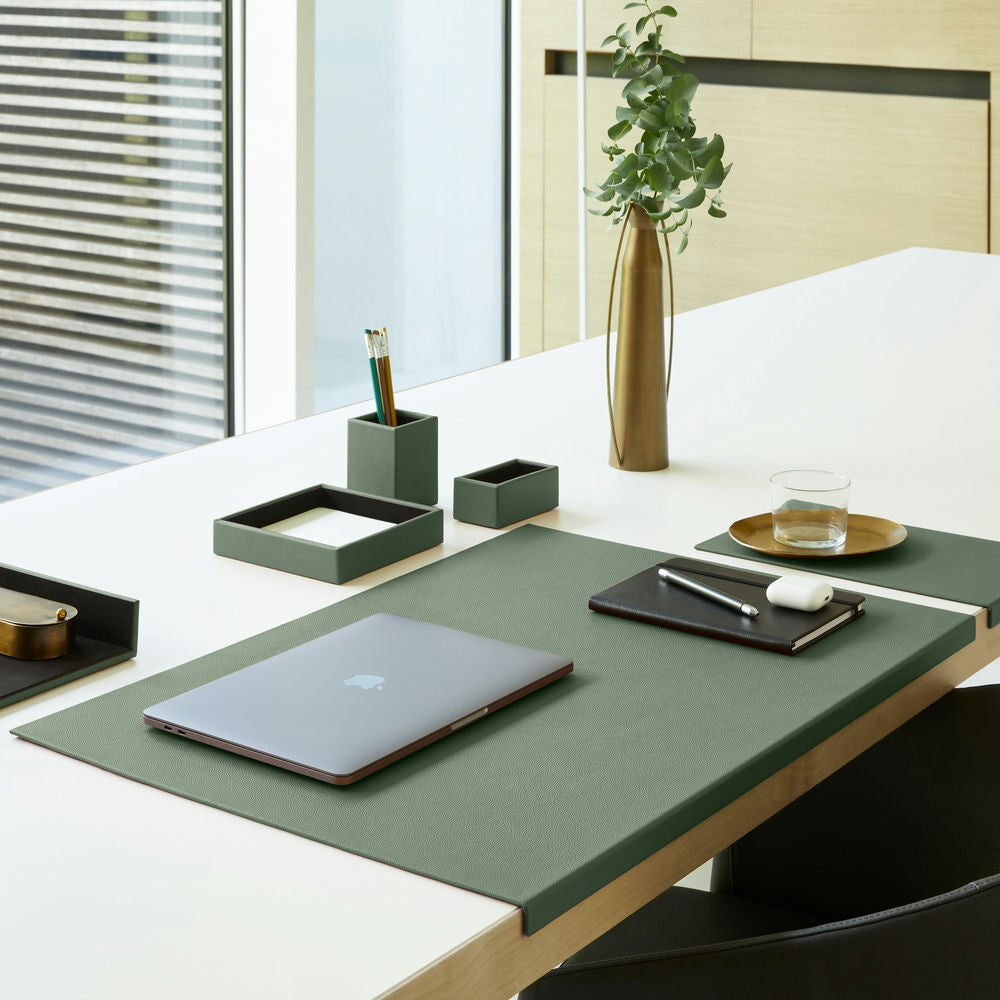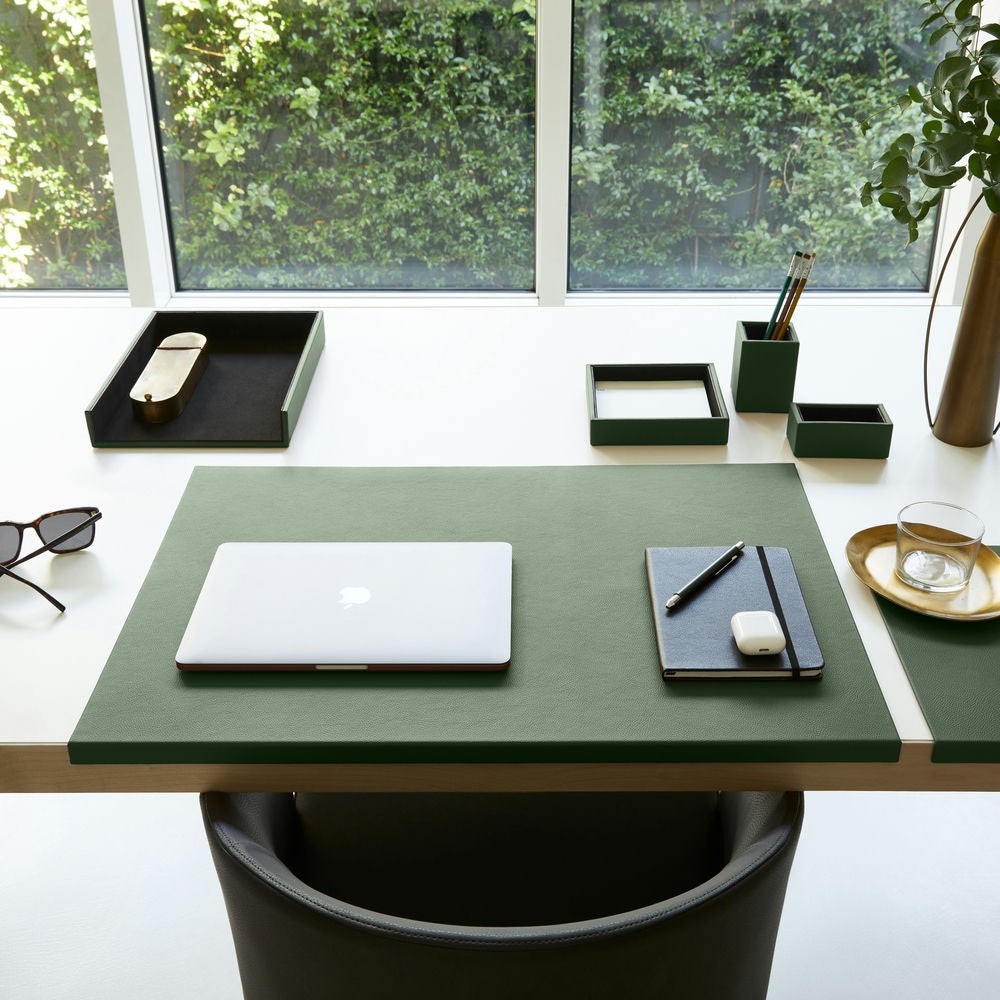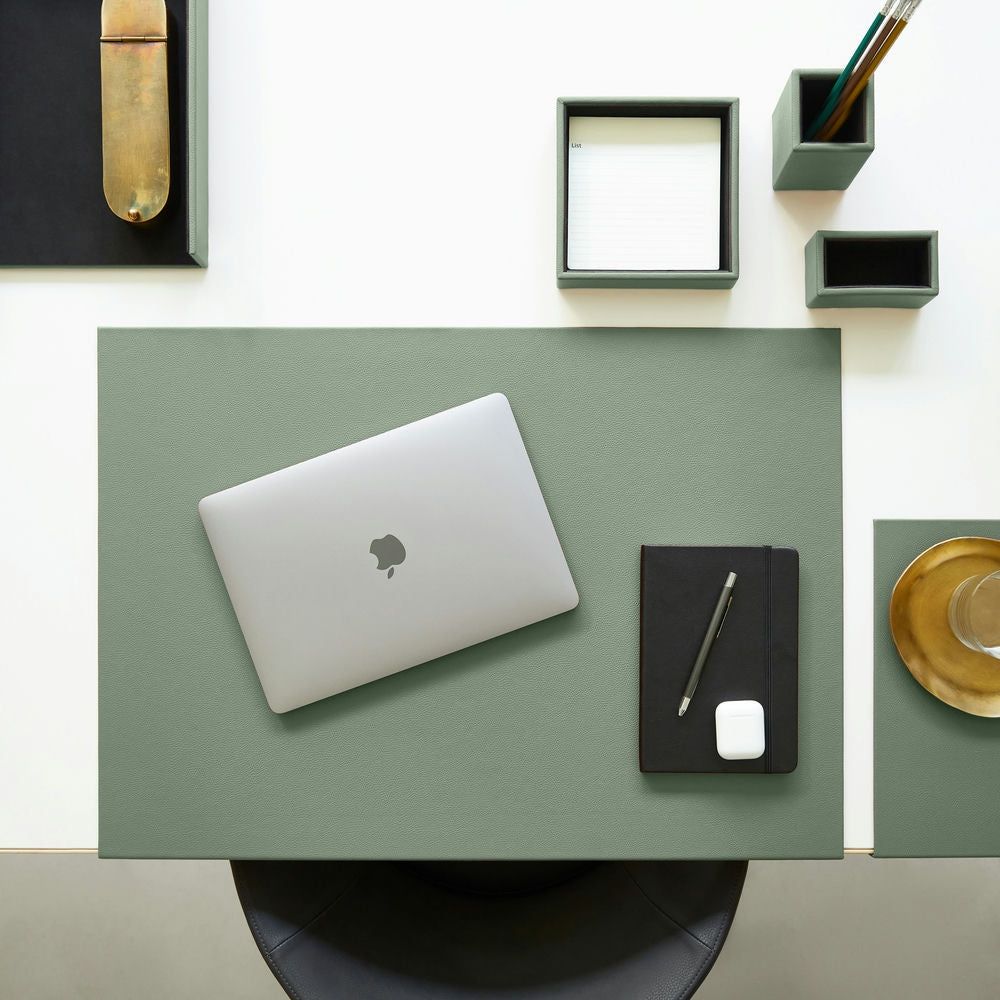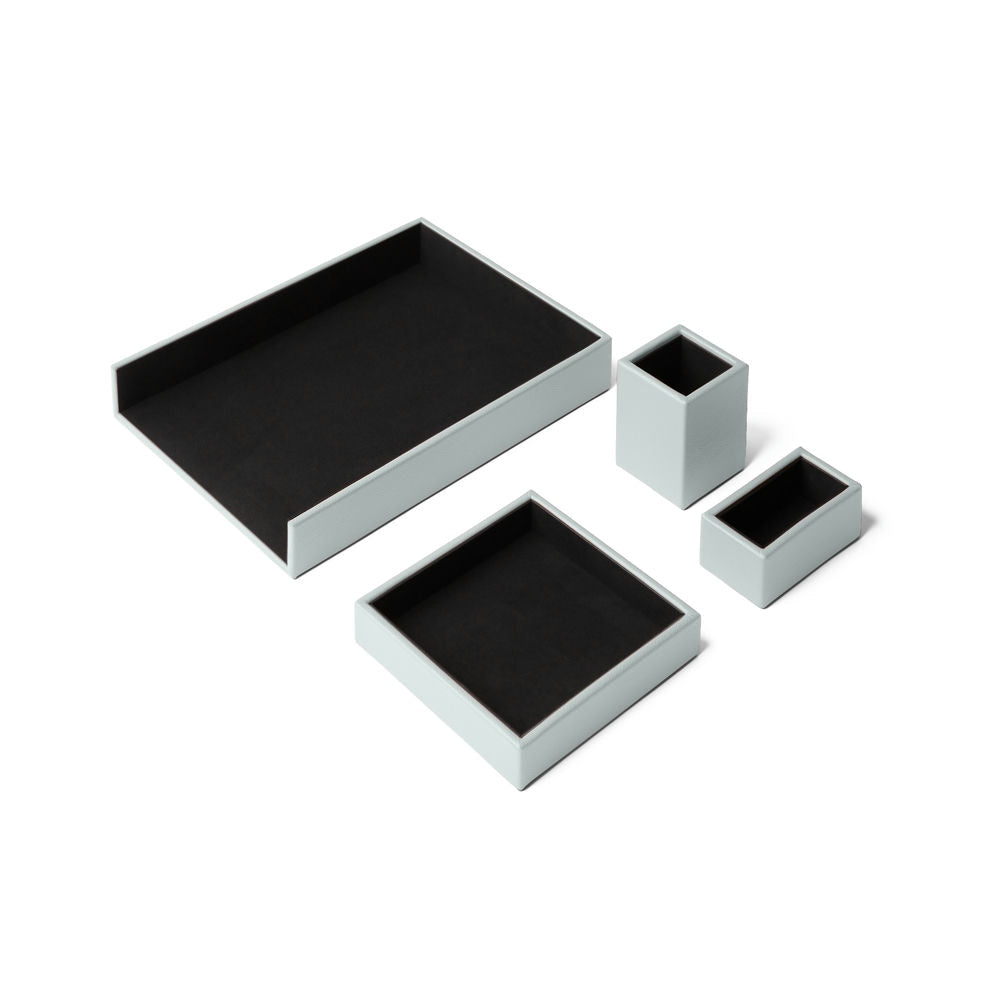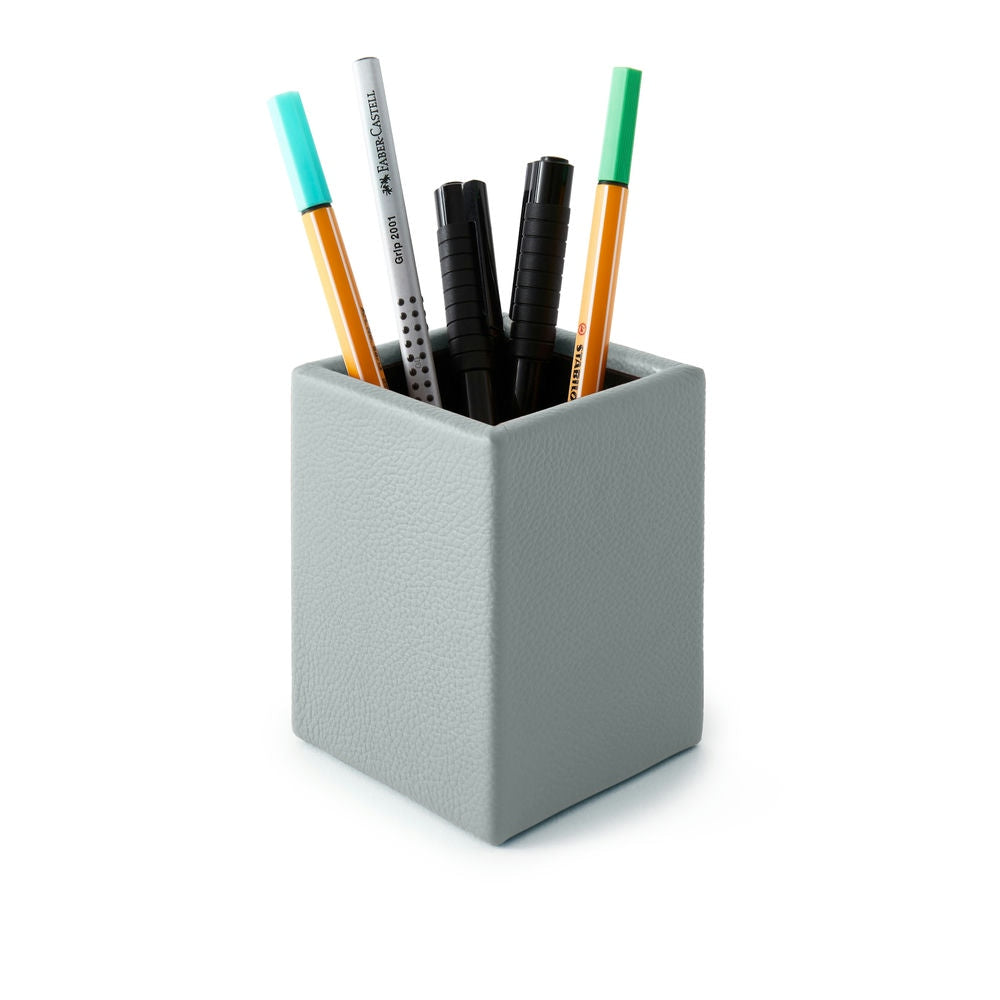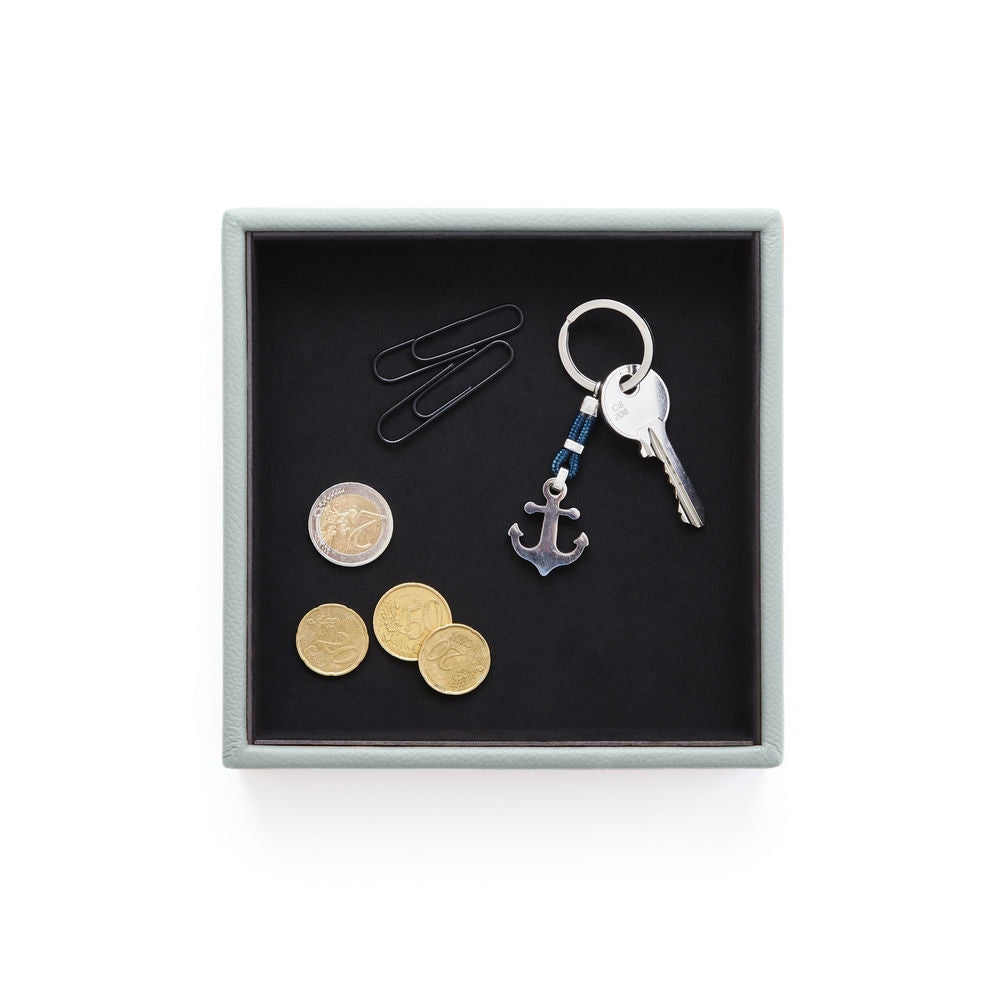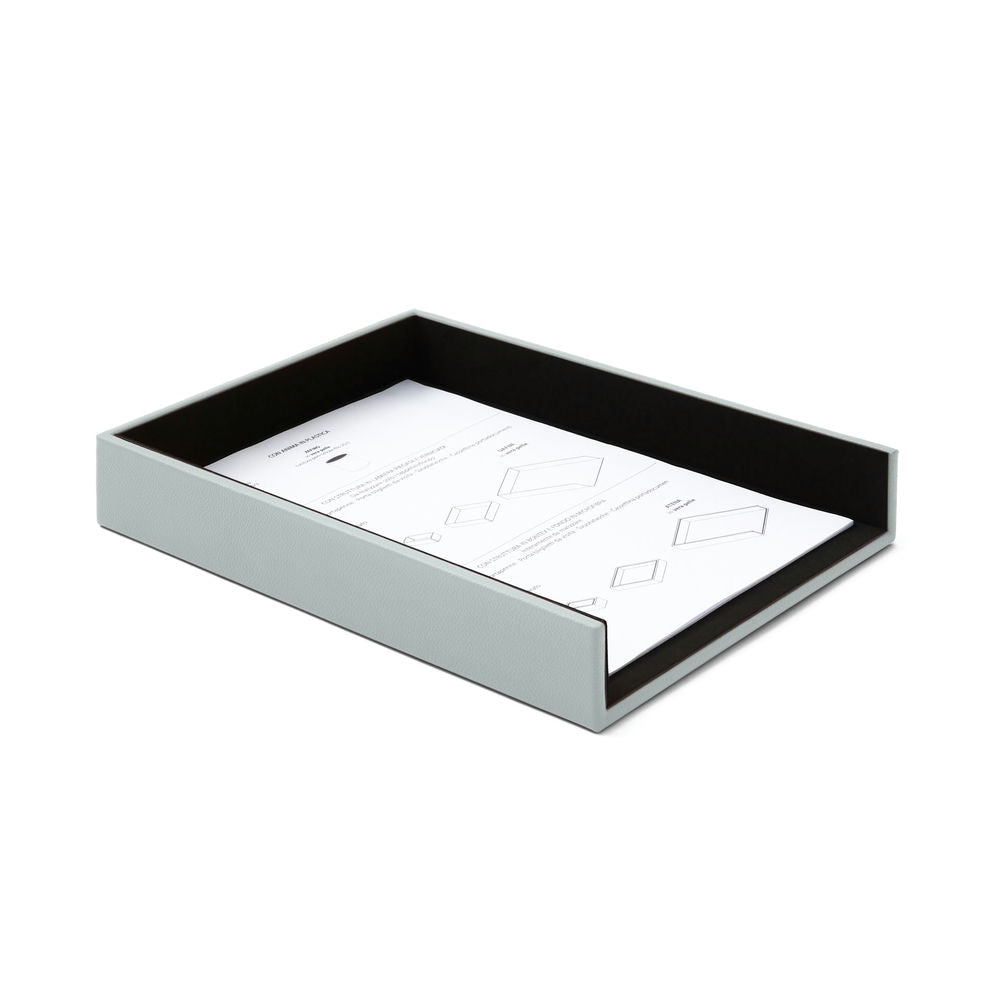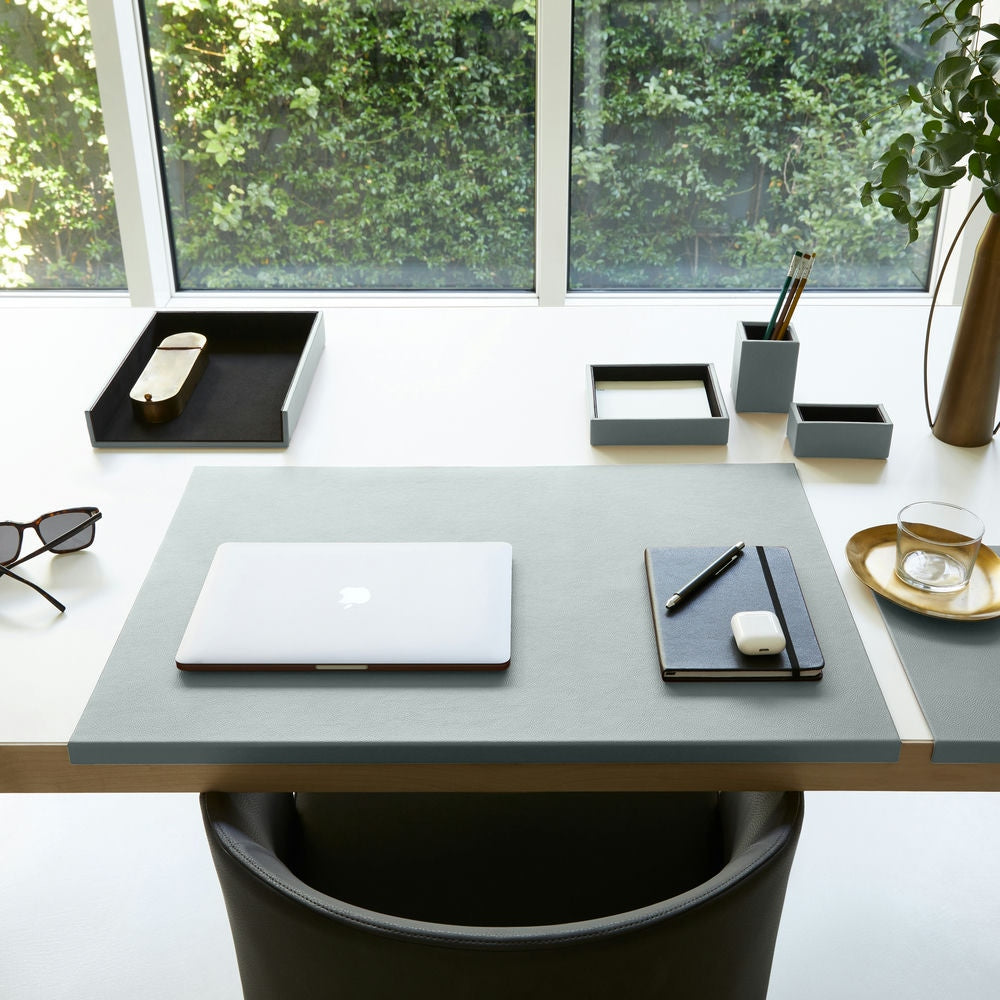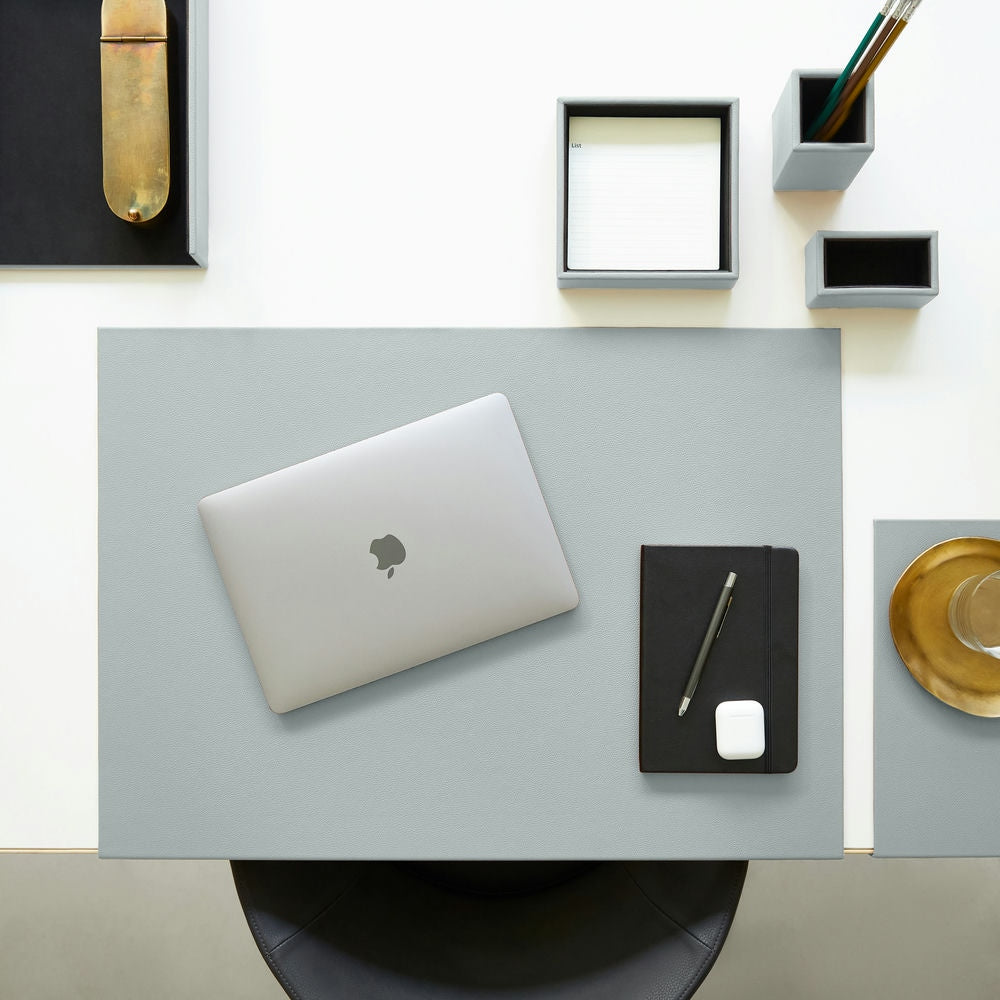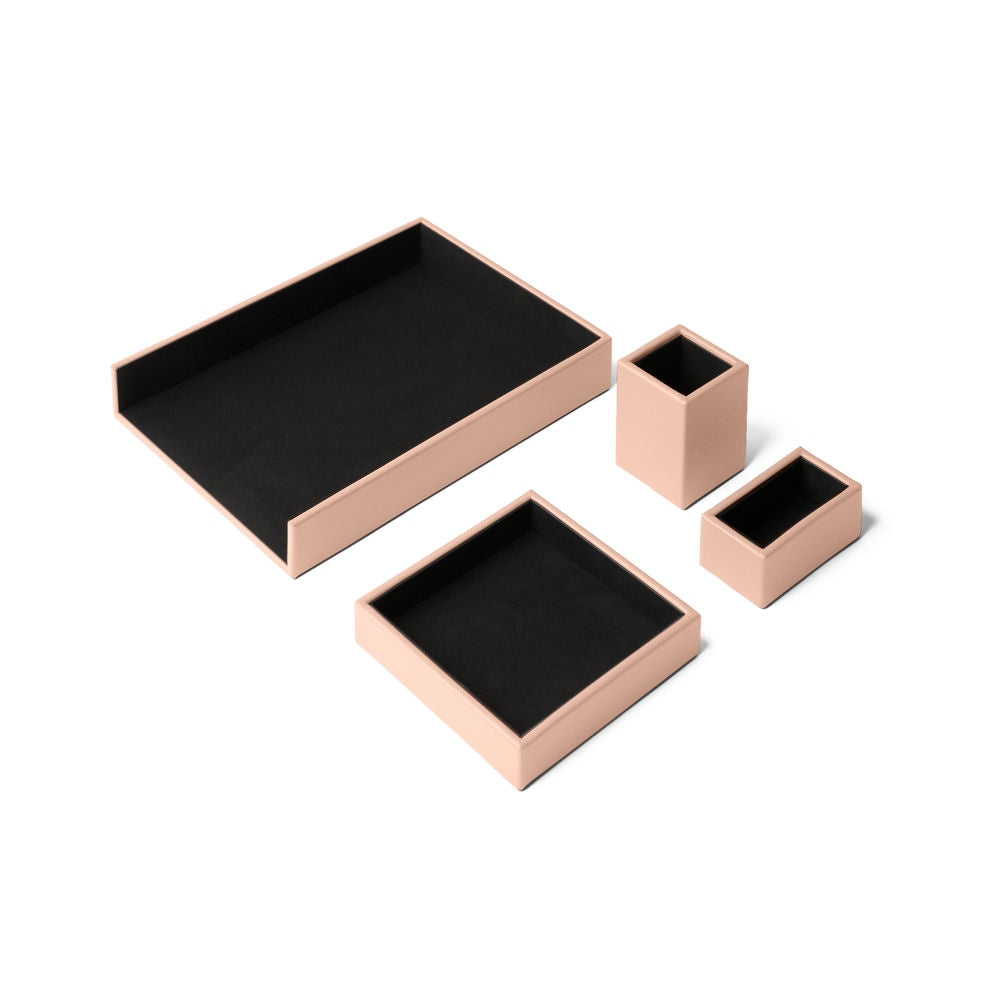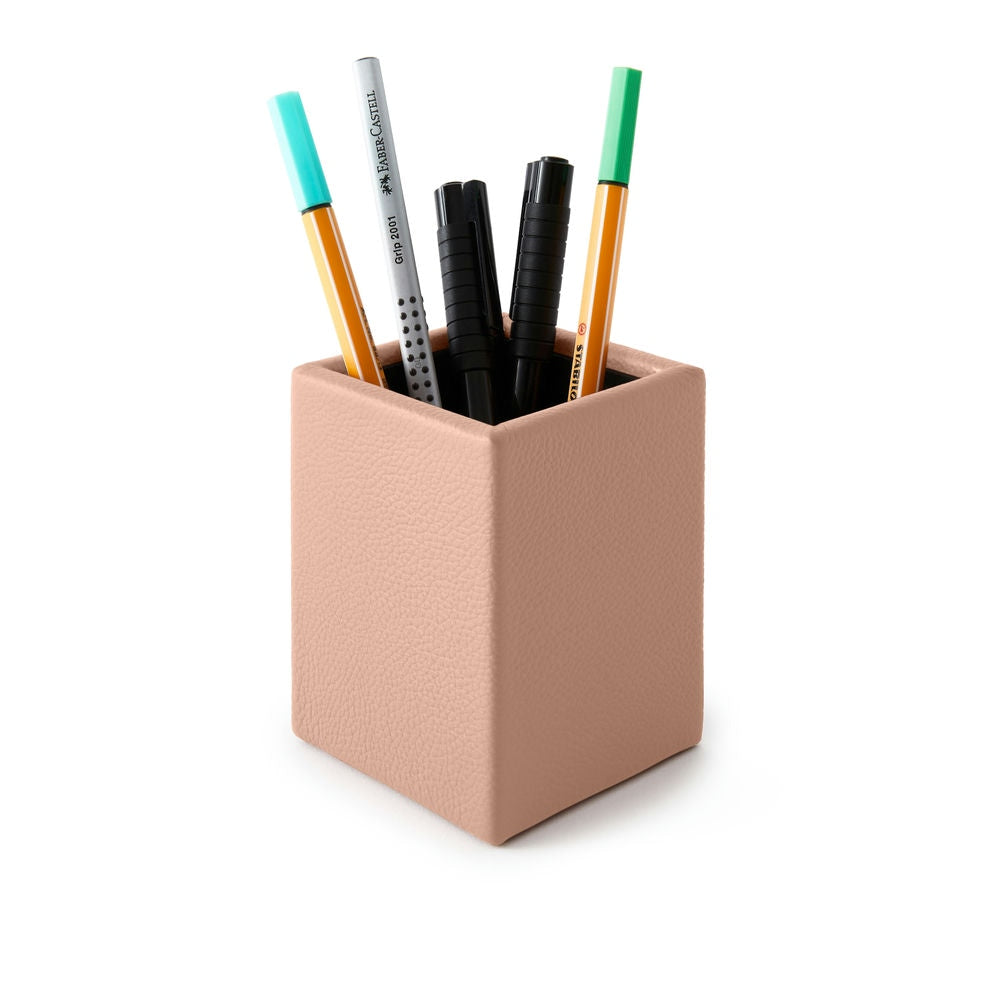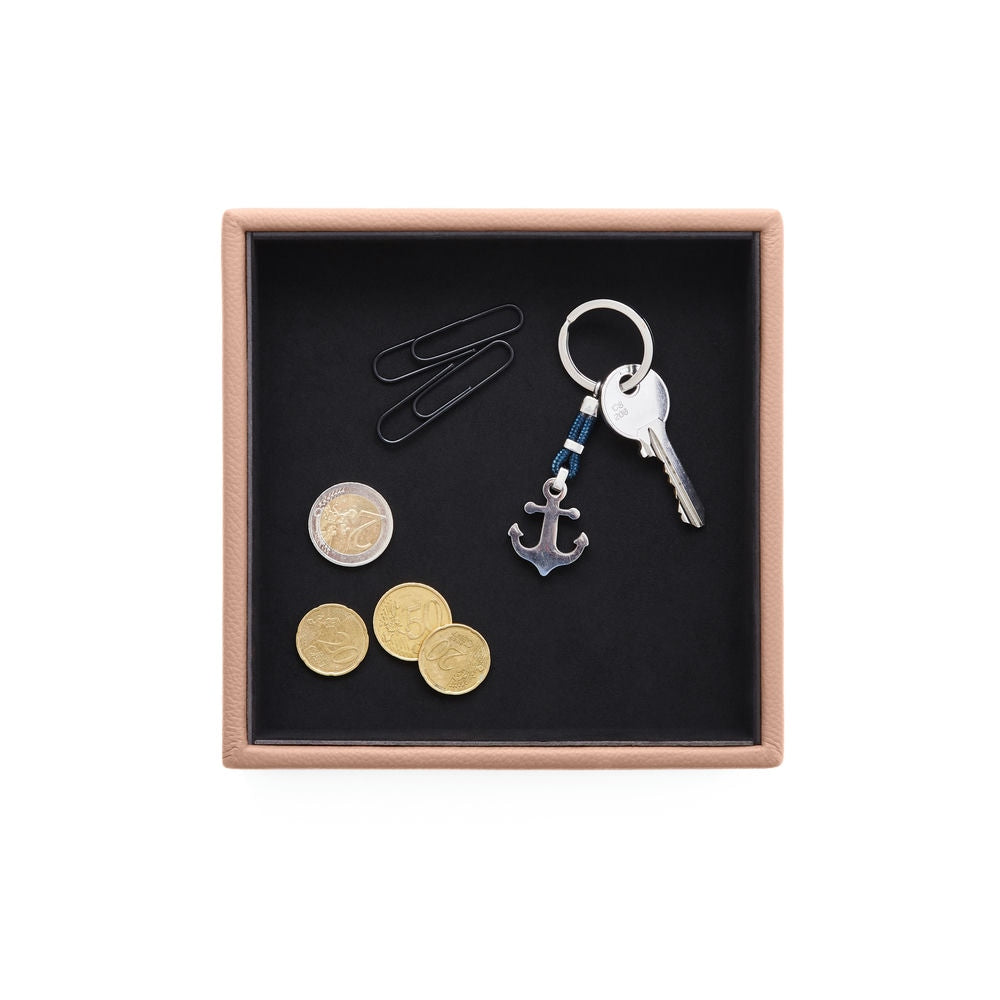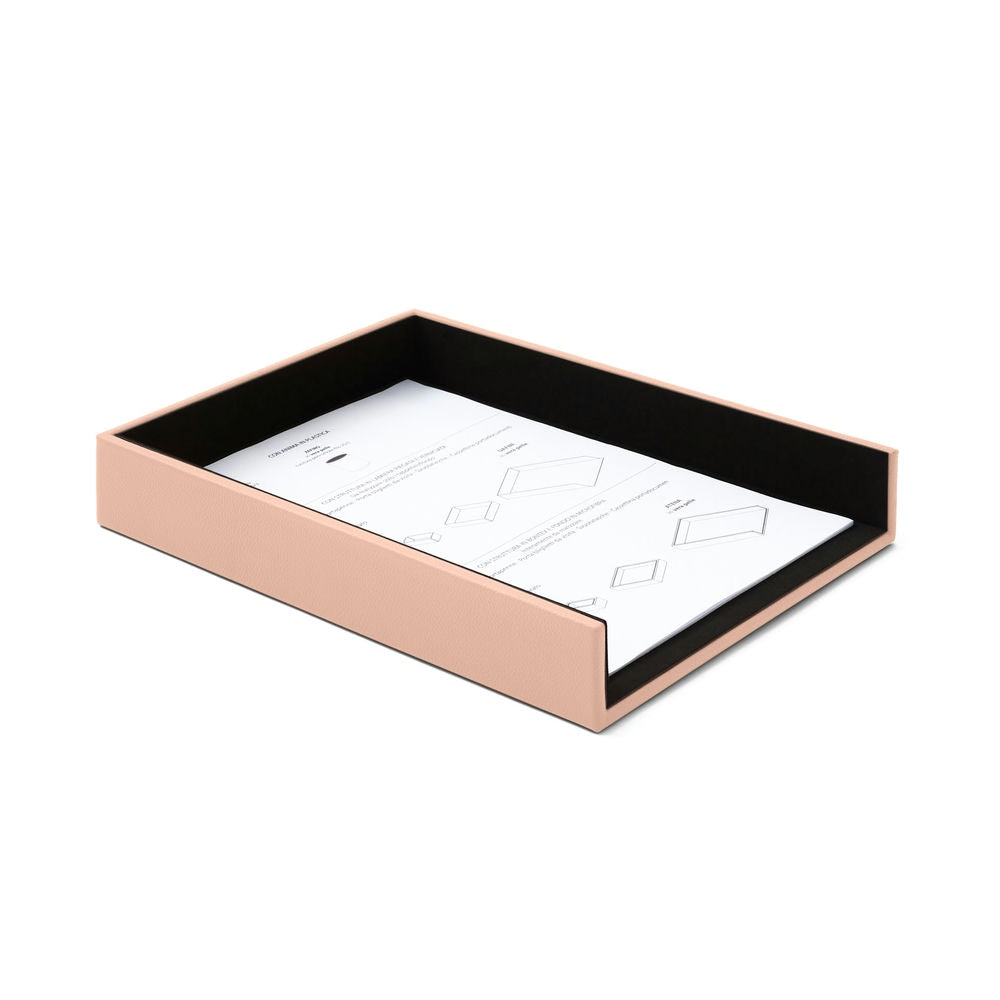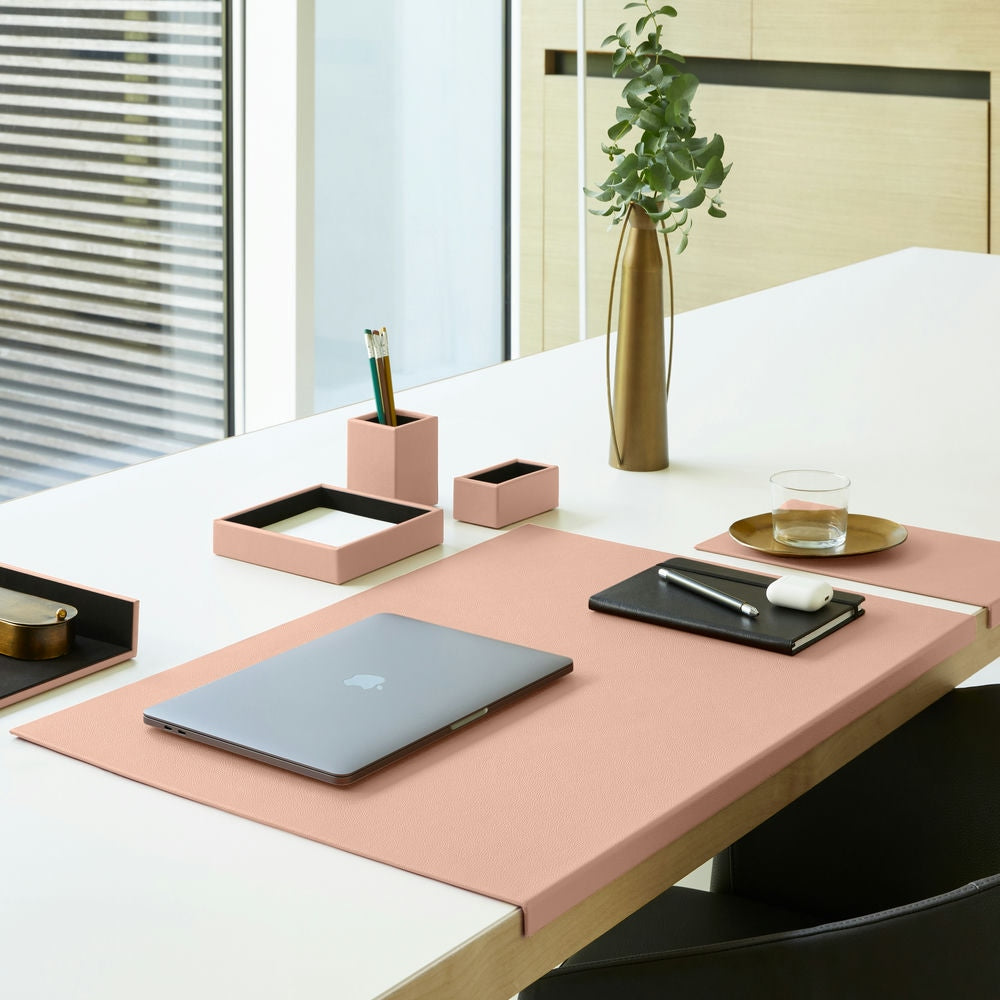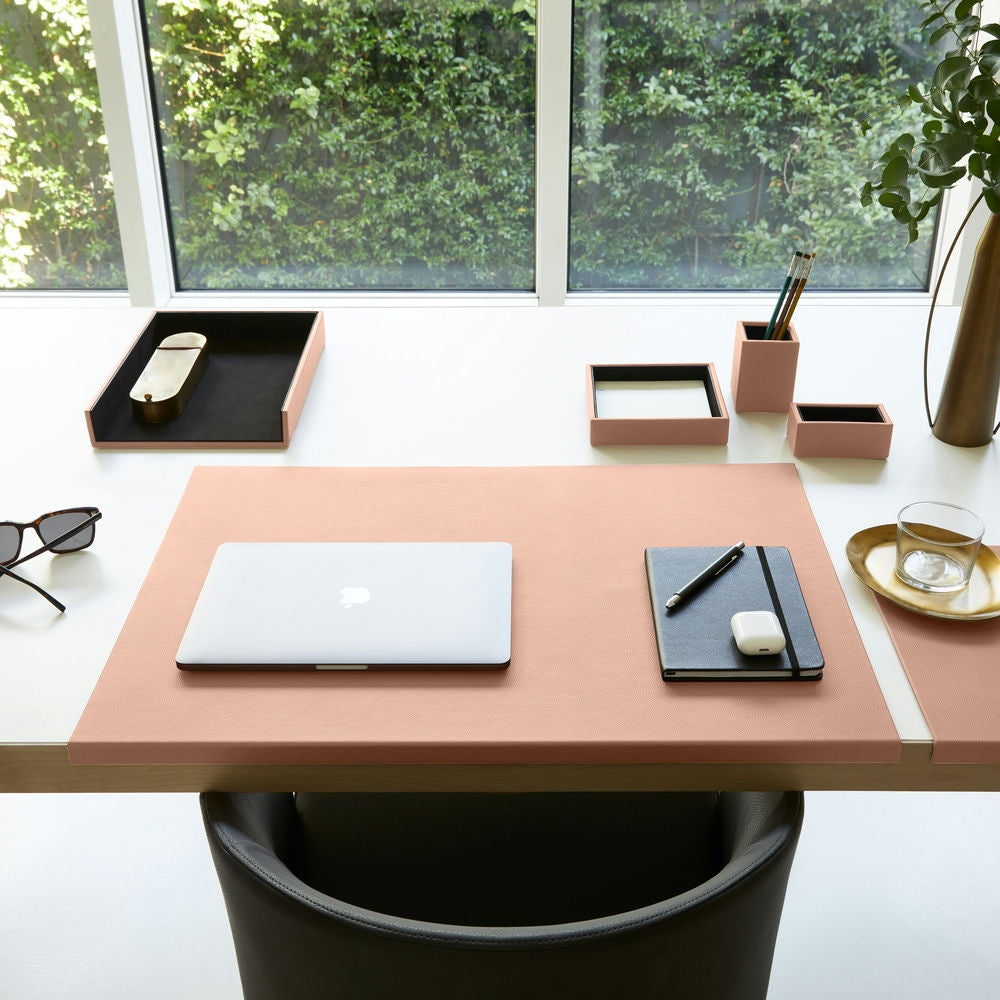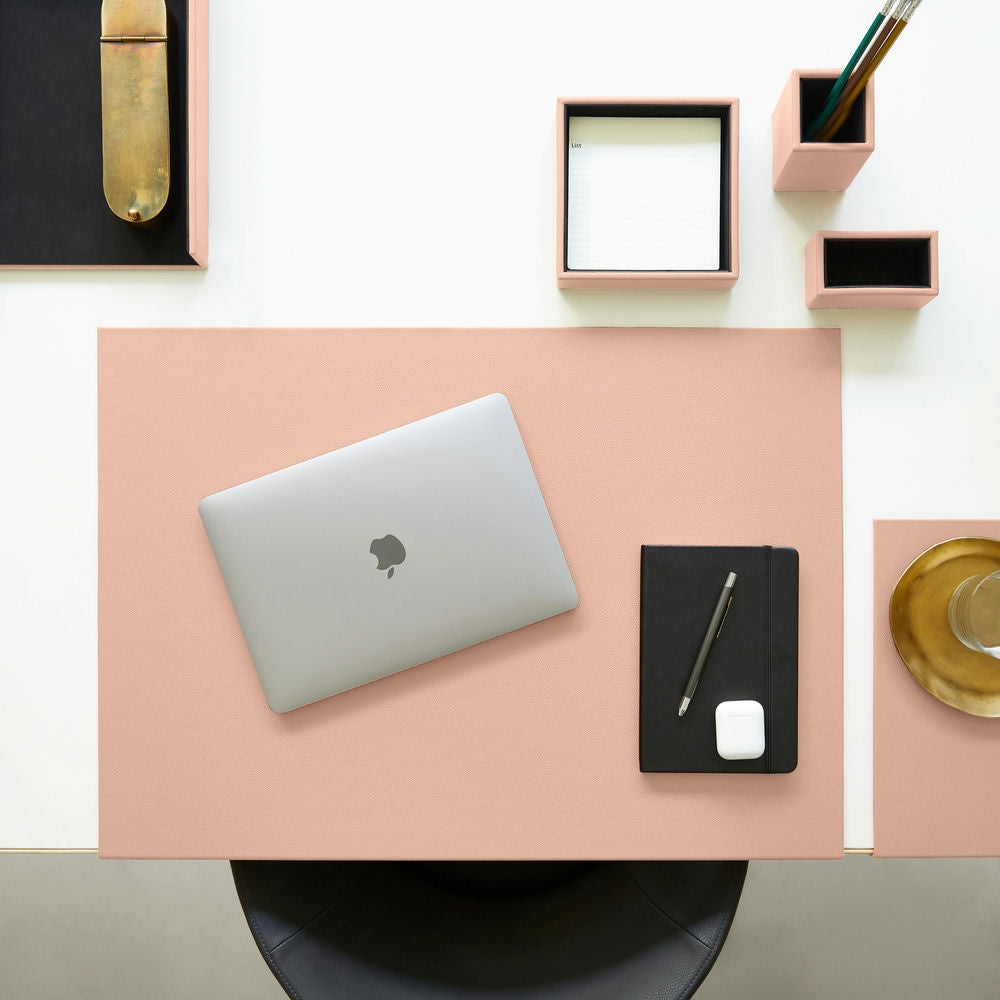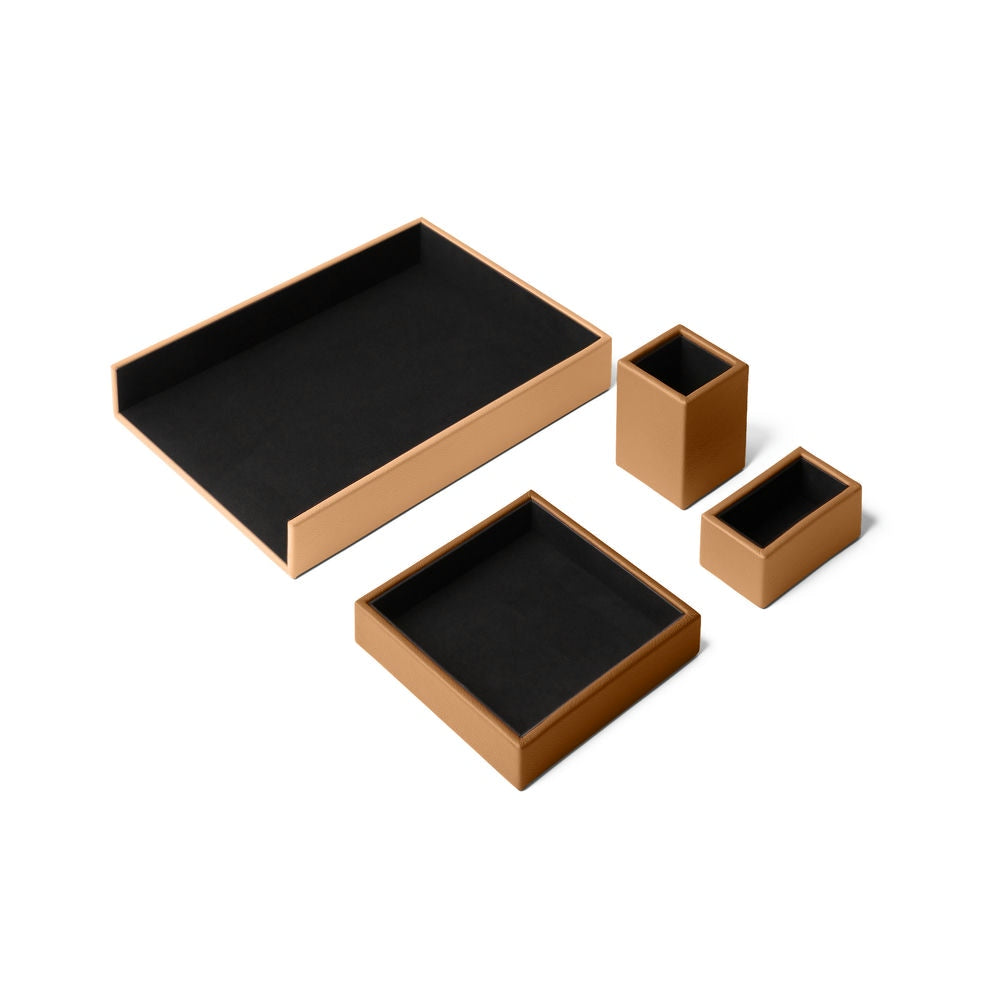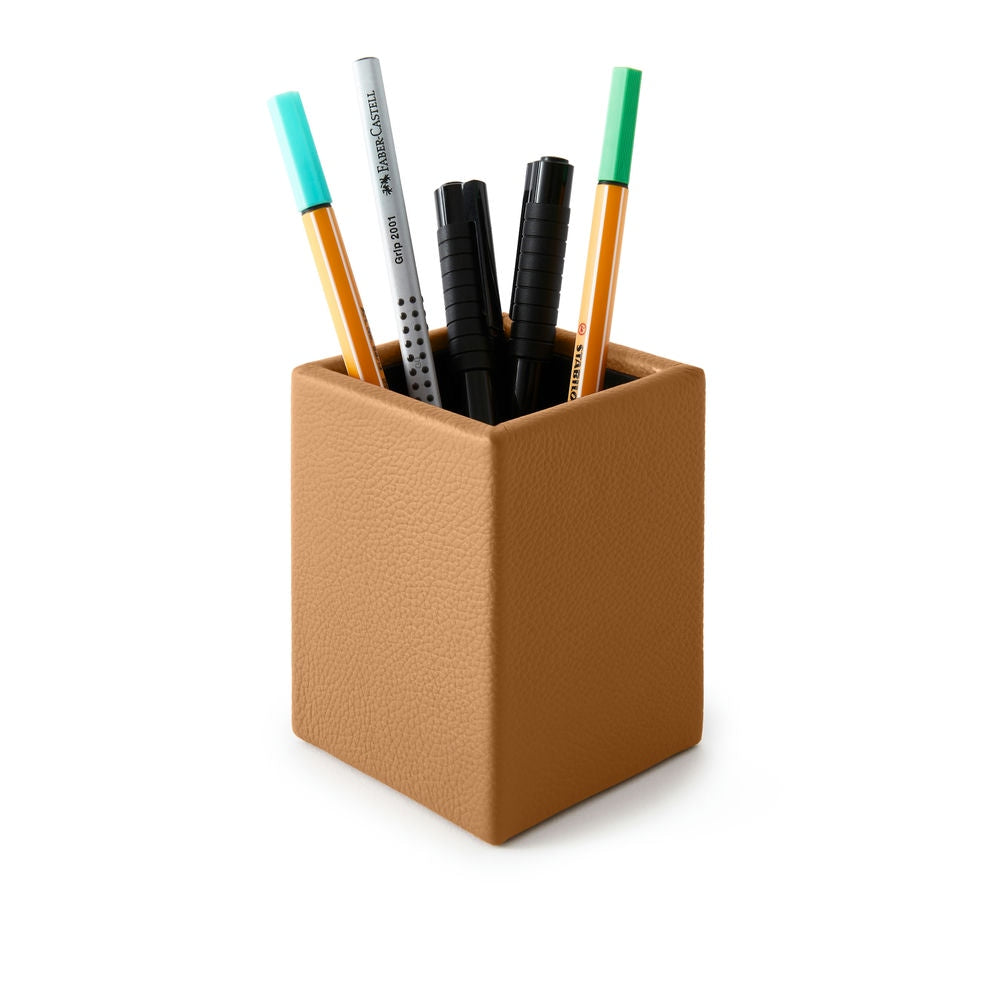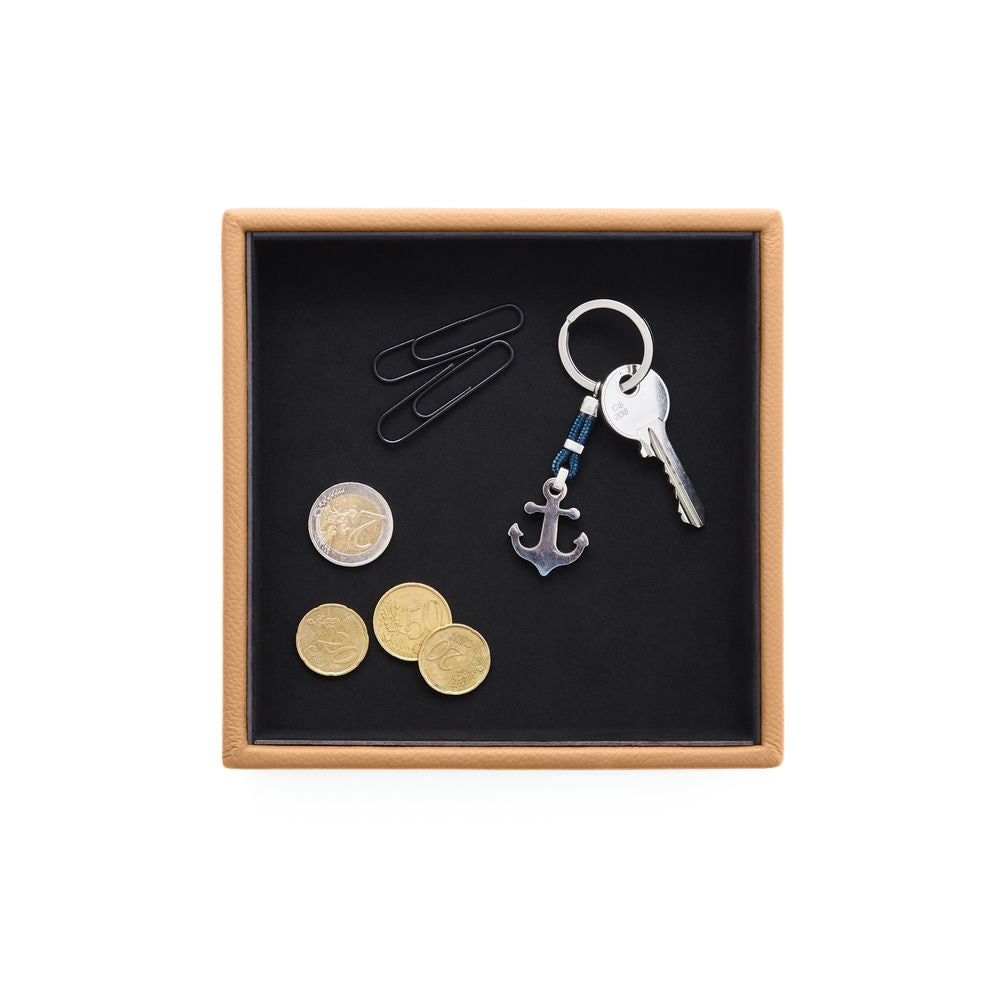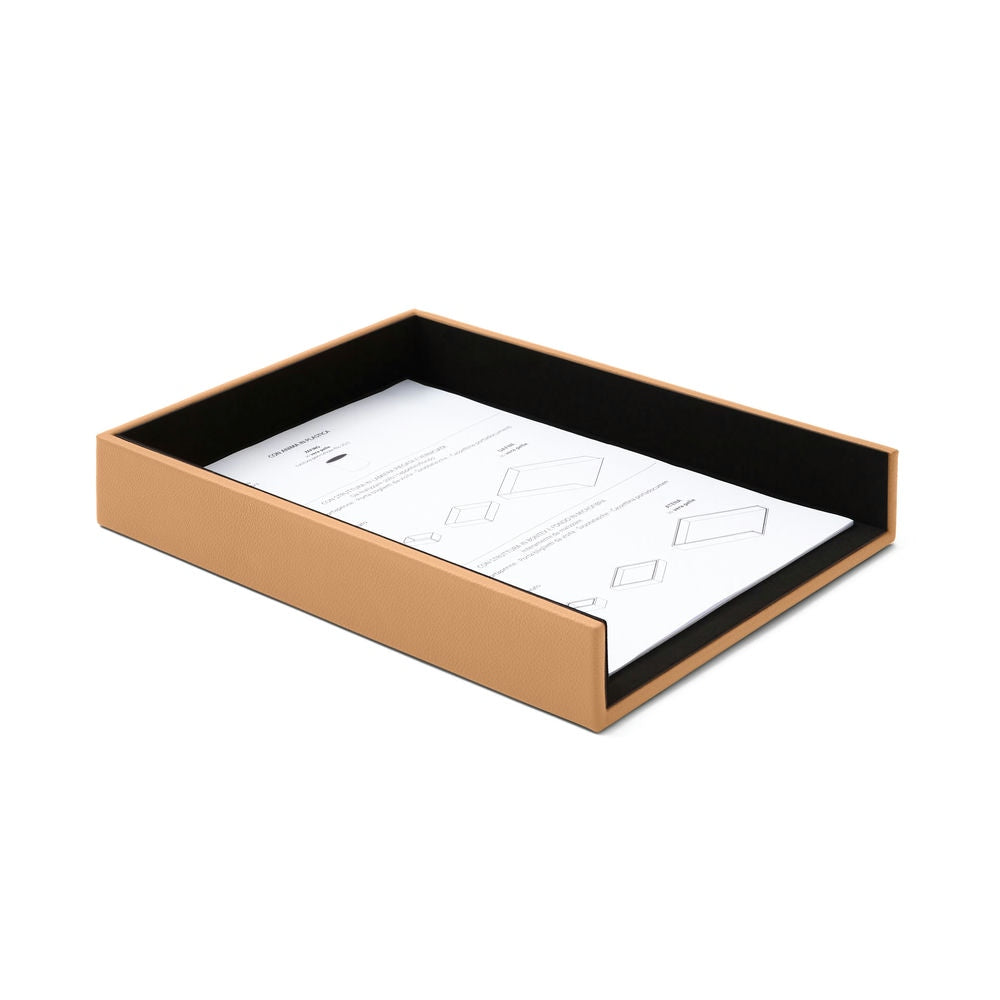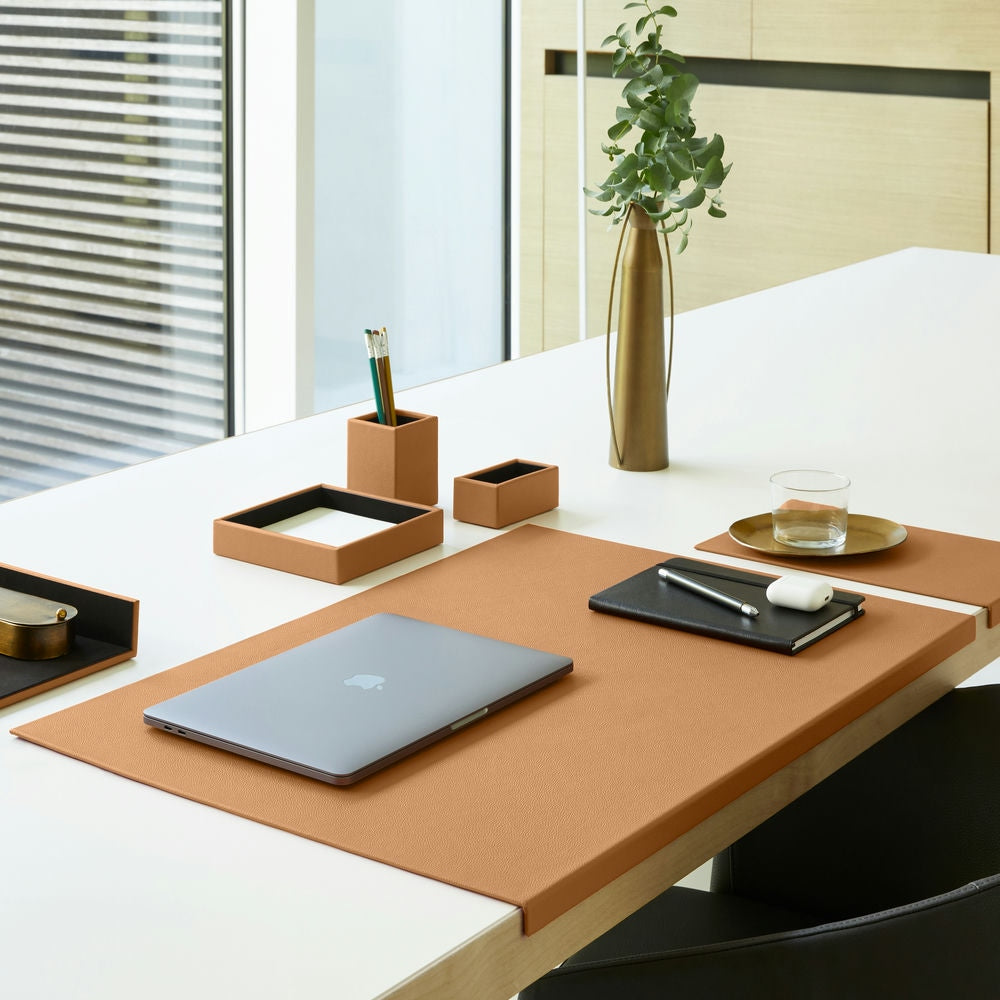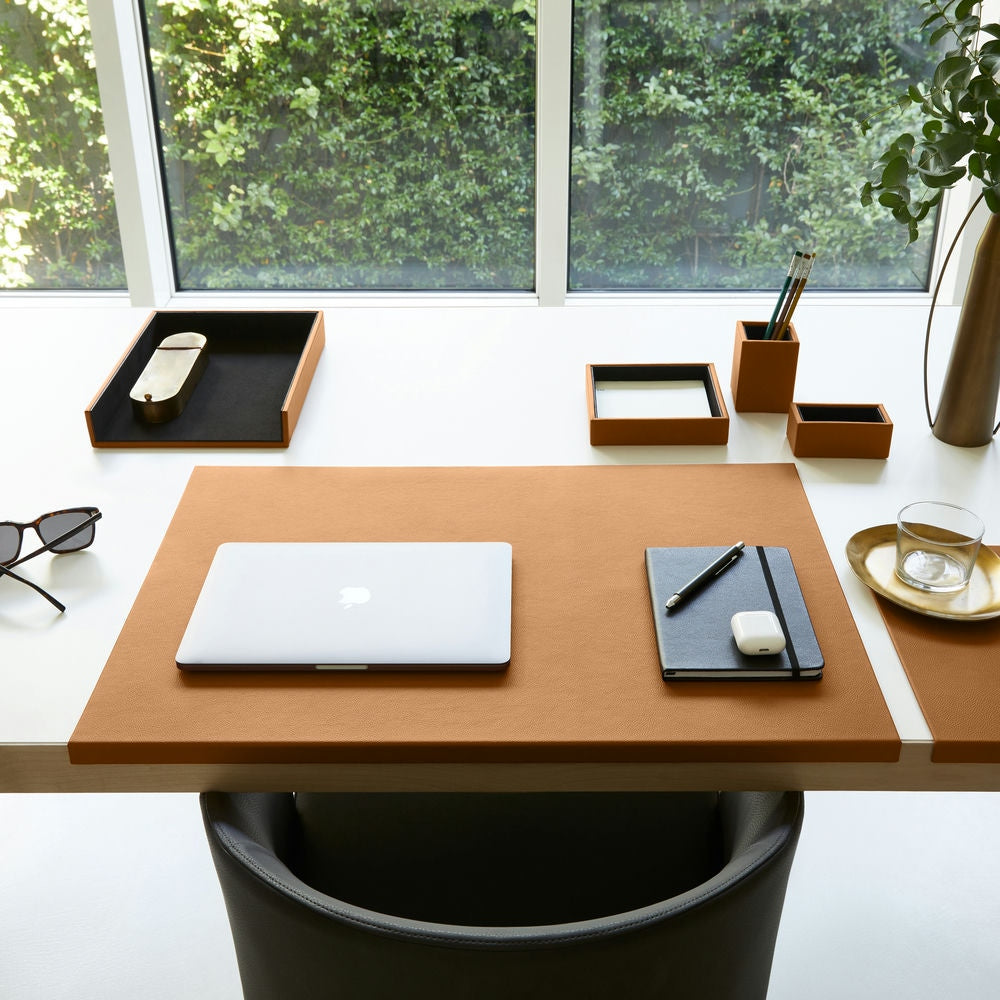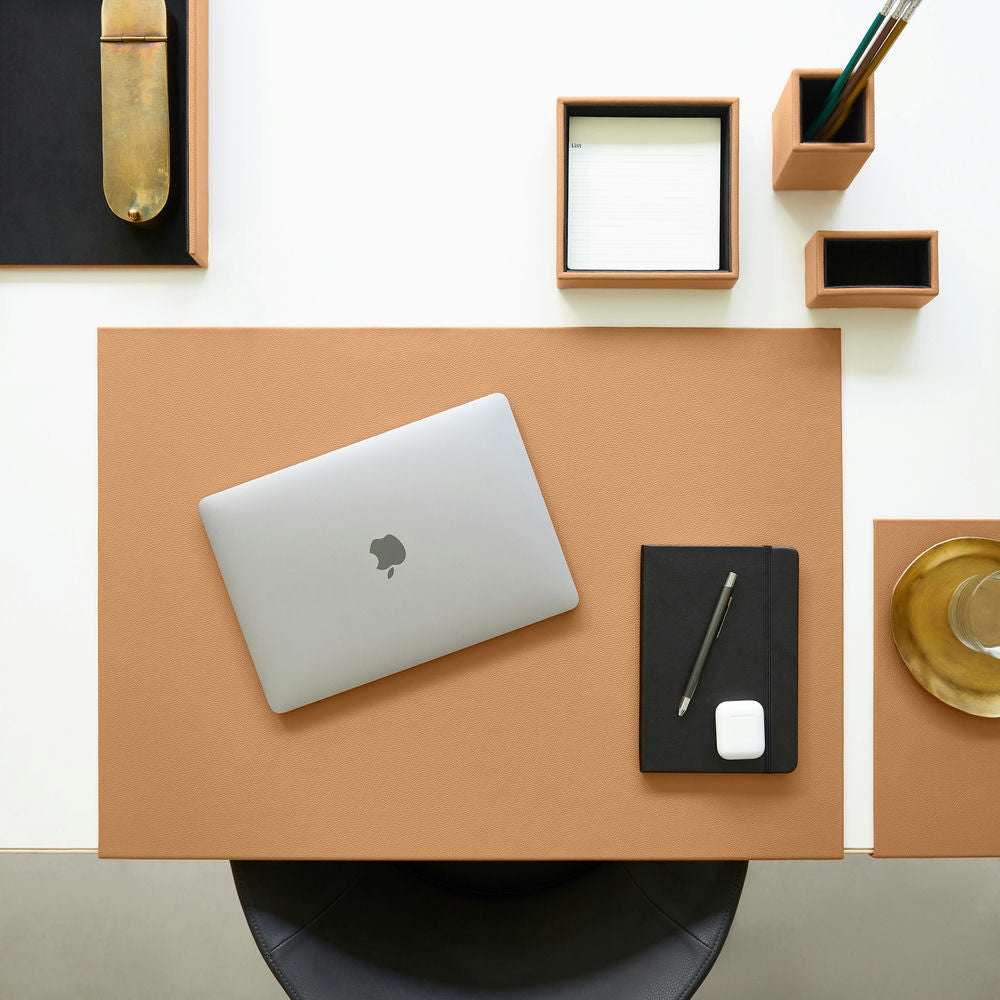 Desk Set Atena
Desk set made of real leather.
Internal coverings made of soft microfibre.
Including valet tray, pen holder, paper tray, business card holder.
Ready for shipping in 5 working days

The leather desk set Atena includes four pieces: valet tray, pen holder, paper tray and business card holder.
It stands out for its square design and the attention to detail: the craftsmanship of the manufacturing blends with the refinement of real leather for a set able to lend a touch of luxury to any environment.

This desk set is perfect for organising your workspace with elegance.
The practical valet tray is ideal for keeping all small accessories of everyday use close at hand: keys, watches, coins, cables, earphones, jewellery, make-up, cosmetics, stationery, candies and chocolates.
Pens, pencils, markers, highlighters will all find a place in the stylish pen holder.
The paper tray is useful for tidily keeping documents, folders, files, catalogues, magazines, newspapers and other papers.
The smallest member of the family is the business card holder: business cards can finally be stored in a compact and refined accessory.
This composition can be combined with other office accessories by Eglooh, such as desk pads and mouse pads, in order to have a complete and elegantly decorated desk.

The external coverings are made of fine real leather produced in Italian tanneries and pleasant to the touch.
The internal parts are covered with microfibre, which offers a pleasant soft feeling.
The structures are made of cellulosic technical material: the meticulously detailed exterior finishes are combined with the solidity of the interior material, thus perfectly combining beauty and functionality.

This desk set is entirely produced in Italy, by a handicraft company that has great experience in the working of leather, and takes care of every single production detail, from the cutting of the materials to the final packaging.
MEASURES AND WEIGHTS
• Pen holder: cm 7 x 7 x H.9,5 - kg 0,15.
• Valet tray: cm 16,5 x 16,5 x H.3,5 - kg 0,20.
• Paper tray: cm 32 x 24,2 x H.5 - kg 0,60.
• Business card holder: cm 11 x 6 x H.4,5 - kg 0,10.

AVAILABLE COLOURS
Black - Orange Brown - Dark Brown - Light Brown - Anthracite Grey - Taupe Grey - Beige - Burgundy Red - Ferrari Red - White - Blue - Teal Blue - Ice Blue - Powder Pink - Green - Sage Green - Yellow.
* Colours may differ from the original depending on the device and the resolution of the screen.

MATERIALS
• Surface made of fine real leather produced in Italian tanneries.
• Strong internal structure made of cellulosic material.
• Internal covering and bottom made of soft microfibre.

MORE DETAILS
• Entirely handmade in Italy.
We care that our products meet high standards in terms of design, carefully selected materials and craftsmanship.
With the proper care you will be able to preserve the beauty of your Eglooh accessory over time.
All you have to do is follow a few simple instructions.

• Real leather is a natural material that is sensitive to light, damp and water.
• To keep your real leather product in perfect condition avoid exposing it to high temperatures or direct sunlight for extended periods.
• In case of contact with water, dry immediately with a smooth, soft cloth.
• For cleaning, we recommend an initial wipe with a damp cloth. Shortly afterwards you can use a cotton ball soaked in a small amount of cleansing milk to remove the accumulated dirt.
• Let it dry, without using heat sources or direct sunlight to accelerate the process.
• Never use solvents such as alcohol or alkaline acids, oils, degreasers, abrasive cleaners, furniture polish, varnish or ammonia.
SHIPPING
• Our products are always shipped from Italy.
• Delivery times and cost may differ depending on the country of destination.
• Times refer to days between shipping and delivery.
• The cost refers to a single piece of the product. In the case of more than one piece there may be a slight increase.
Italy
Times -> 1-2 working days.
Cost -> € 5.00.
European Union
Times -> 3-7 working days.
Cost -> from € 9.00 (depending on country of destination).
United Kingdom
Times -> 5-7 working days.
Cost -> € 17.00.
RETURNS
The return window is 30 days from the date you received your order.
More information on the process can be found in the section
Returns & Refunds
.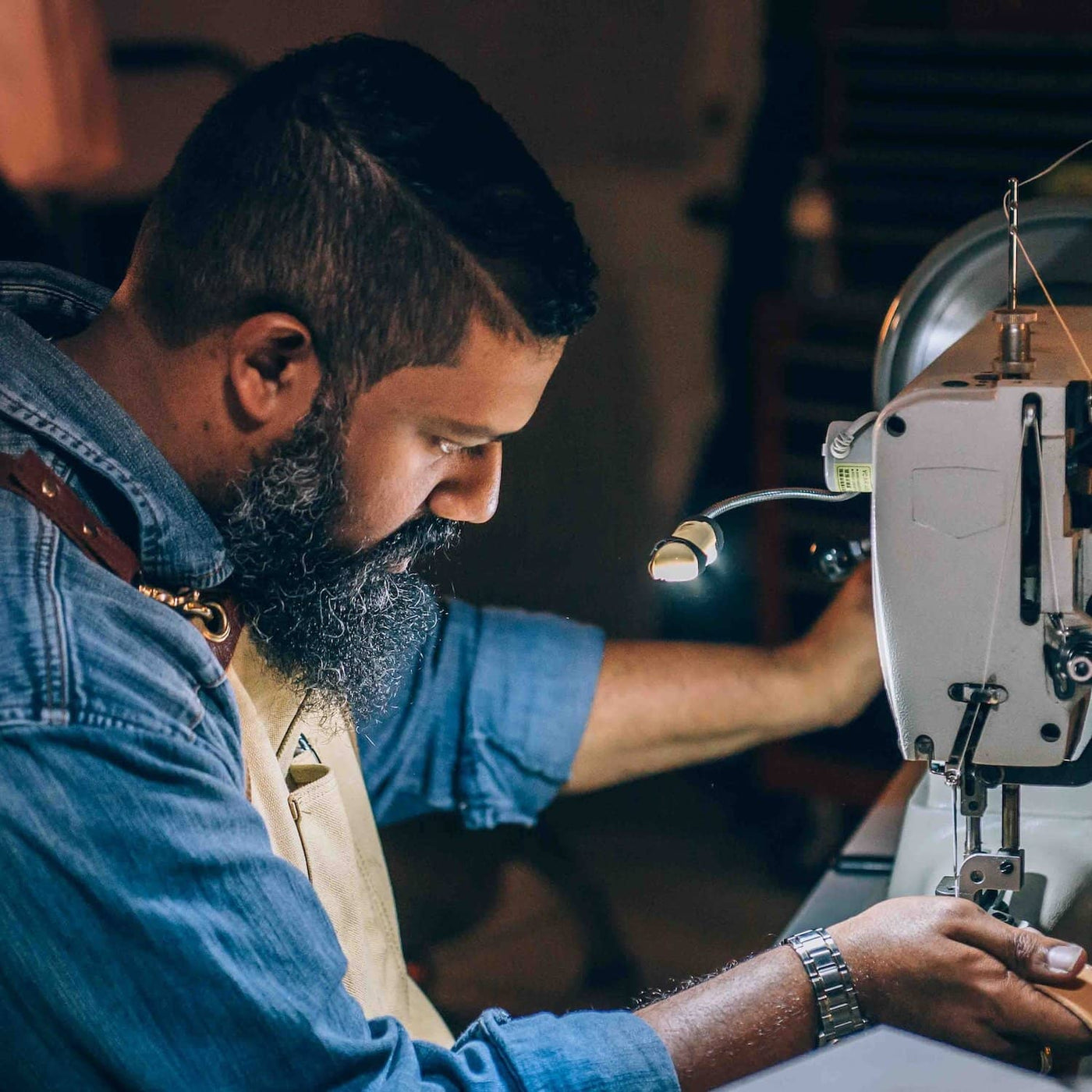 MY EGLOOH
Let's make together the customised accessory for you.
Do you need more information? Contact us